Pathstone Mental Health
by Linda Bover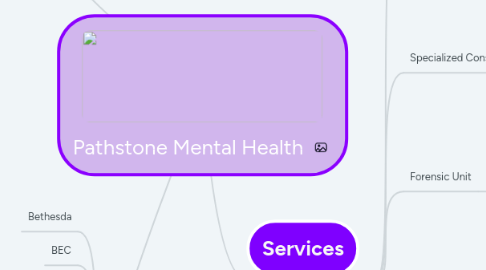 1. Services
1.1. Intake
1.1.1. Referrals come from Contact Niagara
1.1.2. Referrals from day cares for behavioural concerns
1.1.3. Once file is sent, it is triaged - may be sent to forensics, and mobile intensive treatment.
1.1.4. Services will schedule an appointment in 1-3 weeks.
1.1.5. most families, children and youth will be referred to Capacity building.
1.2. Specialized Consultation and Assessment
1.2.1. precise treatment plans that best meet the needs of the child/youth and family
1.2.2. Intensive treatment, support, case management, and consultation for children and youth and their families with complex mental health needs.
1.3. Forensic Unit
1.3.1. Serves youth that have engaged in High risk behaviours including sexual offending, fire setting, homicidal or suicidal behaviour.
1.3.2. Any criminal involvement - treats clients who are charged under the Youth Justice Criminal Act.
1.4. Councelling and Therapy
1.4.1. Crisis Support
1.4.2. Solution-focused treatment
1.4.3. Intensive outreach
1.4.4. Group and individual therapeutic interventions
1.5. Crisis
1.5.1. Call 1800-263-4944. 24 hours per day; 7 days a week
1.5.2. provides telephone counselling
1.5.3. on-site crisis intervention in the home, school or other community location.
1.5.4. Crisis Bed - for situations where children over 9 and parents needs a therapeutic break. Can me accessed for 48 hours.
1.6. Intensive Services
1.6.1. Residential and school-based services
1.6.2. Re-integrate the child/adolescent back into the family, school and community
1.7. SVEN
1.7.1. Supervised Visitation and Exchange Niagara
1.7.2. Provides a safe, neutral, and comfortable place for an exchange or visit.
2. Workshops
2.1. Divorce and Separation
2.2. Surviving the Teenage Years
2.3. 1-2-3 Magic - effective discipline
2.4. Care-ing - Creating a Rejuvenating Environment for the Caregiver
2.5. Yoga for Children and their Families
3. Partners
3.1. Bethesda
3.2. BEC
3.3. DSBN
3.4. NTEC
3.5. John Howard Society
3.6. Contact Niagara
3.7. FACS
3.8. McMaster Children's Hospital
3.9. Niagara Connects
3.10. Community Living
3.11. Niagara Support Services
3.12. The RAFT
3.13. Stive Niagara