Ecosystem: influenced by a combination of physical, chemical and biological factors, that determine how an organism survives and grows, and the productivity of the system where it lives.
by Martha Guerrero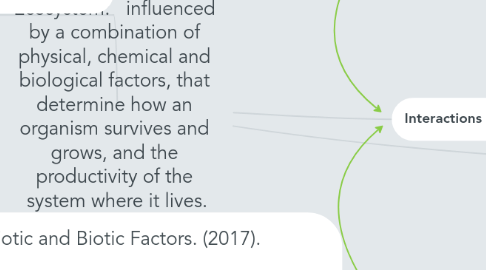 1. CHANGES IN THE ECOSYSTEM
2. References: Abiotic and Biotic Factors. (2017). Abiotic Transformation. (n.d.) Segen's Medical Dictionary. (2011). Retrieved August 8 2017 from Abiotic Transformation Biotic and Abiotic Factors. (2011). Burns, R. A. (2013) Fundamentals of Chemistry (4th Ed). Upper Saddle River, N.J: Prentice Hall J, D. (1991). Impact of wildlife on the environment. - PubMed - NCBI. Ncbi.nlm.nih.gov. Retrieved 9 August 2017, from https://www.ncbi.nlm.nih.gov/pubmed/1782418 Núñez, L., & Gutiérrez, M. (2017). No. 1_Topic_1_biotic_abiotic_17. Presentation.
3. Interactions and transformations
3.1. Biotic-Biotic, EX: Bears need to feed on fish to survive so the population of fishes eventually decreases.
3.2. Abiotic-Biotic: EX: The sun and the rain make plants grow wich produce the oxygen other living organisms need to live
3.3. Biotic-Abiotic: EX: Herbivore animals such as rabbits need to eat plants to survive and then be eaten by predators making food chain.
3.4. MASS-MASS: EX: paper into ashes
3.5. Mass-energy, EX: The combustion of wood in a bonfire: wood changes producing heat and smoke
3.6. Energy-energy: Thermal Energy
4. MATTER
4.1. Mass: how matter exists in form of particles. It is the measurement of the quantity of matter that a body has.
4.2. Energy: Is the capacity to perform work or produce a change.
4.2.1. Kinetic energy: (movement)
4.2.2. Potential energy: (rest)
5. enviromental factors
5.1. Biotic: Living factors
5.2. Abiotic: non-living factors
6. Martha Grullón A01652771 502