Shantabai Ladkat (2011-12)
by
Sarika Chuni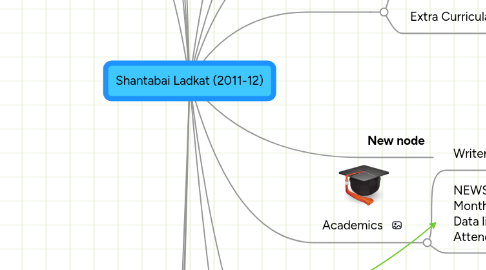 0.0
stars - reviews range from
0
to
5
Shantabai Ladkat (2011-12)
November-December VICTORY OF GOOD OVER EVIL EXPLORE/ DREAM BIG
Academic
Extra Curricular
Sports Day
Fun Fair
Diwali Celebrations : Singing Competition Dancing Competition
July I CAN DREAM BIG
Academic
Set big goals. Both Academic and non academic., Students, Class, School
Extra Curricular
Have a Prefect Assignment Ceremony: First/second week of July
Talk from Doctor
Student Database Moiz to send the format
January SHOWCASE
Academic
Extra Curricular
Yearly Field Trip
August FREEDOM/SWARAJ
Academic
Extra Curricular (Inter and Intra School)
MOVIE MAKING (On the freedom theme?)
Tree Plantation
Debate
Elocution
February PRACTICE
Academic
Extra Curricular
End of year Showcase
Science Exhibition
September SHARING
Extra Curricular
Design for Change
Field Trip - Old age home
Academic
March DELIVER
Academic
EOY, School, TFI
Extra Curricular
October GANDHIGIRI
Academic
Middle Year Assessments, School, TFI
Extra - Curicular
Formation of own school Government
Academics
Writer's Workshops everymonth
NEWSLETTER! Monthly. Starting from July. Include Urdu/Marathi Medium. Data like: Attendance, Birthday, Thanksgiving page, Any special activity conducted over the month, Hall of fame, Book review, dignity of labor (one student works for peon, lib, ....)
Extracurricular
Arranging guest lectures
Field Visits
NEWSLETTER!
WRITING, Essay Writing Poem writing contest Story Book Making Personal Journa Pen friends with other school students, journalism club
Fishpond: Introduce a concept of fishpond to the teachers.
Assembly
Prepare an Assembly book for the students with prayers, thoughts, sayings
Prepare another book with GK questions.
ACTIVITIES for: Team building Personal development Confidence development Values
1. The debating society 2. Journalism group 3. Historical circle 4. Science society
SCHOOL HOUSES
Badges/ArmBand/HeadBand/Wristband for all students Find out cost from shop
Badges/Shoulderstraps for Prefects
Flag for each house
Regular House Meetings
Student Management Committee
TEACHER BIRTHDAY CELEBRATIONS
LIBRARY
Reading Challenge Treasure hunts
GUEST LECTURES Topics to be decided.
MOVIE SCREENINGS
- Movie of the month - Short films/Documentary
WORKSHOPS
Astronomy Workshops
Navnirmiti Science and Math Workshops
Aravind Gupta Workshops
Art workshop
music workshop
INTER SCHOOL INTERACTION
Skype Video Sessions/Letter exchanges/Chats (Nikhil and Moiz) PMC class Riverside Class US Class
June I CAN DREAM BIG
Academic
Design/Modify BOY assessments. Train teachers on administration.
Administer BOY assessments, RF, Change/Modify passages. Determine modified reading fluency cut-off speeds for school., RC, Maths, Scientific Skills Test, Writing, Grammar
Extracurricular
May-June
Getting lower level students tested
Prepare Content based Objective plans for the SSC textbooks, Skills to be deffined
Meet Corporator
Have Parents-Teacher Meeting
Find out about Free Health Checkup Camps
SCHOLASTIC BOOK SALE
RESOURCES
ICARDs
Badges/Armbands/Sashes/Flags
SOFT Board in front of the office
Library Cards and Envelops
Inverter
Projector stand and Screen
Digicam/MobilePhone
COLLATERALS
SCHOOL RULES CHART
CLASS RULE CHART
BIG GOALS CHART
School
Class
HOUSE CHART
Class
WORD WALL CHART
Prefect Chart
Activity Chart
New node