Pancreas A gland about 6 inches long Shaped like a thin pear lying on its side. The wider end of the pancreas is called the head, Middle section is called the body, Narrow end is called the tail. The pancreas lies behind the stomach and in front of the spine. It cannot be felt during a physical exam Located behind other organs like the stomach, liver, spleen, gallbladder, and small intestine.
by
Trisha Mahtani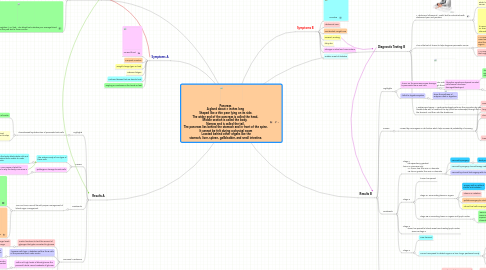 5.0
stars -
1
reviews range from
0
to
5
Symptoms B
Jaundice
Abdominal Pain.
Unintended Weight Loss
Nausea/Vomiting
Itchy skin
Changes in Stool and Urine Colour
Sudden onset of diabetes
Symptoms A
Unusual thirst
Frequent urination
Weight change (gain or loss)
Extreme fatigue
Cuts and bruises that are slow to heal
Tingling or numbness in the hands or feet
Diagnostic Testing B
* Abdominal ultrasound: Useful test for individuals with abdominal pain and jaundice.
This is the test of choice to help diagnose pancreatic cancer.
* Percutaneous biopsy: This refers to a biopsy performed by inserting a needle through the skin into the body.
* Endoscopic biopsy: A gastroenterologist performs this procedure by inserting a flexible tube with a camera at the tip (called an endoscope) through the mouth, into the stomach, and then into the duodenum.
Diagnostic Testing A
* Fasting blood sugar test. A blood sample will be taken after an overnight fast.
* Random blood sugar test. A blood sample will be taken at a random time.
Lycated hemoglobin (A1C) test. This blood test indicates your average blood sugar level for the past two to three months.
Results B
Highlights
Causes
Treatments
Hormonal Mechanisms
Results A
Highlights
Causes
Treatments
Hormonal Mechanism