NEGOCIACIÓN Y VENTAS
by claudia fonseca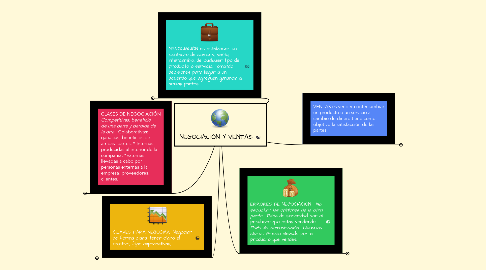 1. VENTAS es vender o intercambiar un producto o un servicio a cambio de dinero tiene como objetivo la satisfacción de las partes.
1.1. English
1.1.1. Text book p. 55-60
1.1.2. Joseph Conrad "Heart of Darkness"
2. ERRORES DE NEGOCIACIÓN: * No escuchar las opiniones de la otra parte. * Falta de sinceridad por el producto que estas vendiendo. * Falta de comunicación. * Clausulas claras. Precio elevado por el producto que vendes.
2.1. Spanish
2.1.1. Midterm
3. CLAVES PARA NEGOCIAR: Negociar de forma clara, tener claro el objetivo, fijar expectativas,
3.1. Physics
3.1.1. Research and prepare experiment
4. CLASES DE NEGOCIACIÓN *Competitivas: beneficio de una parte y perdida de la otra. * Colaborativas: ganacias, beneficios de ambas partes. * Internas: producidas al interior de la compañia. *Externas: llevadas a cabo por personas externas a la empresa, proveedores, clientes.
4.1. Spanish
4.1.1. New vocabulary
5. NEGOCIACIÓN es establecer un contacto de compra, venta, intercambio, de cualquier tipo de producto o servicio, tomando decisiones para llegar a un acuerdo que agreguen ganancia a ambas partes
5.1. Maths
5.1.1. Text book, exercises 34, 35, 36, 37