Coffee House In The Cloud - Who's doing what?
by Judy Rees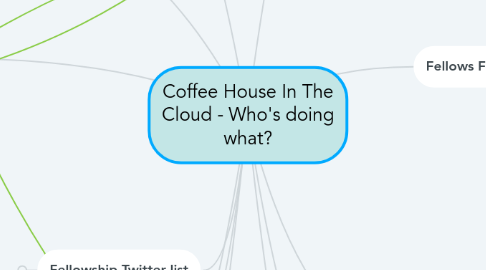 1. @FailWise/RSA Fellowship auf Twitter
2. Redevelopment of the House
2.1. Staff organised
2.2. RSA - Idea Spotlight -
2.3. "Virtual Coffee House" ideas to make the House globally-connected
2.3.1. @pjfb @paulvittles
2.3.2. RSA Fellows Forum
3. Fellows Forum
3.1. Experimental but fundamental
3.1.1. Enables the conversations that lead to the other stuff
3.2. Fellows-only
3.3. @judyrees @pjfb @brendan @chrismclean @davidwilcox @paulvittles @lorena and 712 others
3.4. Current issue - how to keep this lively while so much else is going on
3.4.1. Interface is not ideal
3.4.1.1. @pjfb can add a new menu bar with external links
3.4.2. Events, discussion posts
3.4.3. BUT too busy and it becomes overwhelming
3.5. Forum facilitators meeting fortnightly
3.5.1. Seeking additional network-weavers, facilitators, event organisers
3.6. Fellow-led, actively supported by Fellowship Council
3.6.1. Some staff support
3.6.2. Evaluation criteria under discussion
4. The Hub
4.1. @pjfb @chrismclean @lorena
4.2. Experimental, exists on @pjfb's private server
4.3. RSA Fellows' Forum Hub - RSA Fellows' Forum
5. Events Calendar
5.1. temporary calendar now published
5.1.1. accessible from top menu bar
5.2. needs to be crowdsourced to allow scaling
5.2.1. can google calendar allow this?
6. Zoom events
6.1. Fellow Organised
6.1.1. Forum Friday 15 Sept RSA Fellows Forum
6.2. Staff organised
6.2.1. Global event 28 Sept on Sustainable Dev Goals
6.2.2. Oli event on House development 12 Sept
7. The Vision Thing
7.1. @brendan @rodhyde @davidwilcox @judyrees @chrismclean
7.2. "As I user, I want to discover the interesting stuff from and about other Fellows"
7.3. "A 24-7 virtual meetup"
7.4. "unleash/activate the Fellowship"
8. Fellowship Twitter list
8.1. @roxanneP
9. RSA LinkedIn group
10. "Networks"
10.1. Actually "communities" rather than "networks" - either of geography or of interest
10.2. Current live issue - how to allow leader-to--member and/or member-to-member comms (cited data protection issues
10.2.1. With @rodhyde and others from Fellowship Council, negotiating with staff
10.3. New London network of Network-weavers proposed
11. "Projects"
11.1. Ideas for projects pitched at RSA Ideas events
11.1.1. This format works on Zoom
11.2. Live projects pitched at RSA Engage events
11.3. Forum members seek to create an acclerator/incubator RSA Fellows Forum
11.3.1. @brendan speaking to Charlotte Eisenhart and Mark Hall 20 Sept
12. Scotland
12.1. @Mic
12.2. Specific projects including non-Fellows
12.3. Zoom meetings planned
12.4. Stammtisch