Define the Problem: You borrow someone's device (Smart Phone, Laptop etc) from a friend and accidentally break it. It is very important because I just destroyed trust between my friend and I. This affects my social wellness because my friend would probably be mad at me and it would be hard to borrow anything from them anymore.
by Tien-kai Miao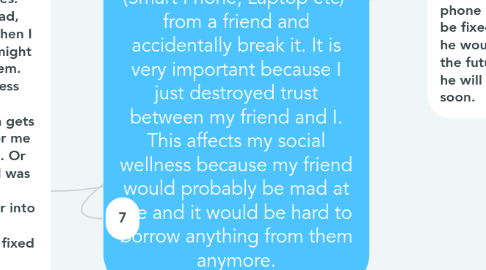 1. 7
2. Explore the Alternative: I could: 1. Confront my friend and pay for it 2. Lie and tell my friend that some one else broke it 3. Fix it and pay for the fee and return it pretending nothing happened
3. Consider the Consequences: 1. My friend would get mad, probably loose trust but then I would pay for it, so that might salvage a bit of the problem. They probably would be less mad. 2. Either the other person gets takes the responsibility for me and nothing else happens. Or my friend found out that I was lying thus making our friendship go even deeper into a not good situation. 3. Maybe the device gets fixed in time and then nothing happens or they need their device immediately and it is being fixed. Which would make me have to explain to him and my friend would probably get madder because I didn't tell him before hand.
4. Identity your Values I would confront my friend because i don't like lying, and I think if I don't want people lying to me, I shouldn't lie to them either. That is why I would choose the first choice.
5. Decide and Act So I decided to just tell him first thing we meet. He got mad at me but he was happy that at least I didn't lie to him, he was also pretty satisfied that the phone is getting fixed and will be fixed very soon. He said that he wouldn't trust me as much in the future but he believes that he will regain the trust very soon.
6. Evaluate the results I feel like the results were the best because although he did get mad, after hearing about what I did to try and salvage the problem made him a bit happier, and I didn't completely destroy our friendship. Not only that, I feel like confronting him was the safest option anyways, because the results of the other options were either extremely good or extremely bad. So in the end, I feel like things went out pretty well.