THEORIES OF TEACHING IN LANGUAGE TEACHING
by Fernanda Gonzalez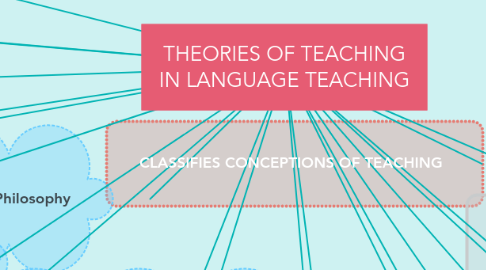 1. Art-Craft
2. This approach is derived from research and are supported by experimentation and empirical investigation.
3. Science-Research
4. CLASSIFIES CONCEPTIONS OF TEACHING
5. Audiolingualism, Task-Based Language Teaching, and Learner Training represent applications of learning research to language teaching.
6. Some of the processes principles in the teaching are research on memory, transfer, motivation and others...
7. A stimulus, which serves to elicit behavior, a response, triggered by a stimulus, and reinforcement, which serves to mark the response as being appropriate
8. Learner Training is an approach which draws on research on the cognitive styles and learning strategies used by learners in carrying out different classroom learning tasks.
9. Characteristics of effective teaching were identified:
10. • Instruction is guided by a preplanned curriculum. • There are high expectations for student learning. • Students are carefully oriented to lessons. • Instruction is clear and focused. • Learning progress is monitored closely. • When students don't understand, they are retaught. • Class time is used for learning. • There are smooth and efficient classroom routines. • Instructional groups formed in the classroom fit instructional needs. • Standards for classroom behavior are high. • Personal interactions between teachers and students are positive. • Incentives and rewards for students are used to promote excellence.
11. Theory-Philosophy
12. Is based on what ought to work or what is morally right are values-based approache
13. Team teaching', 'humanistic approaches', the 'learner-centred curriculum' movement, and 'reflective-teaching'
14. For example advocates of 'literature in the language curriculum', school-based curriculum development' or 'the teacher as action researcher' essentially appeal to educational or social value systems in justifying their proposals.
15. These see the essential skills in teaching as: Understand the theory and the principles. Select syllabi, materials and tasks based on the theory. - Monitor your teaching to see that it confirms to the theory.
16. Human values, growth in self-awareness and in the understanding of others, sensitivity to human feelings and emotions, and active student involvement in learning
17. Efficient learning strategies, to assist learners identify their own preferred ways of learning, to develop skills needed to negotiate the curriculum, to encourage learners to set their own objectives, to encourage learners to adopt realistic goals and time frames, and to develop learner's skills in self- evaluation.
18. Art-craft approaches to teaching seek to develop teaching as a unique set of personal skills which teachers apply in different ways according to the demands of specific situations.
19. The essence of this view of good teaching is invention and personalization.
20. A good teacher is a person who assesses the needs andpossibilities of a situation and creates and usespractices that have promise for that situation
21. Treat each teaching situation as unique. - Identify the particular characteristics of each situation. m Try out different teaching strategies. - Develop personal approaches to teaching
22. Understand the learning principles. - Develop tasks and activities based on the learning principles. - Monitor students' performance on tasks to see that desired performance on tasks is being achieved.