Soundation.com composition task.
by timbilliards timbilliards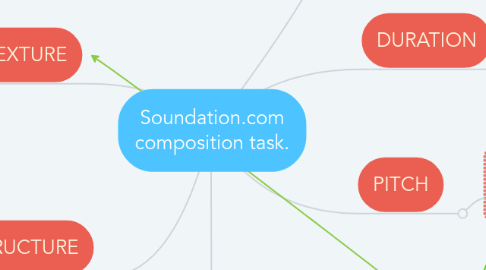 1. DURATION
1.1. How can I change the TEMPO of the song?
1.2. The ruler at the top of the "arrange window' is measured in units of....
2. PITCH
2.1. How can i create an original idea?
3. TEXTURE
3.1. How can I tell if the section of my song has a THICK or THIN texture?
4. STRUCTURE
4.1. How do I repeat [loop] an idea?
5. TASK: Log in to SOUNDATION.COM and create a piece of music in either TERNARY or RONDO form using loops and at least 1 original musical idea.
5.1. Find answers to the questions on this mindmap, or complete the sentences IN YOUR OWN BOOKS.
6. TONE COLOUR
6.1. Create the following layers in your piece
6.1.1. Track 1 - Percussion/beat sound
6.1.2. Track 2- Bass sound
6.1.3. Track 3 - Chords or Riff sound
6.1.4. Track 4 -