Okonkwo: Protagonist of Things Fall Apart. Leader of the clan of Umuofia. Values Manliness.
by Vicky Roh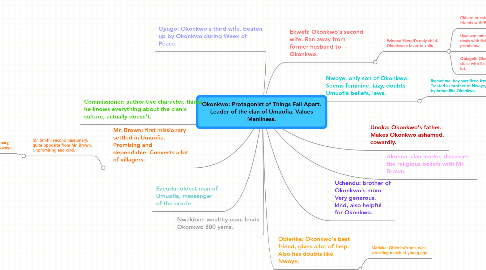 1. Nwoye: only son of Okonkwo. Seems feminine, lazy, doubts Umuofia beliefs, laws.
1.1. Ikemefuna: boy sacrificed from other village. Treated as brother of Nwoye, in the end killed by father-like Okonkwo.
2. Ekwefi: Okonkwo's second wife. Ran away from former husband to Okonkwo.
2.1. Ezinma: Ekwefi's only child. Okonkwo's favorite child.
2.1.1. Chielo: priestess who is good friends with Ekwefi, Ezinma.
2.1.2. Uyanwa: famous medicine doctor, deals with Ezinma's health problems.
2.1.3. Obiageli: Okonkwo's daughter, close with Ezinma, influenced a lot.
3. Mr. Brown: first missionary settled in Umuofia. Promising and dependable. Converts a lot of villagers.
3.1. Mr. Smith: second missionary, quite opposite from Mr. Brown. Unpromising and cold.
3.1.1. Mr. Kiaga: Christian missionary, converts a lot of people, Nwoye.
4. Uchendu: brother of Okonkwo's mom. Very generous, kind, also helpful for Okonkwo.
5. Commissioner: authoritive character, thinks he knows everything about the clan's culture, actually doesn't.
6. Unoka: Okonkwo's father. Makes Okonkwo ashamed, cowardly.
7. Obierika: Okonkwo's best friend, gives a lot of help. Also has doubts like Nwoye.
7.1. Maduka: Obierika's son, wins wrestling match at young age.
8. Ezeudu: oldest man of Umuofia, messenger of the oracle.
9. Akunna: clan leader, discusses the religious beliefs with Mr. Brown.
10. Nwakibie: wealthy man, lends Okonkwo 800 yams.
11. Ojiugo: Okonkwo's third wife, beaten up by Okonkwo during Week of Peace.