ITEC 830
by
Pat Donohue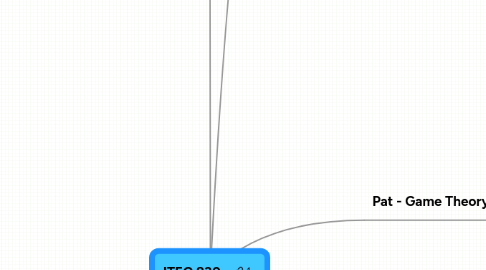 0.0
stars - reviews range from
0
to
5
Technology FEATURES for Learning
Collaboration
Global
Limited Group
Efficiency
Portability
Real-time feedback
Multiple Sources - self, peers, mentor
Formative Assessment
Popular/Interesting medium
Interaction
Less place and time limitation
Creativity
Flexibility: time & location
Synchronous
Assynchronous
Transferable
Access to resources (e.g Louvre paintings)
Affordability (sometimes)
Time-saving
Constructivist - Process focus
Transformative learning tools
Support for multiple learning styles
Visual
Auditory
Read/Write
Tactile/Kinesthetic
Learning Commons
24 / 7
Casual
Formal
Emerging Technologies that facilitate Instruction
web 2.0 technologies
Wiki, pbworks, pbwiki
Blogs, Vlog (Video Blog), microblogs, soup.io, Sina, DailyBooth, FanVibe, New node, yammer, Twitter, Tumblr, plurk, Edublogs, Posterous, Twaud, curated content, Quiki, Quora
chat, Skype, Facetime, HipChat, Yammer, TalkShoe, Vyew
Mobile tools
Mobile Applications, Mobl21, Black Board, Desire2Learn, Flash Air
Mobile Devices, Android, tablets, Xoom, mobile phones, iOs, iPhone, iPad, iPod Touch, Palm, Palm Pixi Plus
Online collaboration sites
Twiddla
my eCoach
Wridea
Mind Meister
Blabberize
typewith.me
Google Docs
Vivu
HipChat
Corkboard
Glogster
StoryBird
Image recognition search
Google Goggles
oMoby
China Goggles
Augmented Reality
Layar
Cloud Computing
Drop Box, viewsFm
Box.net
Google docs
sliderocket
rrripple
Social Media
Facebook
Twitter
Linkedin
Tumblr
Plurk
MySpace
YouTube
Hardware
LiveScribe
SmartBoards
MindWave
QRcodes
Surveys
Zoomerang
Quibblo
Jotform
TextTheMob
SurveyMonkey
Vizu
Software Tools
Google Fight
Wiki projects
QR Codes
Skritter
Zoho
presentation, Prezi, Voice Thread, Jing
LMS, Haiku
timelines, Dipity
Assisted Learning, Prologue2Go
Animation, Incredibox, Pixton, Animoto
AppMakr
Xtranormal
Artificial Intelligence
Text to Speech software
Speech to Text Software, Windows, Dragon NaturallySpeaking, iOS, Dragon Dictation, Mobile, Android, Flex T9, iOS, Dragon
Back Channels
BackNoise
TodaysMeet
BabelWithMe
NeatChat
Resource Sites
Wolfram Alpha
Google Art Project
Google Body
Gizmos
Wikipedia
Videocast Tools
Skype for Education
Vivu
Vucast
Vyew
Video Converters
Vid.ly
Pat - Game Theory that works:
(multiply): http://www.arcademicskillbuilders.com/games/grand_prix/grand_prix.html
Sean - Brain Training (Lumosity): http://www.lumosity.com/course_progresses/10253861
(Robotic programming at increasing level: http://members.learningplanet.com/act/runawayrobot/free.asp
Manju - Immune Response Game:
Link: http://nobelprize.org/educational/medicine/immuneresponses/game/index.html
Activities
Teach immune responses through short animated interactive games, The game makes the learner curious about the topic being taught
Then there is a longer writeup which the learner will want to read
Aaron - interaction Mandarin learning community: http://enterzon.com/play/Game.aspx
Basically Flash Game
Massive multilayer video game
Making learning fun and exciting
Motivational - gain money in game and trade
Learner are immersed in the Chinese culture - real life scene
Not only language, but also preparation for a trip
Karen - Game
Getty-http://childparenting.about.com/gi/dynamic/offsite.htm?zi=1/XJ/Ya&sdn=childparenting&zu=http%3A%2F%2Fwww.getty.edu%2Fgettygames%2F
New node
teaches spatial and pattern discrimination
Shenhua - Academic Skill Builders: http://www.arcademicskillbuilders.com/
Multi-player games create competition atmosphere
Flash game gives immediate interaction
Beautiful graphics
Scenario-based game
Topics encompass Math, Language Arts, and Geography
Requires problem-solving skills
Heloisa - kid tested and approved (my kid) http://www.popcap.com/
Different levels of difficulty
Teaches patterns, sequencing
Visually stimulating
Site offers a variety of games
Games need to be downloaded
Scott - Arcademic Skill Builders: Online Educational Games http://www.arcademicskillbuilders.com/
Competition
Play against other students or random players online.
Games requiring fast thinking to win
Game design is simple
Subjects
Language Arts
Math, Addition through geometry.
Adobe flash
Not compatible with portable iOS devices.
New node