Ancient & Mystic Texts
by
James Isaacs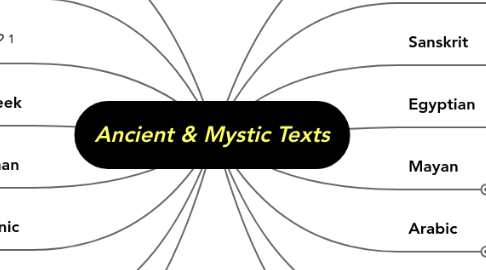 5.0
stars -
1
reviews range from
0
to
5
Hebraic-Christian
Jewish Mysticism
"The earliest version of the Old Testament Scriptures which is extant, or of which we possess any certain knowledge, is the translation executed at Alexandria in the third century before the Christian era: this version has been so habitually known by the name of the SEPTUAGINT, that the attempt of some learned men in modern times to introduce the designation of the Alexandrian version (as more correct) has been far from successful. The history of the origin of this translation was embellished with various fables at so early a period, that it has been a work of patient critical research in later times to bring into plain light the facts which may be regarded as well authenticated." Sir Lancelot C. L. Brenton 1851
"A Man and His God"
"Atra-Hasis"
"Enlil and Ninlil"
"Enmerkar and the En-Suhgir-an"
"Enmerkar and the Lord Aratta"
"Enuma Elish"
"Epic of Gilgamesh"
"Eridu Genesis"
"Gilgamesh and Aga"
"History of the Tummal"
"Inanna's Descent to the Nether World"
"Lugalbanda and the Anzu Bird"
"Lugalbanda and the Mountain Cave"
"Ninurta and the Turtle"
"Rulers of Lagas"
"Sargon and Or-Zababa"
"Sumerian King's List"
"The Advice of a Supervisor to a Younger Scribe"
"The Building of Ningirsus Temple"
"The Lament for Eridug"
"The Lament for Nibru"
"The Lament for Sumer and Urim"
"The Lament for Unug"
"The Lament for Urim"
"The Legend of Adapa"
"The Victory of Utu-Hegul"
Sanskrit
Rosicrucian
Jesuit
Egyptian
Abnaki
Acoma/Laguna
Aleuts
Algonquin
Alta and Baja Tribes of California
Anishnabeg
Apache
Blackfeet/Piegan
Blackfoot
Caddo
Caraja, South America
Chelan
Cherokee
Cheyenne
Chickasaw
Chippewa
Choctaw
Creek
Crow
Crow and Hidatsa
Diguenos
Dine/Navajo
Flathead
Hopi
Inuit
Jicarilla Apache
Iroquois
Karuk
Kiowa
Lakota
Luiseño
Makah
Maliseet
Mandan
Mayan
Mic Mac
Miwok
NezPrece/Nee-me-Poo
Ottawa
Paiute
Passamaquoddy
Pima
Salish
Sanpoils
Seminole
Seneca
Shasta
Sioux
Squamish
Tuskegee
Yokut
Yosemite
Yuchi
Greek
Aristotle
Hesiod
Homer
Plato
Roman
Masonic
"An Encyclopedia of Freemasonry (2 Volumes)"
"The Origin of Masonic Ritual & Tradition"
"Apologie der Illuminaten"
"Apologie des Mißvergnügens und des Übels"
"Das Verbesserte System der Illuminaten"
"De Lapsu Academiarum Commentatio Politica"
"Der ächte Illuminat, oder die wahren, unverbesserten Rituale der Illuminaten"
"Die Leuchte des Diogenes"
"Diogenes Lamp (Tr. Amelia Gill) introduced by Sir Mark Bruback"
"Discours Philosophique sur les Frayeurs de la Mort"
"Einige Originalschriften des Illuminatenordens"
"Einleitung zu meiner Apologie"
"Geschichte der Vervollkommnung des menschlichen Geschlechts"
"Kurze Rechtfertigung meiner Absichten"
"Nachtrag zur Rechtfertigung meiner Absichten"
"Nachtrage von weitern Originalschriften"
"Pythagoras, oder Betrachtungen über die geheime Welt- und Regierungskunst"
"Schilderung der Illuminaten"
"Vollständige Geschichte der Verfolgung der Illuminaten in Bayern"
"Zweifel über die Kantischen Begriffe von Zeit und Raum"
"Über Materialismus und Idealismus"
"Über Wahrheit und sittliche Vollkommenheit"
"Über das Besteuerungs-System"
"Über die Gründe und Gewißheit der Menschlichen Erkenntniß"
"Über die Hindernisse der baierischen Industrie und Bevölkerung"
"Über die Kantischen Anschauungen und Erscheinungen"
"Über die Lehre von den Gründen und Ursachen aller Dinge"
"Über die Schrecken des Todes – eine philosophische Rede"
"Über die Selbsterkenntnis, ihre Hindernisse und Vorteile"
"Über die Staats-Ausgaben und Auflagen"
"Über die Zwecke oder Finalursachen"
Mayan
Asian
Arabic
Islamic
"Layla and Majnun"
Mystical-Occult
"Advancement of Learning the New Atlantis"
"An Advanced Guide to Enochian Magick"
"An Occurrence at Owl Creek Bridge"
"Anacalypsis"
"Atlantis, the Antediluvian World"
"Azoth or The Star In The East"
"Beyond Good and Evil"
"Ceremonial Magic: The Power of Evocation"
"Corpus Hermetica"
"Demonology (King James I)"
"Demonology and Devil-Lore"
"Devil Worship"
"Dogma Et Rituel De La Haute Magie"
"Enochian Dictionary (GMICALZOMA)"
"Enochian Sex Magick"
"Goetia"
"I-Ching (Crowley)"
"Malleus Maleficarum"
"Metatron's Wings"
"Propaganda (1928)"
"Rosicrucians Real History" 1-4 by A.E. Waite
"Teachings of the Initiate"
"The Apocalypse Unsealed"
"The Devil's Dictionary"
"The Hierophant"
"The History of Initiation"
"The Life and Teachings of Thoth Hermes Trismegistus"
"The Lost Keys of Masonry"
"The Mabinogion"
"The Magical Message According to Ioannes"
"The Mystery of Magic"
"The Occult Anatomy of Man"
"The Perennial Philosophy"
"The Pythagorean Order of Death"
"The Rosicrucian Cosmo Conception"
"The Satanic Bible"
"The Secret Destiny of America"
"The Theory and Practice of Mysticism"
"Thus Spoke Zarathustra"
"Three Books of Occult Philosophy, or of Magick"
"Z-5 Secret Teachings of the Golden Dawn"
Ancient Libraries
Ebla
Ugarit
Re-discovered in 1849
Academy of Gondishapur
House of Wisdom
Alexandria
Library of Pergamum
Villa of the Papyri
Theological Library of Caesarea Maritima
Imperial Library of Constantinople
Library of Celsus