English Language Arts Portfolio
by
Paloma Maldonado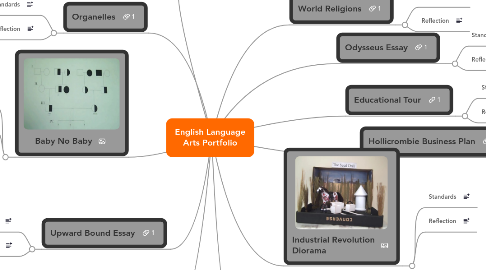 0.0
stars - reviews range from
0
to
5
Standards
WH.2.7- Greek Civilization: Compare and contrast the the daily life, social hierarchy, culture and institutions of Athens and Sparta; describe the rivalry between Athens and Sparta; and explain the causes and consequences of the Peloponnesian War.
Reflection
  During this project we read the Odyssey and then we had to pick a project to create. I chose to do an Educational Tour that showed the different places Odysseus traveled to on his way home to Ithaca. It was made to travel to the modern day places that Odysseus went to. When you look at what I created you will see what I did. I spent three weeks working on this project and I had to research every place that Odysseus traveled. After I got the 12 locations I took a map of the modern-day Mediterranean and estimated the location of all the places. After I did that, the next step was to research all those places and then plan out what my tour group was going to do when we arrived. I used technology which is one of the school wide learning outcomes. I had to use a website called Mixbook. I never heard of this website before and once I got started with it I really enjoyed it.    
Standards
LA.10.4.6 Synthesize information from multiple sources. Identify complexities and inconsistencies in the information and the different different perspectives found in each medium including almanacs, microfiche, news sources, in0depth field studies, speeches, journals, technical documents, , Internet sources. LA.10.4.9 Use a computer to design and publish documents by using advanced publishing software and graphic programs.
Reflection
Oppression exists in many parts of the world and it still goes on today. For this project we were assigned a certain country and we had to research different aspects of oppression that go on within that country. My group and I got Egypt. The task was then to create a webpage displaying the information we collected. My part of the webpage was oppression from the country's start. I researched slavery that dated back to when the Pyramids were being built. I discovered that Egypt was bringing in Africans from the South and coerced them into slavery. All my information then went into my webpage. I learned many things from this project. People are still facing oppression and it should be well aware what people in other countries go through. We live in a country that allows us freedom to own property and say anything at will. We should not take that for granted.
Upward Bound Essay
Standards
10.5.1 Write biographical or autobiographical narratives or short stories that:   describe a sequence of events and communicate the significance of the events to the audience. locate scenes and incidents in specific places. describe with specific details the sights, sounds, and smells of a scene and the specific actions, movements, gestures, and feelings of the characters; in the case of short stories or autobiographical narratives, use interior monologue (what the character says silently to self) to show the character's feelings. pace the presentation of actions to accomodate changes in time and mood.  
Reflection
Every Saturday I attend enrichment courses at Purdue University Calumet. I take three courses and one of them is a English/Writing course. It's my favorite for many reasons. First of all, my teacher Mrs. Santos teaches us new vocabulary words every week. This helps us extend our knowledge of words so that we will do better on the SAT. Lastly, she encourages us to do our best and write for fun. One week she gave us an assignment and that was to write a five page story or essay. It could have been something personal or fictional. We had two weeks to do this assignment. I decided to wrote about my best friend from middle school and how we drifted apart. She did mean and horrible things to me, but it's all in the paper. Names have been changed to protect the identities of those people. I spent hours plotting out my story. I took the paper paragraph by paragraph. Whenever I got writer's block I took a break and then came back to it. I finished the paper a week early and decided to have people peer edit it for me. Their opinions and the advice they gave me helped to write an amazing paper. Then I edited the paper for myself. This paper wasn't an assignment given to me by one of my teachers from Calumet, however it is still connected to the English Language standards and the SWLO's. My story follows the English standard 10.5.1. It follows a series of events and all the other requirements of that status. This essay is proof that I have what it takes to be a good writer. It was one of the first piece of works I did that made me realize I could get better at writing if I truly worked at it. The comments my peers gave were insightful. They allowed me to look at what I did right instead of my flaws in writing.
Odysseus Essay
Standards
LA.10.4.7 Intergrate quotations and citations into a written text while maintaining the flow of of ideas.   WH.9.6 Formulate and present a position or course of action on an issue by examining the underlying factors contributing to that issue.
Reflection
  During this project we read The Odyssey and then we had to determine if Odysseus was a crook or a hero. He committed crimes but was it for his survival or was it being spiteful. My essay explained in detail all the tribulations Odysseus faced and how his actions made him a criminal. He sacrificed the lives of many for his own selfish actions. My paper took two weeks to write and it was eight pages long. It underwent several rough drafts. After I thought it was complete, I had to go back and cite all the sentences that I did not come up with. That was a challenge, because I dislike citing my essays. I got it done though. There is a saying my sister always tells me, don't catch your chickens before they hatch. When I was younger I would always brag about things that were going to happen and then they did not. Odysseus proclaimed himself a God. He counted his chickens before they hatched and then he was punished. After I read the Odyssey I learned that it is best to not act as if you're superior to others. Just be humble and everything will fall into place.    
Organelles
Standards
B.1.3 Know and describe that inside the cell are organlles that serve certain purposes such as; transport of materials, energy capture and release, protein building, waste removal information feedback, and movement. Understand that there are some multicellular organisms that perform special functions that others do not. B.1.4 Understand that the work of a cell is carried out by many different types of molecules it assembles, such as proteins, lipids, carbohydrates and nucleic acids.    
Reflection
This project is one of the very first New Tech projects I ever did. A woman named Mrs. Bartley, from the Sylvan Learning Center gave us the task of creating an analogy to help younger kids better understand the inside of a cell, how all the parts interact, and the specific purposes each structure within the cell serves. We then had to create a presentation and present what we created in front of whole class. The analogy I had was comparing the cell to an amusement park. The very first group I was in did not go well. I was appointed group leader for the first time ever. I had a hard time working with the other people in my group. They did nothing to help accomplish the goal. I spent hours working on the powerpoint by myself. One of my group members even changed everything on the powerpoint, so then I had to go back and redo everything. When it came time to present everyone was unprepared and I had to cover for them. To this day I don't know if Josh, Dena or Valerie understand organelles, but all the extra work I had to put into that presentation paid off for me. I understand the standards backwards and forwards. There are many unique features about this project. First of all, it was my very first New Tech project and it shows how I was at the beginning of the year. When compared to later projects, there is a significant difference between how I presented and the way the powerpoint is laid out.
Hollicrombie Business Plan
Standards
WH.4.4 Explain how the idea of Christendom influenced the development of cultural unity in Europe.   WH.4.10 Trace the origins and developments of the Northern Renaissance and the Italian Renaissance. Explain Renaissance diffusion throughout Western Europe and its impact people and places associated with western civilization.   WH.9.5 Use technology in the process of conducting historical research and in the presentation of the products of historical research and current events.   WH.9.1 Identify patterns of historical change and duration and construct a representation that illustrates continuity andf change.
Reflection
  For this project there were multiple parts. We had the pleasure of choosing a certain business. It could have been a coffee shop, clothing store, or tool shop. Part of the task was to create two versions of these stores using Gooble SketchUp. There was supposed to be a Renaissance version and then a modern-day version. The last part of this project was to make a business plan. My group members chose to take care of the Google Sketchups, it was then my job to be in charge of the business plan. The business plan consisted of various issues when operating and owning your own store. Location, target age group, merchandise were just a few among the many issues I had to deal. I also had to write an executive business summary after I finished the whole document. This document took 3 days to finish. (Class time and time spent working on it after home and at home.) This isn't exactly that illustration we made to show the differences between the Renaissance and now, but this is what I worked on for this project. I conducted research about managing your own store and then I used that knowledge to help me when I worked on this. The entirety of this project can be applied to real world problems and applications. I got first-hand knowledge about the process in which it takes to operate your own business. After this project I learned that I would never want the responsibility of having my own business. I would most likely be a partner.    
Industrial Revolution Diorama
Standards
WH.6.6 Describe the causes and conditions of the Industrial Revolution in England, Europe,and the United States, and explain the global consequences.   WH.6.7 Analyze and evaluate the influence of Christianity, the Elightenment and democratic revolutions and ideas in various regions of the world.   WH.9.1 Identify patterns of historical change and duration and construct a representation that illustrates continuity and change.
Reflection
During this project we studied the Industrial Revolution. This was a time in which many new advancements were being made in how the world operated with machinery or farming. My teachers assigned us an inventor that lived during that time period. It was our job to then conduct research about the different inventions or improvements that made. My group and I were assigned Jethro Tull. He improved the design of the seed drill. After we found our invention. We then had to make a diorama displaying it. There is a picture of my diorama right on my mind map. It was really difficult to find materials in order to construct a minisculed version of a seed drill. So instead of going to Menards, I went to a hobby shop. There I got balsa wood, miniature sized wheels, and acrylic glue. After I had my material I took 3 days for the seed drill itself. My sister helped me cut out parts for it. Then we both sat there holding the seed drill to make sure the parts glued properly together. After the seed drill was built I then moved on to my backdrop, which was really fun to make. I just printed out a farm, then I went to JoAnn Fabrics to get supplies to make it more life-like. One of the standards for this project was to create a representation of how the seed drill changed or improved. I did just that and conducted reasearch not only about my invention, but also many inventors and their inventions as well. This project allowed me to understand that my generation could do great things once we graduate from college. We could find the cure for cancer or improve the design of cars that run of water. The possibilities ar endless. It is up to us to cease the day and make something out of it.
Baby No Baby
Standards
Genetic Disorders HW. 1.4 Explain the impact that genetics can have a personal health. B.1.21 Understand and explain that the information passed from parents to offspring is transmitted by genes which are coded in the DNA molecules. B.1.23 Understand and describe that inserting, deleting, or substituting DNA segments can alter a gene. Recognize the fact that an altered gene may be passed on to every cell that develops from it and that the resulting features may help, harm, or have little or no effect on the offspring's chances of survival. B.1.28 Illustrate that the sorting and recombination of genes in sexual reproduction results in a great variety of possible gene combinations from the offspring of any two parents. Recognize that genetic variation can occur from such processes as crossing over, jumping genes, deletion, and duplication of genes.      
Reflection
  The last big project we had in BioHealth was called Baby No Baby. Basically it was about genetic disorders and how likely offspring are to develop certain traits or genes from their parents. Miss Lenher and Mr. Nelson gave us the task of pretending, well acting, as genetic counselors. They gave us a slip of paper with information of a family's history. We then had to take that information and make a pedigree and show the likelihood of the offspring having a genetic disorder. The scenario I had was of a man and woman that had family histories of cystic fibrosis. They wanted three kids and I had to take what information they gave me (which was not a lot) and determine the probability of the children having a defective gene. This wasn't an easy task to do. There are many different gene combinations you can have and then process can become confusing. Before my presentation with Miss Lenher, I was not very confident with how I thought I might do. Once she called my name and I walked back to her; I greeted her with a smile and a handshake. I introduced myself and acted very professional. Once my counseling session got started I knew what I was doing. I researched everything, knew all the terms associated with genetics. (Homozygous, heterozygous, monohybrid cross, dihybrid cross, etc.) After I finished my one on one presentation, Miss Lenher told me I did the best out of everyone that had my scenario. That made me smile on the inside. What I got most from the final product of the project was the confidence to do a one on one interview/session with anyone. Later on in life is when this will be of great use to me. I'm going to need these skills in order to do well in college or maybe ever job interviews. No matter what I gained from this process I still need improvement. I noticed that I got tongue tied from time to time and I should have rehearsed more before I presented. This knowledge of how I prepare for presentations will help me with future ones.  
Where Are They Now?
Standards
WH.9.2 Locate and analyze primary sources and secondary sources related to an event or issue of the past. WH.9.4 Explain issues and problems of the past by analyzing the interests and viewpoints of those involved. WH.9.5 Use technology in the process in conducting historical research in the presentation of the products of historical research and current events. LA.10.2.5 Students should be able to draw conclusions about a text and supprt them with evidence  
Reflection
A few weeks ago my group and I were given the task of finding two people throughout history and examine whether or not they have made an impact on society. The people could have been from the past or the present. We then had to create a rubric to score our people and make a visual aid to show the data we collected as a whole. My group and I decided to base our people off their efforts in helping the world. The rubric consisted of three parts. The two people I decided on was Leonardo DiCaprio and Heidi Brown. Leonardo DiCaprio has an organization dedicated to global warming. He's one of the top celebrities living an "eco-friendly" life. Heidi Brown was the first female general to ever lead a combat bridgade through Iraq. In the end the person that I chose to stay with was DiCaprio because he is more well-known than Brown. During this project I learned that you can be an important person like the president and still not get enough recognition for your efforts if they are not enough. DiCaprio scored higher than Obama because his efforts are more well-known. People need to grasp the concept that we are what makes the world go round. It is us that shape the future of generations to come. I plan to make a difference in the world and the first steps in doing this is going to college and getting a degree. This project made me understand how vital it is to be a well educated person.
World Religions
Standards
WH.3.2- Asia: Examine, interpret and compare the main ideas of Hinduism and Buddhism and explain their influence on civilization in India. WH.3.3- Asia: Explain how Buddhism spread and influenced people and their cultures throughout South Asia, Central Asia and East Asia. WH.3.3- Asia: Describe the life of Muhammad, fundamental teaching of Islam, and connections of Islam to Judaism and Christianity. WH.3.8- Asia: Trace the extent and consequences of Islam's spread in Asia, the Mediterranean region and southern Europe.
Reflection
  This project our teachers assigned the group we were working with a certain religion. It was our job to research and then make a visual aid to teach the rest of the class about our religion. My group and I spent a lot of time working on this powerpoint. We made sure that what we said aloud was not in the powerpoint and we practiced what we were going to say when presenting. This project allowed me to see where I was at in the beginning of the year. Now I'm at another place with my presenting and public speaking skills. I plan to continue practicing before I go in front of a big crowd.  
Please Read
Introduction(Before)
Conclusion(After)