ENGLISH PORTFOLIO
by Brittany Ward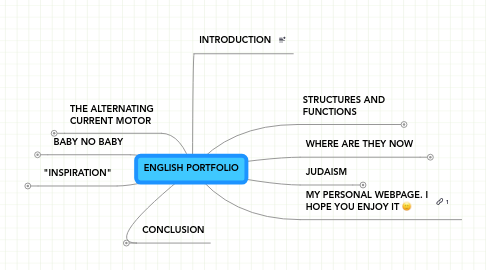 1. THE ALTERNATING CURRENT MOTOR
1.1. POWERPOINT
1.2. 10.7: Students formulate thoughtful judgments about oral communication.
1.3. I HOPE YOU ENJOY THE POWERPOINT
1.4. This project was about finding someone famous that invented something. We picked Charles Steinmetz and he had invented the alternating current motor. We ended up building a mini version of the motor Charles Steinmetz had invented and presented it to the class. This project will help me in the future if I ever need to do anything from the past then I know about Charles and what he did.
2. BABY NO BABY
2.1. NOTES
2.2. RUBRIC FROM "BABY NO BABY"
2.3. 10.1 Students apply their knowledge of word origins (words from other languages or from history or literature) to determine the meaning of new words encountered in reading and use those words accurately.
2.4. Baby No Baby is a project about babies with birth defects. We had to look up information about babies and birth defects and how they end up getting the diseases. We had to make Punnett Squares and we had to council a couple and they both had different things wrong with them and some of them didn't even have anything wrong with them but at least one of the parents had something wrong with them and it affected their baby. This project helped me for when I decide to have kids then I can find out what will it end up having.
3. "INSPIRATION"
3.1. A FEW WORDS OF INSPIRATION
3.2. When you get into a tight place and everything goes against you, till it seems as though you could not hold on a minute longer, never give up then, for that is just the place and time that the tide will turn.
3.3. This is an inspiration to me because when you have a fight with your parents, or even your friends, you don't want to give up on your friendship. You want to make it right again so you can just keep trying to talk to them and apologize.
4. CONCLUSION
4.1. First, I would like to thank you for taking the time out of your day to look at and grade my portfolio. Like I said it's just a few pieces of the work I had done throughout this whole year. I hope you have enjoyed the portfolio of my work and I hope you also enjoyed my personal webpage.
5. STRUCTURES AND FUNCTIONS
5.1. POWERPOINT
5.2. 10.1.2: Distinguish between what words mean literally and what they imply, and interpret what words imply.
5.3. STRUCTURES & FUNCTIONS POWERPOINT
5.4. Structures and Functions was all about the nucleus and ribosomes and all that other stuff. This will help me in the future in case I want to be a bone doctor or nurse or anything of that type then I would know what goes on in a body.
6. JUDAISM
6.1. POWERPOINT
6.2. Students formulate thoughtful judgements
6.3. New node
7. WHERE ARE THEY NOW
7.1. NOTE-TAKING SKILLS
7.2. 10.4.4 Use clear research questions and suitable research methods, including texts, electronic resources, and personal interviews, to compile and present evidence from primary and secondary print or Internet sources.
7.3. Where Are They Now is about a partner and I choosing a person from the past then making an interview of questions then finding the answers online and filling in the answers.
8. MY PERSONAL WEBPAGE. I HOPE YOU ENJOY IT :)
9. INTRODUCTION