My PLN in next one year (Goals) Inspiration- My goal is to grow as an educator and help others grow!
by Nupur Sethi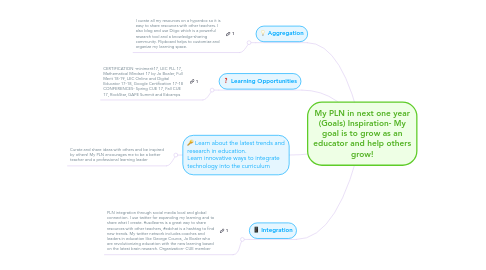 1. Integration
1.1. PLN integration through social media local and global connection. I use twitter for expanding my learning and to share what I create. #usdlearns is a great way to share resources with other teachers, #edchat is a hashtag to find new trends. My twitter network includes coaches and leaders in education like George Couros, Jo Boaler who are revolutionizing education with the new learning based on the latest brain research. Organization- CUE member
2. Learning Opportunities
2.1. CERTIFICATION -minimerit17, LEC PLL 17, Mathematical Mindset 17 by Jo Boaler, Full Merit 18-19, LEC Online and Digital Educator 17-18, Google Certification 17-18 CONFERENCES- Spring CUE 17, Fall CUE 17, RockStar, GAFE Summit and Edcamps
3. Aggregation
3.1. I curate all my resources on a hyperdoc so it is easy to share resources with other teachers. I also blog and use Diigo which is a powerful research tool and a knowledge-sharing community. Flipboard helps to customize and organize my learning space.
4. Learn about the latest trends and research in education. Learn innovative ways to integrate technology into the curriculum
4.1. Curate and share ideas with others and be inspired by others! My PLN encourages me to be a better teacher and a professional learning leader