Change Management
by Surbhi Mahnot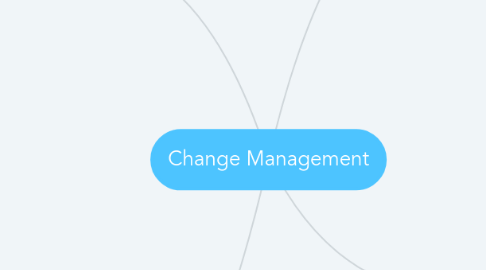 1. 1. Prepare
1.1. Define the need for the change.
1.1.1. Growth
1.1.2. Deviation from the set vision
1.1.3. Dissatisfaction
1.1.3.1. Customers
1.1.3.2. Employees
1.1.4. Quality
1.1.4.1. Code
1.1.4.2. User Experience
1.1.4.3. Procedures & Processes
1.2. Establish sense of urgency
1.2.1. Market Position
1.2.2. Competition
2. 2. Assess
2.1. Prepare a Business Case
2.1.1. Purpose
2.1.1.1. Improve adoption and usage of solution
2.1.1.2. Drive project results and outcomes
2.1.1.3. Create deliverables that support key milestones
2.1.1.4. Scalable approach that aligns with project life cycle and organization vision
2.1.2. Scope
2.1.3. Expected Benefits
2.1.4. Priority
2.2. Change Types
2.2.1. Individual
2.2.1.1. Milestones needed for a single person to make the change successful
2.2.2. Organizational
2.2.2.1. Strategy and plans that supports individual transitions
3. 3. Process / Deliverables
3.1. Plan the change
3.1.1. Identify & define individual changes required by a project
3.1.2. Assessments & Risk Profile
3.1.2.1. Impact analysis on employees and organization
3.1.3. Change Management Strategy
3.1.3.1. Increase awareness about the change
3.1.3.2. Induce desire to participate and support the change
3.1.3.3. Knowledge on how to change
3.1.3.4. Ability to implement the required change
3.1.3.5. Plan to sustain the change
3.1.4. Create Adoption & Usage Metrics
3.1.4.1. A report on the value-add of the change at organization level
3.1.4.2. A report on the effectiveness of the change at project level
3.1.4.3. A report on the effectiveness of the change at the individual level
3.1.4.4. To measure the overall outcome of the change
3.2. Implement
3.2.1. Communications Plan
3.2.1.1. What information to share with employees during the change. Sharing right message to the right audience at the right time is very important
3.2.2. Sponsor Roadmap
3.2.2.1. Details the specific actions needed from the senior leaders
3.2.3. Training Plan
3.2.3.1. Identify knowledge gap, training requirements for a project or initiative
3.2.3.2. How managers & supervisors need to engage to their direct reports during the change.
3.2.4. Resistance Management Plan
3.2.4.1. Proactive and reactive response approach to resistance when it occurs during the change. Executed by the senior leaders & managers
3.2.5. Coaching Plan
3.2.5.1. How seniors need to engage with their direct reportees during the change
3.3. Sustain
3.3.1. Feedback Plan
3.3.1.1. Fine-tune for improvements
3.3.2. Compliance Audit Plan
3.3.3. Recognition
4. 4. Measure
4.1. Individual Adoption
4.2. Market Adoption
4.3. Flexibility
4.4. Project outcomes & values