Taking The Knee
by Jared Andersen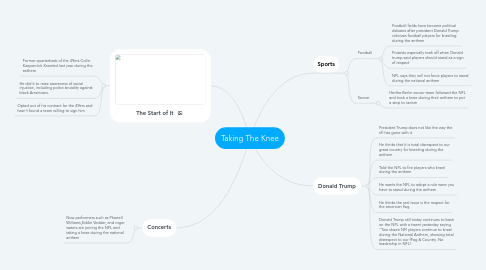 1. Sports
1.1. Football
1.1.1. Football fields have become political debates after president Donald Trump criticizes football players for kneeling during the anthem
1.1.2. Protests especially took off when Donald trump said players should stand as a sign of respect
1.1.3. NFL says they will not force players to stand during the national anthem
1.2. Soccer
1.2.1. Hertha Berlin soccer team followed the NFL and took a knee during their anthem to put a stop to racism
2. Donald Trump
2.1. President Trump does not like the way the nfl has gone with it
2.2. He thinks that it is total disrespect to our great country for kneeling during the anthem
2.3. Told the NFL to fire players who kneel during the anthem
2.4. He wants the NFL to adopt a rule were you have to stand during the anthem
2.5. He thinks the real issue is the respect for the american flag
2.6. Donald Trump still today continues to bash on the NFL with a tweet yesterday saying "Two dozen NFl players continue to kneel during the National Anthem, showing total disrespect to our fFag & Country. No leadership in NFL!
3. The Start of It
3.1. Former quarterback of the 49ers Collin Kaepernick Kneeled last year during the anthem
3.2. He did it to raise awareness of social injustice, including police brutality against black Americans.
3.3. Opted out of his contract for the 49ers and hasn't found a team willing to sign him
4. Concerts
4.1. Now performers such as Pharrell Williams,Eddie Vedder, and roger waters are joining the NFL and taking a knee during the national anthem