What kind of person do I want to be?
by Michael Hladio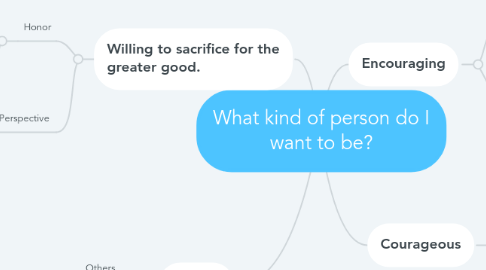 1. Encouraging
1.1. Positive
1.1.1. Consider the best in others
1.2. Empathy
1.2.1. Try to think of what I experience from another's perspective
1.2.2. What would help me to continue doing things that are difficult? Can I provide that for others?
2. Courageous
2.1. Focused
2.2. Value
3. Willing to sacrifice for the greater good.
3.1. Honor
3.1.1. Focus on the future
3.1.1.1. Selfishness
3.1.1.2. Tyranny of the urgent; thinking only about right now.
3.1.1.2.1. I need to be able to let go of my need to see "justice" carried out the way I think it should be done.
3.1.2. What is most important?
3.2. Perspective
3.2.1. About more than me
3.2.2. How can I impact others?
4. Selfless
4.1. Others
4.2. Beyond