THE KOF INDEX
by Michelle Otchere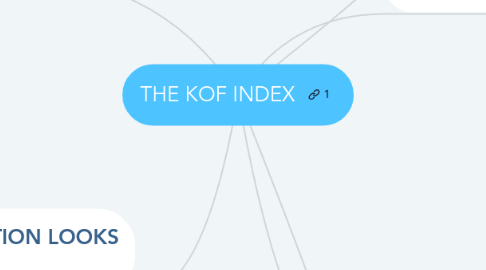 1. SOCIAL GLOBALIZATION LOOKS AT:
1.1. 1. PERSONAL CONTACT- THIS CAPTURES DIRECT INTERACTION AMONG PEOPLE LIVING IN DIFFERENT COUNTRIES (EG: TELEPHONE TRAFFIC)
1.2. 2. INFORMATION FLOWS: THIS LOOKS AT HOW ACCESSIBLE INFORMATION FROM FOREIGN COUNTRIES IS TO THE CITIZENS OF A COUNTRY (EG: NUMBER OF INTERNET USERS)
1.3. 3. CULTURAL PROXIMITY: THIS IS ARGUABLY THE DIMENSION OF GLOBALIZATION MOST DIFFICULT TO UNDERSTAND (EG; NUMBER OF McDONALDs RESTAURANTS IN A COUNTRY
2. MEASURES THREE DIMENSIONS OF GLOBALIZATION:
2.1. -ECONOMIC GLOBALIZATION -SOCIAL GLOBALIZATION -POLITICAL GLOBALIZATION
3. POLITICAL GLOBALIZATION LOOKS AT:
3.1. NUMBER OF EMBASSIES AND HIGH COMMISSIONS IN A COUNTRY
3.2. NUMBER OF UN SECURITY COUNCIL PEACE MISSIONS A COUNTRY HAS PARTICIPATED IN
3.3. NUMBER OF INTERNATIONAL ORGANIZATIONS TO WHICH THE COUNTRY IS A MEMBER
4. ECONOMIC GLOBALIZATION LOOKS AT:
4.1. 1. ACTUAL FLOWS
4.2. 2. RESTRICTIONS
5. CRITICISMS OF THE KOF INDEX
5.1. 1. SOME DETERMINANTS ARE BASED ON AMERICAN TRADITIONS.
5.2. 2. CULTURAL BARRIERS.
5.3. 3. DIDN'T CONSIDER DEMOCRACY AS A PART OF GLOBALIZATION
5.4. 4. DIDN'T INCLUDE RELIGION AS A FACTOR.
6. STRENGTHS OF THE KOF INDEX
6.1. 1. INDEX IS SIMPLE AND EASY TO UNDERSTAND BECAUSE IT IS MEASURED IN THE FORM 0-100
6.2. 2. CONSIDERS MANY ASPECTS OF GLOBALIZATION.