"How do I use a range of different resources and strategies to accommodate diversity in student learning?"
by Alexis Winter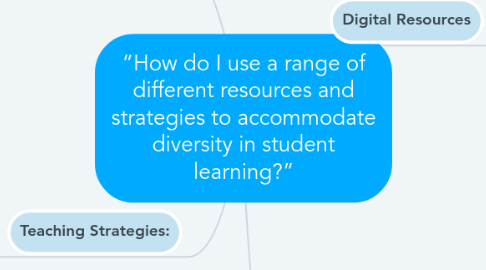 1. Teaching Strategies:
1.1. Clear specific instructions and expectations when delivering new tasks
1.2. Design lessons based on students individual learning styles
1.3. Week by week guide with specified soft deadlines for Student B but made available to all students
1.4. Create checklists to minimize confusion for folio work
1.5. Relatable content (eg. Gorman website) when introducing visual analysis
1.6. Regular targeted feedback
1.7. Student centered learning
1.8. Offer specific youtube sewing tutorials for each student depending on their needs. This can be something they can look at while waiting for assistance, as homework, or to gain clarification on different techniques, pausing at each step and going at their own pace
2. Design Process
2.1. Understanding clients needs and how to interpret a brief
2.2. Moodboards to convey clients needs for visual learners
2.3. Visual examples of making process for garment construction
3. Evidence
3.1. Formative and Summative Assessment
3.2. Setting clear and achievable goals
4. Digital Resources
4.1. LMS
4.2. Youtube (sewing tutorials)
4.3. By Hand London (free online sewing tutorials)
4.4. Seamwork (online fashion/textiles publication can be accessed anywhere)
4.5. Prezi
4.6. Integrate learning with media platforms students are already using.
4.7. Instagram: @fash_rev (demonstrates social and ethical fashion ideas with their content catered towards females between 16-30)