projecte digital apartats
by joan campmany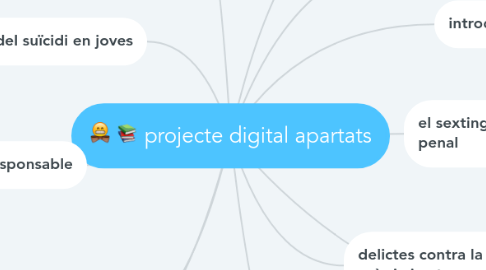 1. Joan Campmany
2. portada
2.1. Marta Roura
3. el sexting i la reforma del codi penal
3.1. Marta Solé
3.2. "El Sexting: nuevo tipo penal introducido tras la reforma del código penal"
4. xarxes socials i dret fonamental a la intimitat
4.1. "redes sociales y derecho fundamental a la intimidad en los menores"
5. menors infractors o víctimes?
5.1. Nereida
5.2. "predadores sexuales online, grooming i sexting en adolescentes"
6. causes i xifres del suïcidi en joves
6.1. Marta R.
6.2. "el suicidio en jovenes en España, cifras y posibles causas"
7. sexting responsable
7.1. Joan C.
7.2. "hormonas, TIC, pornografía ambiental, sexting adolescente"
7.3. "How to initiate a sexting with a new girl"
8. conclusió-resum
8.1. Joan C.
9. webgrafía
9.1. Marta R.
10. introducció
10.1. Nereida
11. delictes contra la intimitat i la pròpia imatge
11.1. Marta S.
11.2. "delitos contra la intimidad, el derecho a la propia imagen y la inviolabilidad de domicilio"
12. índex
12.1. Nereida