My perspective: Schools are not effectively preventing student teen suicide.
by Desiree Velarde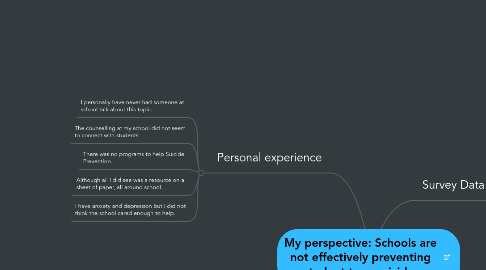 1. Survey Data
1.1. After collecting the results from other students, they did not seem very pleased.
1.2. Many schools did not offer resources or try to talk about the topic.
1.3. Some students had no clue if there was any resources at school provided.
1.4. Many of the students had anxiety, depression or other and some did not.
2. From perspective 2 reasonings
2.1. Research says that suicide is one of the top causes of death (ages between 10-24).
2.1.1. Props Master
2.1.2. Propmaker
2.1.3. Weapons Master
2.2. A total of 61% of high school students have either considered, planned and even attempted suicide (within the past year).
2.3. Technology is expanding and so is cyber-bullying and bullying.
2.4. Suicide rates in female and male have been increasing the doubled amount since ten years ago.
2.5. Many students have been bullied and abused. These types of situations lead to depression and anxiety, causes of suicide.
3. Personal experience
3.1. I personally have never had someone at school talk about this topic.
3.2. The counselling at my school did not seem to connect with students.
3.3. There was no programs to help Suicide Prevention.
3.4. Although all I did see was a resource on a sheet of paper, all around school.
3.5. I have anxiety and depression but I did not think the school cared enough to help.
4. From Perspective 1 reasonings
4.1. Even if teachers and staff were trained to recognized the warning signs of suicide, they did not seem to take advantage of it to their full ability.
4.1.1. Film Editor
4.1.2. Colorist
4.2. They say they provide resources but do not seem to spread the word about it, as needed.
4.2.1. Visual Effects Producer
4.2.2. Visual Effects Creative Director
4.2.3. Visual Effects Supervisor
4.2.4. Visual Effects Editor
4.2.5. Compositor
4.2.6. Roto Painters
4.2.7. Matte Painter
4.3. They have counselling but have not been connecting with the students, as they should.
4.3.1. Sound Designer
4.3.2. Dialogue Editor
4.3.3. Sound Editor
4.3.4. Re-recording Mixer
4.3.5. Music Supervisor
4.3.6. Composer
4.3.7. Foley Artist
4.4. They provide screenings but I have never received one and it does not seem like all students have.