MICROBIAL ENHANCING OIL RECOVERY (MEOR) -Pseudomonas sp
by Siti Hajar Abd Rahim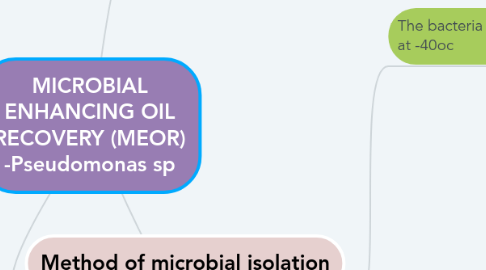 1. Finally, 4 mL bacterial suspension and different volumes of hydrocarbons (n-hexadecane, n-dodecane, n-hexane, methybenzene) were added in each test tube.
2. Characteristic of the microbe
2.1. High tolerance in salinity (<80000 ppm)
2.2. pH (4-10)
2.3. Temperature (<100c)
2.4. Able to withstand high pressure
2.5. Successful degraded most of the n-alkanes
2.6. Able to produce rhamnolipids -useful in MEOR process.
3. Method of microbial isolation
3.1. The bacteria was stored in glycerol freezer at -40oc
3.2. Incubated in LB medium
3.2.1. Pseudomonas sp. SWP-4 was firstly cultured in LB medium at 30 °C, 150 rpm on a rocking incubator for 24 h
3.2.2. Biotechnological importance of the microbe
3.2.2.1. As a high efficiency crude oil degrader
3.2.2.2. Able to produce rhamnolipids for MEOR process
3.2.2.3. As an excellent waste cooking oil degrader
3.2.2.4. had the capacity to produce biosurfactant as well as degrade petroleum hydrocarbon
3.2.3. The collected cells were washed three times and re-suspended in PUM buffer and deionized water to 1000 mL.
3.2.4. bacterial cells were harvested by centrifugation (3000 rpm, 10 min)