INTRODUCTION TO DFS6113 ETHICAL HACKING
by mila osmin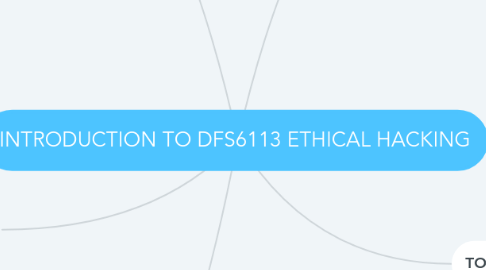 1. COURSE LEARNING OUTCOMES (CLO)
1.1. 1. explain hacking terminologies, methodologies and technique. (C2 ,PLO1)
1.2. 2. perform penetration testing using various tools and techniques. (P4, C4, PLO2, PLO1)
1.3. 3. demonstrate a good practice and code of ethics in penetrating the systems in organization. (A3, PLO8)
2. TOPICS
2.1. 1.0 INTRODUCTION TO ETHICAL HACKING
2.1.1. This topic exposes the basic idea of hacking activity. This includes cyber laws applied in the US and Malaysia.
2.2. 2.0 GATHERING TARGET INFORMATION
2.2.1. The topic covers the methodology of information gathering such as unearth initial information, locate the network range, ascertain active machines, discover open ports/access points, detect operating system, uncover services on ports and map the network. In this topic attacker should learn as much as possible about the target/host.
2.3. 3.0 GATHERING NETWORK AND HOST INFORMATION
2.3.1. This topic discusses scanning and enumeration phases. Scanning and enumeration are active information-gathering tools which allow target/host to be detected. During this stage, location of the target is specified and determined.
2.4. 4.0 SYSTEM HACKING
2.4.1. This topic covers all parts of hacking processes such as guessing or cracking passwords, escalating privileges, hiding files and covering tracks. These steps should uncover the most valuable information for hackers.
2.5. 5.0 ATTACKS
2.5.1. This chapter inculcates the nature of common attacks. Students are exposed with the countermeasures and the way they are done using tools.
3. REFERENCES
3.1. Main: Sean-Philip Oriyano (2014), CEH: Certified Ethical Hacker Version 8 Study Guide. Wiley Publisher. (ISBN: 978-1-118-64767-7).
3.2. Additional: 1. Matt Walker, Angela Walker (2011), CEH Certified Ethical Hacker All-in- One Exam Guide. McGraw Hill Professional (ISBN: 978- 0071772280)
3.3. 2. Patrick Engebretson (2011), The Basics of Hacking and Penetration Testing: Ethical Hacking and Penetration Testing Made Easy. Syngress (ISBN: 978-1597496551)
3.4. 3. Certified Ethical Hacker (CEH) Cert Guide (2014). Pearson Education,Inc. (ISBN: 978-0-7897-5127-0)
3.5. 4. Rafay Baloch (2015), Ethical Hacking and Penetration Testing Guide, CRC Press. (ISBN: 978-1-4822-3162-5)
3.6. 5. K. Mitnick, William L. (2014), Ghost in the Wires: My Adventures as the World's Most Wanted Hacker, Back Bay Books. (ISBN: 978-0-3160- 37723)
4. Assessments
4.1. i. Coursework Assessment (CA) – 80% Coursework assessments that measures knowledge, practical skills and generic skills are carried out in the form of continuous assessment. Coursework assessments total score comprises the knowledge and practical marks ONLY. It does not include the mark of generic skills.
4.1.1. Quiz : 3 (15%)
4.1.2. FA-Final Test: 1 (20%)
4.1.3. Laboratory Exercises: 3 (30%)
4.1.4. Problem Based Task (PBT): 1 (35%)
4.2. ii. Final Assessment (FA) – 20% Final assessment is carried out at the end of the semester.
5. SYNOPSIS
5.1. ETHICAL HACKING course provides technical skills to penetrate networks and/or computer system using the same methods as a hacker. The goal of ethical hackers is to help organizations take preemptive measures against malicious attacks by attacking system themselves, whilst staying within legal limits. This course also introduces students to the professional ethics in which computer professionals apply codes of ethics, ethical issues and standards of good practice within their profession.