Network Standard Organizations
by gunaalan puganes05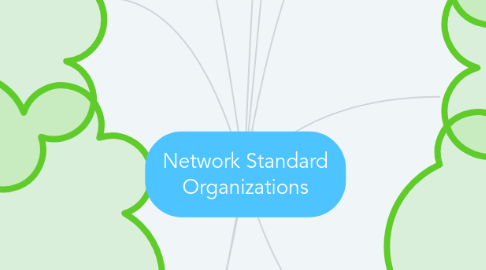 1. Electronic Institutes Alliance (EIA)
1.1. The Electronic Industries Alliance (EIA; until 1997 Electronic Industries Association) was a standards and trade organization composed as an alliance of trade associations for electronics manufacturers in the United States. They developed standards to ensure the equipment of different manufacturers was compatible and interchangeable. The EIA ceased operations on February 11, 2011, but the former sectors continue to serve the constituencies of EIA
2. Telecommunication Industry Association (TIA)
2.1. Accredited by the American National Standards Institute (ANSI) to develop voluntary, consensus-based industry standards for a wide variety of Information and Communication Technologies (ICT) products, and currently represents nearly 400 companies
3. International Organization for Standardization (ISO)
3.1. The International Organization for Standardization (ISO) is an international standard-setting body composed of representatives from various national standards organizations. The organization promotes worldwide proprietary, industrial and commercial standards.
3.2. Formation: 23 February 1947 Type: Non-governmental organization Purpose: International standardization Headquarters: Geneva, Switzerland Membership: 162 members (March 2017) Official languages: English, French, Russian
4. Internet Assigned Number Authority (IANA)
4.1. A nonprofit private American corporation that oversees global IP address allocation, autonomous system number allocation, root zone management in the Domain Name System (DNS), media types, and other Internet Protocol-related symbols and Internet numbers. Before ICANN was established primarily for this purpose in 1998, IANA was administered principally at the Information Sciences Institute (ISI) of the University of Southern California (USC)
4.2. Founded: 1988; 29 years ago Founder: U.S. government Focus: Manage DNS root zones Location: Playa Vista, California, U.S. Owner: ICANN
5. Internet Corporation of Assigned Names and Numbers (ICANN)
5.1. A nonprofit organization responsible for coordinating the maintenance and procedures of several databases related to the namespaces of the Internet, ensuring the network's stable and secure operation
5.2. Founded: September 18, 1998; 19 years ago Focus: Manage Internet Protocol numbers and Domain Name System root Location: Los Angeles, California, United States
6. Internet Society (ISOC)
6.1. An American non-profit organization, provide leadership in Internet-related standards, education, access, and policy. Its mission is "to promote the open development, evolution and use of the Internet for the benefit of all people throughout the world".
6.2. Formation: 1992; 25 years ago Legal status: Non-profit Headquarters: Reston, Virginia, U.S. Membership: 100,000 Official language: American English
7. Institute of Electrical and Electronics Engineers (IEEE)
7.1. Its objectives are the educational and technical advancement of electrical and electronic engineering, telecommunications, computer engineering and allied disciplines.
7.2. Founded January 1, 1963; 54 years ago Location: Piscataway, New Jersey, US Origin: Merger of the American Institute of Electrical Engineers and the Institute of Radio Engineers Members: 420,000+
8. International Telecomunication Union (ITU)
8.1. The ITU coordinates the shared global use of the radio spectrum, promotes international cooperation in assigning satellite orbits, works to improve telecommunication infrastructure in the developing world, and assists in the development and coordination of worldwide technical standards.
8.2. Formation: 17 May 1865 Type: UN Specialized Agency Headquarters: Geneva, Switzerland
9. American National Standards Institute (ANSI)
9.1. A private non-profit organization that oversees the development of voluntary consensus standards for products, services, processes, systems, and personnel in the United States. The organization also coordinates U.S. standards with international standards so that American products can be used worldwide.
9.2. Formation: October 19, 1918 (99 years ago) Headquarters: Washington, D.C., United States Membership: 125,000 companies and 3.5 million professionals Official language: English