WEB 2.0 MOBILE APPS
von Fatima Madondo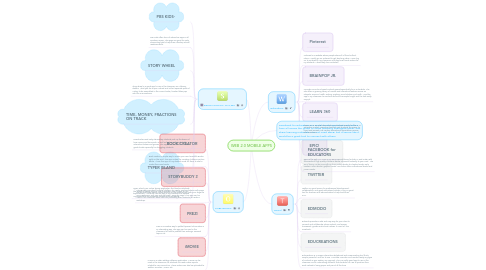 1. Facebook for Educators is a social media app where educators from all across the globe to share teaching strategies/ideas, and share learning materials. I've not used FBFE, but it seems like it would be a great tool to connect with others.
2. EDUCATIONAL GAMES
2.1. PBS KIDS-
2.2. PBS Kids offers tons of interactive apps in all academic areas. This apps are great for early elementary kids to help them develop school readiness skills.
2.3. STORY WHEEL
2.4. Story wheel is a great app to use in the classroom as a literacy station! What you do is spin a wheel and collect separate parts of a story to be assembled in the correct order; finished tales pop into life as animations!
2.5. TIME, MONEY, FRACTIONS ON TRACK
2.6. Preschoolers and early elementary students pick up the basics of how money and time work, as well as fractions, through both interactive videos and games. This app could be used in various grade levels especially for struggling students.
2.7. TYPER ISLAND
2.8. Typer Island is an online typing application that teaches students the basics of typing such as how to position their fingers on the keyboard,etc. I currently use this app in my classroom to expose my students to the necessary components for typing.
3. Social
3.1. FACEBOOK for EDUCATORS
3.2. TWITTER
3.3. Twitter is a great source for professional development, collaboration, and great educational articles. This is a great tool for teachers and administrators to help build their PLN.
3.4. EDMODO
3.5. Edmodo provides a safe and easy way for your class to connect and collaborate, share content, and access homework, grades and school notices. It's sort of like Facebook.
3.6. EDUCREATIONS
3.7. Educreations is a unique interactive whiteboard and screencasting tool that's simple, powerful, and fun to use. Annotate, animate, and narrate nearly any type of content as you explain any concept. This is a really good app to use in the classroom and it's something different that students can use to produce their work instead of using paper and pencil all the time
4. Education
4.1. Pinterest
4.2. Pinterest is a website where people share all of their brilliant ideas. I usually go on Pinterest to get teaching ideas. I even log on to Pinterest in my classroom and play brain break videos for my students. I absolutely love Pinterest!
4.3. BRAINPOP JR.
4.4. Provides curriculum-based content geared specifically for K-3 students. The site offers a growing library of movies and interactive features across six subjects: science, health, writing, reading, social studies, and math. I use this app in my classroom to reinforce skills and concepts taught and the kids really enjoy it.
4.5. LEARN 360
4.6. Learn 360 is an interactive media-on-demand service for the K-12 education market, providing teachers and students the power to meet and exceed 21st century educational expectations across all curriculums.
4.7. EPIC!
4.8. Epic! is the only ALL-YOU-CAN-READ eBook library for kids 12 and under with thousands of high quality children's books, streamed instantly to your iPad. The EPIC library contains everything from picture books to chapter books, early readers, comic books, graphic novels, non-fiction titles, educational books and junior novels.
5. PUBLISHING
5.1. BOOK CREATOR
5.2. Book creator is simple way to create your own beautiful iBooks, right on the iPad. This app is ideal for creating children's picture books. I have this app on my student iPads for them to use to create their own books.
5.3. STORYBUDDY 2
5.4. StoryBuddy provides a magical platform to create, read and share multi-page stories like never before. Draw directly on the iPad's screen with your finger as you create your very own picture book – page by page. Thus app can be used in the classroom when kids are publishing their students for writer's workshop.
5.5. PREZI
5.6. Prezi is a creative way to publish/present information in an interesting way. This app can be used in the classroom for kids to publish their writings, research topics, etc.
5.7. iMOVIE
5.8. iMovie is a video editing software application. iMovie can be used in the classroom for students to create video reports related to core curriculum. These videos can also be uploaded to Twitter, YouTube, Vimeo, etc.