Planning Personal Brand Presentation
von Erica Myers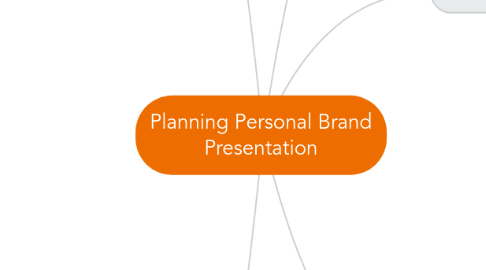 1. Dream Job 1: Olympics branding and design
1.1. maybe this isn't really a "dream" job but a super awesome experience to have
1.1.1. i'd only want to do it once
1.1.2. what do i like so much about the olympics and why is this so cool
1.1.2.1. the stories behind the athletes
1.2. Lead creative team: art director or creative director
1.3. I've been a client so I know how urgent requests can be
1.3.1. i also understand how critical deadlines are
1.4. pitch as ericaleighcreative
1.4.1. manage budget wisely
1.4.2. 16 years as in-house designer/creative lead
1.4.3. gather resources to get the job done
1.4.4. tap the olympic spirit
1.5. graphic designer
1.6. would an olympic gig be a sabatical? or on-the-side?
1.6.1. maybe its on the side until the olympic year and then a sabatical
2. Dream Job 2: Design bibles
2.1. i would pursue this route if my current employer would toss me
3. who am i?
3.1. ability to figure out what is being asked when the requester isn't good at telling me
3.1.1. translate
3.1.2. interpret
3.2. give them what they want; no ego
3.3. calm, laid-back but not lazy. i dont sweat the small stuff for very long
3.4. i come through i the nick of time like a ninja! our annual report for example
3.4.1. this means pressure and i dont like that. i do like that i've helped someone
3.4.1.1. this is a double-edged sword. i've been complaining that everything i do is for others, but i've created that brand by my actions
3.5. helpful and responsive. people know I'll come through for them but this past year has been so overwhelming that i've gotten away from that
3.5.1. teach a man to fish, but i haven't been able to devote time to teaching/training others
3.5.2. have to get selfish about who i help and how much -- i'm a target for parasites
3.6. strong technical skills for print, design and working with photography
3.7. corporate
3.8. not edgy or artsy, but classic style
3.9. social media: curator -- I don't post often but when I do its worth your time to consider
3.10. need to practice the craft
3.11. rare talent: creative AND technical
3.11.1. find research to support
3.11.1.1. right brain/left brain does not equal not good at anything, but expert in both
3.12. project manager with solid design skills
3.13. solid understanding of what corporate clients want and when i deliver that I win vs. agency experimentation
3.14. budding creative
3.15. problem solver
3.15.1. strategic
3.16. collector
3.17. fun to work with
3.18. high expectations but a pleasure to work with/for. i want people to want to help me and vendors to let other client work slide rather than mine
3.19. go-to girl for whatever. if i dont know, i'll figure it out
3.20. sense of humor
3.21. cautionary risk-taker
3.21.1. can evaluate amount of risk and if safe enough, I jump
3.22. my bosses know all they have to do is give me the assignment and i'll get it done. they know they don't have to worry.
3.22.1. there's currently so much backlog that i haven't been able to deliver on time
3.22.1.1. 2015-16 is the fixing time; 2016-17 will be me meeting deadlines and producing great work
3.23. whats my style?
3.24. i anticipate needs and fill them before asked
4. who do I want to be?
4.1. ideas can transform the world -- what would i do if there were no barriers, no limits?
4.2. the current me but with time to pursue things i personally enjoy
4.3. more efficient so i can produce faster
4.3.1. more creative
4.3.1.1. larger body of non-work related projects
4.4. better at content marketing and the digital way of doing things
4.5. the current me, but with the education/knowledge to make me marketable
4.5.1. I'll have the ed + experience
4.6. Where will I be after graduation from Full Sail?
4.6.1. still at MHS?
4.6.2. creative ninja
4.6.2.1. nimble and agile
4.6.3. Freelance/company: ericaleighcreative
4.6.3.1. small firm of 3-5
4.7. not really dreaming to run my own firm. it would be a way to keep cash flowing if my current employer would toss me
4.7.1. pitch as ericaleighcreative
4.7.1.1. manage budget wisely
4.7.1.2. 16 years as in-house designer/creative lead
4.7.1.3. gather resources to get the job done
4.7.2. i would rather be so good that people come to me vs. having to solicit work
4.7.2.1. if guy kawasaki said he wanted to do olympic content marketing, they'd come running to him
4.7.2.2. get things done beautifully on-time and on-budget
4.8. the current me but successfully balancing work and personal life
4.9. designer with solid project management skills
4.10. why do i do what i do???
5. Presentation Plan
5.1. powtoons is an option
5.1.1. how to make it interesting and creative?
5.1.1.1. typography?
5.2. what stories can i tell?
5.2.1. whats my story? scenic route; road less traveled by; how does it related to athletes in the olympics
5.2.1.1. because i got experience first i am able to get more out of the education i receive -- not only am i paying for it and want ROI, i know what I don't know
5.3. whats the big idea????
5.4. Audiences--4 types
5.4.1. doer, innovator, supplier, influencer,
5.4.2. Olympic committee board of execs
5.4.2.1. think shark tank
5.4.2.2. most wont know/value technical expertise in design
5.4.2.3. they want results that will make them look good
5.4.2.3.1. provided reports and chart progress during the past work and will do so in olympic work
5.4.2.4. they will not be risktakers; saving face for them is a deal breaker
5.4.2.4.1. In case you have a resistant audience, show that you're well aware of their worries. Have your talking points, but direct them as answers to every possible question.
5.4.2.5. There times when you will be presenting a topic in front of a group that maybe knows more about it than you do. What do you do with those folks? Recognize them and use them as part of your presentaiton.
5.4.2.6. i'm not an athlete and not athlectic but i can related/tap the olympic spirit
5.4.2.6.1. olympic athletes have changed the world -- jessie owens
5.4.2.6.2. who can i related to? can i weave my story within an athlete story?
5.4.2.7. Credibility in the eyes of the audience is built by the level of customization and audience analysis the speaker has done.
5.4.2.8. heroes--how are they my hero?
5.4.2.9. facts or emotion--both!
5.4.2.9.1. start with a story, a piece of history or even a local fable that directly ties to the main point of the presentation.
5.5. skill to build: articulate what im talking about; could a stranger give my presentation without me?
5.5.1. power of introverts ted talk -- year of speaking dangerously
5.6. Imaginary scenario: Olympics in Vietnam
5.7. dont forget easter eggs
5.8. how are 5 theses incorporated?
5.9. consider 30-60 secs of narrated images followed by me speaking to the committee on camera. close with more images, call to action and contact indo
5.9.1. i'll bet you want to know more about projext ... (maybe even leave a cliffhanger)
5.9.2. powerpose!!
5.9.3. make sure its easy to contact me
5.9.4. or intersperse images?
5.9.5. overanimate on camera
5.9.6. offer answers to questions or offer content -- email me for the worksheet i use to track budget spending
5.10. repeat phrases