Sidewayz Productions
von Adam Bachi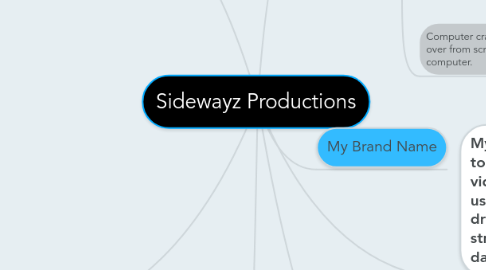 1. My Brand Name
2. My Big Idea: To bring creativity to new levels in motorsports videography and production using my go getter and dream driven attitude, as well as striving to be better than the day before.
3. Audience
3.1. My audience is Formula Photographic Inc. They are a video and digital media production company telling compelling stories of high performance people, teams, and machines as they push their limits. They are a leader in automotive and motorsport filmmaking, from same-day highlight videos to multi-part promotional and television productions. Their head creative producer and director of photography & videography, Warwick Patterson, is my biggest idol in this industry. To be able to work for them would be a dream come true.
3.2. Formula Photographic Inc. travels all over the world, but are centered in Canada. They mainly film in Canada and the USA, but also travel to other places such as Europe, Asia, Australia, and other places.
3.3. Christopher Bowes of Bowes Media and Warwick Patterson of Formula Photographic are the 2 brilliant minds behind Subaru's Launch Control video series. Combining these two amazing and creative souls to create a video series is nothing short of true beauty. They are both from Canada and come from a background in motorsports. Their passions and my passions are one in the same.
4. Tools
4.1. Visuals
4.1.1. I plan to use a few short video clips for dramatic effects but nothing distracting and very minimally used. I will use pictures to help tell the story as I speak to help paint a visual picture and add to the flow and dynamic of the presentation.
4.2. Software
4.2.1. I plan to use my video editing software that I already own and use, CyberLink PowerDirector 15, to create the project. It will give me the timeline format that I'm familiar with, and allow me to use my creative skills to make what hopefully will be a powerful and effective presentation.
4.3. Audio & Sound
4.3.1. I will use an audio recorder to record multiple takes of a the final script and place them into my video editing software. I may also use sound effects or audio to add a a dramatic effect.
5. Obstacles
5.1. To be able to get the message and point across clearly but in a timely fashion.
5.1.1. SOLUTION: Practice. Get it down and deliverable in the time allowed.
5.2. Getting rid of the worry of failure.
5.2.1. SOLUTION: Stay positive, own it, and believe.
5.3. Finding the perfect balance between vocal and visual.
5.3.1. SOLUTION: Practice and get feedback from others. Take their feedback and use it to find the perfect balance.
5.4. Unanticipated software updates
5.4.1. SOLUTION: None... It can happen and put a delay in the final product if the software needed is stuck in an hour plus long update. Plan ahead.
5.5. Computer crashing and causing you to start all over from scratch with a new or different computer.
5.5.1. SOLUTION: None.. Again... Absolute worst case scenario here, but I like to think of everything. Plan for the worst, hope for the best. Backing up things to an external hard drive or other source can help make sure one wouldn't have to start over.
6. Story
6.1. Beginning
6.1.1. I will start with an introduction of myself, my brand, and a brief background of my skills and experience in this industry.
6.1.2. I will try to deliver this quickly but make sure the key points and details are there. I'll briefly explain how long I've been in this industry and how I got started in that industry.
6.2. Middle
6.2.1. This is where I will touch base on bigger details from the beginning like experience. I will inform them of my experience with some of the top level video equipment and software including the newest platforms available.
6.2.2. This is also where I will tell them about my education here through Full Sail's Digital Cinematography Bachelors Degree Program and how it helped sharpen my skills and unleash a whole new level of creativity.
6.3. End
6.3.1. This is when I ask the question, "Why would I be a valuable asset to your company and team?" I will then address the huge amount of passion I have for this industry and why.
6.3.2. Next, I will turn things up to a boil in hopes to hit their touching side and win their hearts, all while making them the hero. This is where I will tell them how much I idolize them, and how much their videos have impacted me and the way I film, edit, and produce content. Tell them that everything I am today in this industry is because of them. That I pay attention to every detail when one of their new videos comes out, and that I use their videos as a learning tool to become better than I was the day before. Explain to them how much I look up to them and what it would mean to have them as not only as an employer, but as my mentors.
6.3.3. I would then end with my Star Moment and thank them.
7. Star Moment
7.1. Someone who was a very good friend of mine said to me before he died, "Don't ever give up on yours dreams. No matter what gets in your way, you press on regardless. Live your dream." He died living his dream racing in the Open Class in Rally America's Olympus Rally back in 2011. He never gave up. Through thick and thin he pressed on regardless. He turned his dream into his reality. This... This is my dream. And I have the dedication, capabilities, and courage to do whatever it takes to never give up on this dream.