STEM
por angelica nicor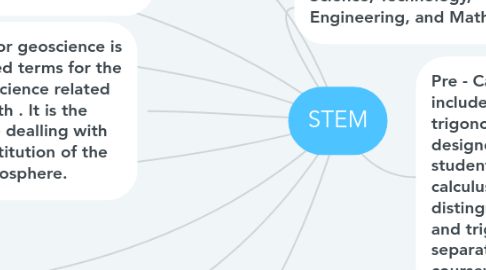 1. Science, Technology, Engineering, and Mathemathics
2. General Math - programs aims to provide students with knowledge of mathematics in it's breadth by drawing its courses from the departments different mathematical divisions.
3. Pre - Calculus - is a course that includes the algebra and trigonometry at a level which is designed to prepare the students for the study of calculus.Schools often distinguish between algebra and trigonometry as two separate parts of the coursework.
4. Earth - Science - or geoscience is a widely embraced terms for the fields of natural science related to the planet Earth . It is the branch of science dealling with the physical constitution of the Earth and its atmosphere.
5. Filipino
6. Oral - Com - is the process of verbally transmitting information and ideas from one individual or group to another.
7. ETECH - global service is a privately owned multinational contact center with it its head office located in Nacogdoches, Texas.
8. SOCIAL- SCIENCES
9. OLD TESTAMENT
10. PHYSICAL EDUCATION