CUSTOMS AND TRADITIONS IN THE ECUADOR
por Carlos Trujillo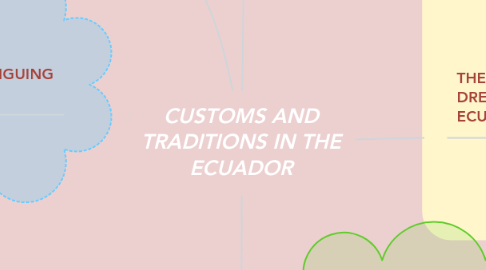 1. ECUADORIAN ART
1.1. In Ecuador is traditional and usually the skills involved are passed down from generation to generation. Most of the locals make no distinction between fine arts and crafts.
2. THE DISTINCTIVE TRADITIONAL DRESS AND CLOTHING OF ECUADOR
2.1. The Ecuadorian people have a rather distinctive dress code. It is influenced by the cultural diversity that can be found in the various regions of Ecuador and the Galapagos Islands. People who are familiar with the native dress can often tell what region a local is from based on what they wear.
3. SAVOR THE DELIGHTS OF ECUADOR'S CUISINE
3.1. Ecuador is well known for its abundance of varied exotic fruits, excellent fish and seafood and the countless varieties of Andean potatoes.
4. ECUADOR'S INTRIGUING FOLKLORE
4.1. Ecuador is a country rich in culture, legends and folklore. Folklore in Ecuador takes on many forms and there is different folklore connected to individual areas
5. The first thing to realize about Ecuadorian culture is that it is not one single culture. Instead it is a whole range of cultures mingled together, representing every level of this very stratified community.