UNDEFINED ARTICLES "a" "an"
por oscar ernesto ponce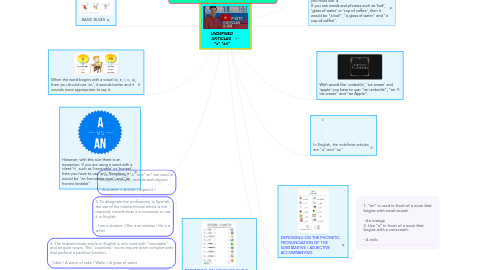 1. With words like 'umbrella', 'ice cream' and 'apple' you have to use: "an umbrella", "an ice cream" and "an Apple".
2. When the word begins with a consonant you must use 'a'. If you use words and phrases such as 'ball', 'glass of water' or 'cup of coffee', then it would be "a ball", "a glass of water" and "a cup of coffee".
3. However, with this rule there is an exception. If you are using a word with a silent 'h', such as 'honorable' or 'honest' then you have to use 'an'. Therefore, it would be "an honorable man" and "an honest mistake".
4. When the word begins with a vowel (a, e, i, o, u), then you should use 'an', it sounds better and it sounds more appropriate to say it.
5. BASIC RULES
6. The indeterminate article (also called indefinite article) serves to indicate an individual or element of any class, species or gender without particularizing it. For example, when we say: "A thief stole my bicycle" we are not specifying a specific person but the article indicates that we refer to any person as possible responsible for the theft of my bicycle (hence the article is called "indeterminate").
7. In English, the indefinite articles are "a" and "an"
8. DEPENDING ON THE PHONETIC PRONUNCIATION OF THE SUBSTANTIVE / ADJECTIVE ACCOMPANYING
8.1. 1. "an" is used in front of a noun that begins with vocal sound. - An orange 2. Use "a" in front of a noun that begins with a consonant. - A web
9. DEPENDING ON YOUR USE IN THE PHRASE
9.1. 1. As in Spanish, "a" and "an" are used to designate people, animals and objects: - A mother = A chair / A pencil /
9.2. 2. To designate the professions, in Spanish the use of the indeterminate article is not required, nevertheless it is necessary to use it in English: - I am a student / She is an actress / He is a writer
9.3. 3. The indeterminate article in English is only used with "countable" and singular nouns. The "countless" nouns require other complements that perform a partitive function. - Cake / A piece of cake / Water / A glass of water
9.4. 4. It has a distributive use. - Twice a day
9.5. 5. Figure in front of expressions that indicate a certain amount of things or people: The Mansion of the English indeterminate articles singular plural countless - A lot of ... / A dozen