Exercise physiology
por ERIKA MAYERLY RIVERA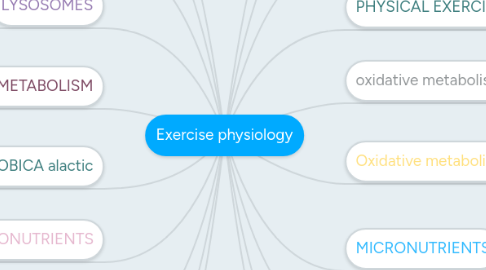 1. Exercise physiology:
1.1. the physiology of physical exercise, that is, study of the acute responses and chronic adaptations to a wide range of exercise conditions.
2. sport :
2.1. Physical activity is a regulated, normally competitive nature, which can improve fitnes
3. PHYSICAL ACTIVITY
3.1. the physiology of physical exercise, that is, study of the acute responses and chronic adaptations to a wide range of exercise conditions.
4. PHYSICAL EXERCISE
4.1. s any bodily activity that enhances or maintains physical fitness and overall health and wellness. It is performed for various reasons
5. MEMBRANE
5.1. is a selective barrier; it allows some things to pass through but stops others. Such things may be molecules, ions, or other small particles
6. core
6.1. Central part of a material thing.
7. ribosomes
7.1. Cells need to make proteins. Enzymes made of proteins are used to help speed up biological processes.
8. LYSOSOMES
8.1. is a membrane-bound cell organelle found in most animal cells (they are absent in red blood cells).
9. ANAEROBIC METABOLISM
9.1. are those that do not use oxygen (O2) in metabolism, more precisely to the terminal electron acceptor other than oxygen is substance.
10. VIA ANEROBICA alactic
10.1. Because when the muscle begins to contract begins to have energy needs to resynthesize thus the ATP used
11. oxidative metabolism
11.1. Oxidative metabolism is the catabolic first half of metabolism in which the cell breaks down molecules into energy,
12. Oxidative metabolism BETA
12.1. is the catabolic process by which fatty acid molecules are broken down in the mitochondria to generate acetyl-CoA, which enters the citric acid cycle, and NADH and FADH2, which are co-enzymes used in the electron transport chain.
13. MICRONUTRIENTS
13.1. substances that the body of living beings need in small doses. They are indispensable substances for the different metabolic processes of living organisms die without them
14. MACRONUTRIENTS
14.1. In nutrition, macronutrients are nutrients that supply most of the energy metabolism of the body
15. HEMODINAMIA
15.1. is that part of biophysics that deals with the study of the dynamics of the blood inside the blood structures such as arteries, veins, venules, arterioles and capillaries
16. DIABETES
16.1. Diabetes is a chronic disease in which the body can not regulate the amount of sugar in the blood.
17. CARDIAC CYCLE
17.1. refers to a complete heartbeat from its generation to the beginning of the next beat, and so includes the diastole, the systole, and the intervening pause.
18. VENTILATION
18.1. the process of "changing" or replacing air in any space to provide high indoor air quality
19. PERFUSION
19.1. A slow and continuous drug substance in blood or a body or organ intravenous, subcutaneous or rectal introduction.
20. DOPING
20.1. Consumption of exciting or stimulating substances used to achieve unnatural way better performance in a sports competition.