Reading for comprehension in general education.
por E Mill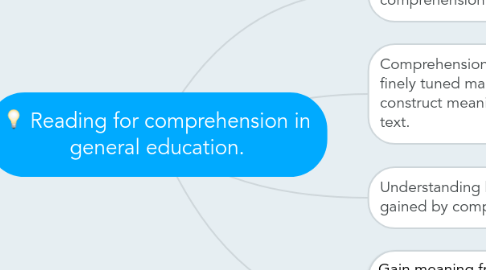 1. The purpose of reading is comprehension,
1.1. Getting meaning of something.
1.1.1. http://www.readingrockets.org/article/what-research-tells-us-about-reading-comprehension-and-comprehension-instruction
2. Comprehension strategies work together like a finely tuned machine. The reader begins to construct meaning by selecting and previewing the text.
2.1. http://www.benchmarkeducation.com/best-practices-library/comprehension-strategies.html
3. Understanding knowledge gained by comprehending.
3.1. http://www.merriam-webster.com/dictionary/comprehension
4. Gain meaning from the words someone else has constructed.
4.1. http://www.literacyconnections.com/whatiscomprehension-php/
5. Visualizing
5.1. Mental images or pictures in their mind you are reading.
6. Comprehending
6.1. The capacity for understanding fully