Relative Clauses
por kevin orellana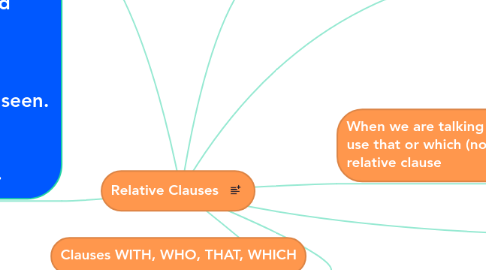 1. Clauses WITH, WHO, THAT, WHICH
2. a clause is a part of a sentence. A relative clause tells us which person or thing (or what kind of person or thing) the speaker means
3. We use who in a relative clause when we are talking about people (not things). We use who instead of He/She/They
4. example: The girl who is playing football is Mary. I told you about the woman who lives next door. An atheist is a man who has no invisible means of support
5. When we are talking about things, we use that or which (not who) in a relative clause
6. example: which He couldn't read which surprised me . Do you see the cat which is lying on the roof?                                                                                                                                 I work in a big company which has many employees.
7. When we are talking about things, we use that or which (not who) in a relative clause.
8. example: that There's something that you should know . It was the best film that I've ever seen. I'm sorry, but that is all that I saw.