THE DARK SIDE OF TEXTBOOKS
par berna j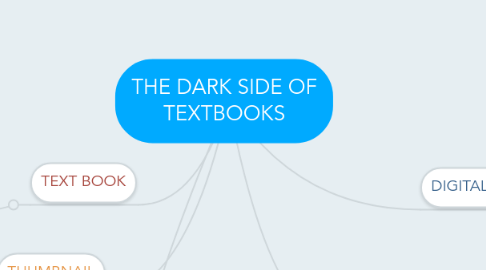 1. TEXT BOOK
1.1. Is an instrument mainly used in schools by students and teachers, usually there is a book for each subject and help them to lead a lesson.
1.1.1. Adell, Jordi (2011). Lectura sobre libros de texto. URL: http://elbonia.cent.uji.es/jordi/2011/07/18/lecturas-sobre-libros-de-texto/
2. THUMBNAIL
2.1. Refers to a pictures in another version used in order to facilitate their search and organization. The most of searchers used this for doing the search easier.
3. TIMELINE TWITTER
3.1. It is a way in which all your followers can watch, know and read everything you do in twitter.
3.1.1. Embedded Timelines URL:https://dev.twitter.com/web/embedded-timelines Burns, J. (n.d.). So You Want A Thumb-Nail Image, Huh? Retrieved from URL:http://www.htmlgoodies.com/tutorials/web_graphics/article.php/3480031
4. INFOGRAPHIC
4.1. It is the representation of the information in a graphic which can be read and understood easily because show a large amount of data in a small space.
4.1.1. Rouse, Margaret (2012). What is infographic?. URL: http://whatis.techtarget.com/definition/infographics
5. DIGITAL BOOK
5.1. It is an electronic version of a book that can be read in a digital device.
5.1.1. Adell, Jordi (2012). Libros de Texto Electrónicos: Peras al Olmo. URL: http://elbonia.cent.uji.es/jordi/2012/03/04/libros-de-texto-electronicos-peras-al-olmo/