SHACHTER AND SINGER
par Scarlet Robinson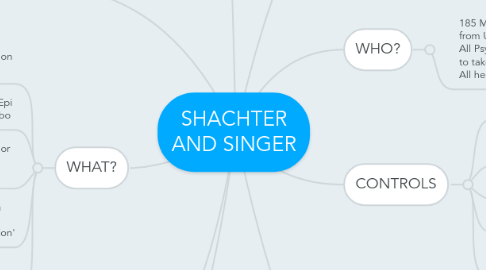 1. AIM
1.1. to TEST the TWO-FACTOR THEORY OF EMOTION TEST
2. HYPOTHESES
2.1. If a person experiences a state of arousal which they HAVE NO IMMEDIATE EXPLANATION,they will use their surroundings and context (cognitions) to level their state at the time.
2.2. If a person experiences a state of arousal where they already HAVE an appropriate explanation for how they feel, it is unlikely that they'll use their cognitions to label how they feel.
2.3. If a person is put into a situation that has HAPPENED IN THE PAST that made them feel a particular emotion, they will react EMOTIONALLY or experience emotions only if they ARE IN THAT STATE OF PHYSIOLOGICAL AROUSAL.
3. WHO?
3.1. 185 MALES from University of Minnesota, USA All Psychology students who volunteered to take part to get extra credit (90%) All healthy enough to take part
4. CONTROLS
4.1. Stooges followed set procedures
4.2. EPINEPHRINE = 1/2 cubic of 1:1000 solution Suprenin
4.3. PLACEBO= 1/2 cubic cm of saline solution
4.4. Epi Mis not run in ANGER CONDITION
4.5. In the questionnaire, first few questions were standardised
5. RESULTS
5.1. ALL pp's who received SUPROXIN reported HIGHER levels of arousal than the placebo
5.2. All analysis= non significant
5.3. Arousal with cognition= No emotion. There were no environmental effects
5.4. Arousal without cognition= reported more emotion
5.5. ANGER: Epi Ign > Epi Inf (Ign became angry, Inf not effected by mood of stooge.)
5.6. EUPHORIA: Epi Mis > (higher levels) of Euphoria than Epi Ign > Epi Inf Epi Mis > Epi Ign > placebo (ns) (So, subject will take on stooges mood if theres no other explanation for the state his body is in.)
6. WHERE?
6.1. Lab of Research in Social Relations University of Minnesota (USA)
7. HOW?
7.1. DV = Emotion matured through the researchers OBSERVATIONS and SELF-REPORT QUESTIONNAIRES in each condition (in analysis more weighting placed on observation)
7.2. OBSERVATIONS: EUPHORIA: Stooge engaged in 14 STANDARD BEHAVIOURS. Behaviour of pp classified into or > 4 categories. There were two observers to test for reliability (88% agreement) ANGER: Behaviour coded under 6 categories each in reponse to the behaviour of the stooge: Agrees Disagrees Neutral Initiates Watches Ignores SELF REPORT: Asked to rate 'how angry' they felt Asked to rate 'how good' or 'happy' they felt and if they experienced any side effects the had been outlined by the experimenter prior to the commencement of the study. ALL QUESTIONS USED RATING SCALES
8. WHAT?
8.1. -asked if they would accept an injection of 'suproxin' to look at side effects of vitamins on vision (1 pp refused)
8.2. - after injection, allocated to either: Epi Informed Epi Ignorant Epi Mis Placebo
8.3. - either placed in EUPHORIA CONDITION or ANGER CONDITION (but not epi mis for anger)
8.4. - observed watching the stooge enact a procedure in 'euphoria condition' and completed self-reports in 'anger condition'
8.5. - debriefed and asked if they had been suspicious (11 were, they were eliminated from the analysis)
9. IV
9.1. Physiological Arousal
9.2. Cognitive Explanation
9.3. Emotion inducing situations with explanatory cognitions