Guy de Maupassant
par Kitty Wizard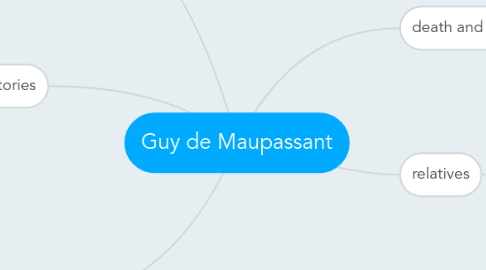 1. death and birth
1.1. August 5, 1850
1.2. July 6, 1893
1.3. he died in an asylum as he tried to slit his throat and was send there and survived for only a year
2. relatives
2.1. children
2.1.1. Marthe Marguerite Litzelmann, Honoré Lucien Litzelmann, Jeanne Lucienne Litzelmann
2.2. parents
2.2.1. Laure Le Poittevin and Gustave de Maupassant
2.3. brother
2.3.1. Hervé
2.4. wife
2.4.1. unknown
3. famous stories
3.1. Boule de Suif (first piece of short fiction set during the Franco-Prussian War)
3.2. La Maison Tellier (first volume of short stories)
3.3. Une Vie (first novel)
4. childhood
4.1. parents got divorced when he was 13 years old and his mother kept both him and his brother as she became an influential figure to them.
4.2. he was sent to the school Lycée Pierre-Corneille in Rouen where he was a good scholar with interest in poetry and participating in theatre. In October 1868, at the age of 18, he saved the famous poet Algernon Charles Swinburne from drowning off the coast of Étretat.
4.3. The Franco-Prussian War begun after his graduation from college in 1870. he signed up as a volunteer. In 1871, he left Normandy and moved to Paris and spent ten years as a clerk in the Navy Department.
5. legacy
5.1. Leo Tolstoy used Maupassant as the subject for one of his artworks ( The Works of Guy de Maupassant)
5.2. Michel Drach directed a 1982 French biographical film about him (Guy de Maupassant)
5.3. movie adaptations: (Stagecoach, Citizen Kane, Oyuki the Virgin and Masculine Feminine.)