Tournament Brackets
da Blake Howard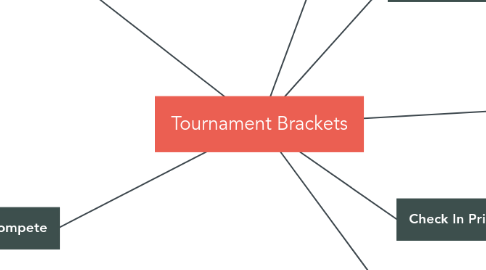 1. Lobby codes / links sent out via App 30 minutes prior to start time
2. Download App To Create Account
2.1. via SSO
2.2. via Phone Number
2.3. via Email
3. Register In App
3.1. Contact info pulled from master profile
3.1.1. If missing fields data will be synced back to profile
3.1.2. any changes made to existing data will be synced back to master profile
3.2. Usernames / Gamertags pulled from linked Profile.
3.2.1. If no linked Profile exists then sync will be saved
4. Check In Prior to Match Start
4.1. Lobby locks 15 minutes before start time
4.2. If team/squad is missing members, they have the option to play anyways or withdraw.
5. Compete
5.1. Lobby opens 45 minutes prior to start time
5.2. 1 LFG Affiliate Per Match (Monitoring)
5.3. Winner(s) of Preliminaries Move To Semi Finals / Finals
5.4. Winners of Finals are announced. Prizes pending review of game Stream for verification purposes.
6. In-App Workflow - Register
6.1. Download Application & Register
6.2. Link My Account(s)
6.2.1. Optional step at this stage
6.3. Opt In For Tournament
6.4. Receive confirmation, Events is Added to my Calendar, I am opted in for push notifications.
6.4.1. Given the opportunity to share the tournament with my friends
7. In-App Workflow - Compete
7.1. Push / Calendar Notification of Tournament Start Time
7.2. Log into LFG
7.2.1. Log into Game
7.3. 45 minutes before start I get a notification of my lobby & password
7.4. I have until 15 minutes BEFORE start time to log into the lobby
7.5. Match starts by 15 minutes after start time
7.6. Match Completes
7.6.1. I Win
7.6.1.1. I am congratulated for winning In-App
7.6.1.2. I am sent an invitation & password to join the next round lobby
7.6.1.2.1. I have at least 15 minutes from the time my first game ends to join the next lobby before I am locked out & forfeit further games.
7.6.2. I Lose
7.6.2.1. I am knocked out of the bracket
7.6.2.2. I am encouraged to watch the stream of the next round