How to create a new type of vacation with interactive gaming? And why is hitchhiking a key to achieve it.
por Pierre ROUAIX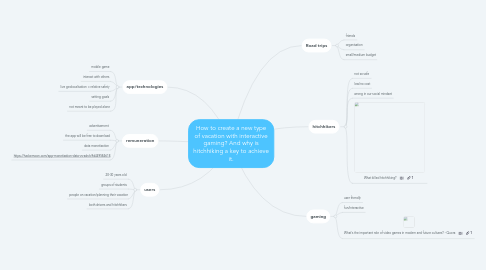 1. Road trips
1.1. friends
1.2. organisation
1.3. small/medium budget
2. hitchhikers
2.1. not so safe
2.2. low/no cost
2.3. wrong in our social mindset
2.4. What killed hitchhiking?
3. gaming
3.1. user friendly
3.2. fun/interactive
3.3. What's the important role of video games in modern and future cultures? - Quora
4. app/technologies
4.1. mobile game
4.2. interact with others
4.3. live geolocalisation = relative safety
4.4. setting goals
4.5. not meant to be played alone
5. users
5.1. 20-30 years old
5.2. groups of students
5.3. people on vacation/planning their vacation
5.4. both drivers and hitchhikers
6. remuneration
6.1. advertisement
6.2. the app will be free to download
6.3. data monetization
6.4. https://hackernoon.com/app-monetization-data-vs-ads-b9d449584618