Project Context
создатель Robyn King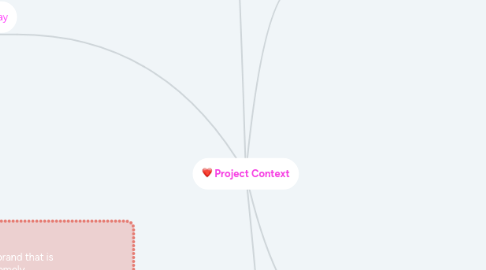 1. Reflect on my progress
1.1. 1st and 2nd year units 1-11
1.1.1. Achieved-I have completed all units so far during my 1st and 2nd year. I am happy with what i have achieved and has prepared me for my FMP.
1.1.2. Strengths-My strengths are marketing. Not only this but i feel like I come up with creative ways to present my final work.
1.1.3. Weaknesses-I feel like research is one of my biggest weaknesses as i forget to add it as i go along which is what I need to make sure I do for my FMP.
1.1.4. Skills i acquired- I have gained many skills which are mainly transferable. I have mainly gained these for my work placement and throughout other projects I have completed.
1.1.5. Knowledge I acquired-I have gained more knowledge on how the fashion industry works and how different companies market and so on.
2. What do i know now
2.1. Before starting I had some knowledge on the fashion industry and how it worked within the buying industry which is what i originally wanted to do as my career however since being at the academy I have gained a lot of knowledge on the marketing side of the industry which has now taken my interest and is what i want to pursue.
3. What has influenced my choice of pathway?
3.1. Skills and Knowledge-My skills and knowledge has developed throughout my level 3 course. This included transferable skills and knowledge that will help me during my FMP.
3.2. Aptitude- I feel like i have the ability when it comes to marketing because i regularly use social media and see other brands use this to promote.
3.3. personal interest- I have a lot of personal interest but marketing is a huge interest of mine. I feel like this will benefit me during this project.
3.4. career choice- My career choice is marketing and PR within the fashion industry. This is the reason i am doing marketing throughout my FMP.
4. Choice of pathway
4.1. 60%Marketing/PR- As part of creating my brand i want to mainly focus on marketing as this is what i enjoy the most and not only that it is a extremely important thing that brands use when promoting their brand. Marketing is the main way i will get my brand recognized. I will create things such as a comp shop and create social media platforms.
4.2. 30%Buying- I will also be focusing on a small part of buying for my brand. This will include the range i will be selling as the main part.
4.3. (10%)Visual Merchandising-Designing the packaging that i will use for my brand.
5. My project idea
5.1. I am going to do a sleepwear brand that is luxury and glamorous yet extremely comfortable. Not only this but the brand will have the option for personlization and will come in an extremely large size range.
5.2. I anticipate on producing sleepwear and sleepwear accessories with personlization.I will produce work focusing on buying and marketing for my brand. I have not yet decided what i will be producing for these areas but i will do research as i go along.
5.3. The fact that it is hard to find luxury glamorous/sexy sleepwear that is comfortable is hard to find as well as finding sleepwear like this that comes in a large range of sizes so this would benefit people that cant find this in the market to suit them. Personlization is just an extra thing that is offered.