MEDIA AND INFORMATION LITERACY UNIT 1: INTRODUCTION TO MEDIA
создатель Kim Sue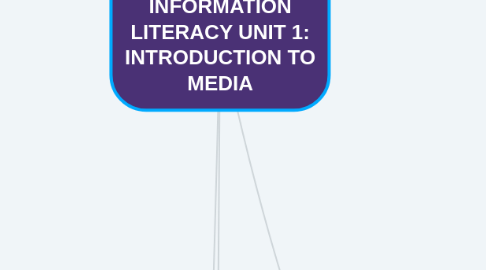 1. Lesson 1 WHAT IS MEDIA?
1.1. Media
1.1.1. "The means of communication, as radio and television, newspapers and magazine, that reach or influence people widely".
1.2. Media as an Information Industry
1.2.1. These include the film industry, the broadcast industry (covering radio and television), the publishing industry (covering books, magazines,newspapers, and comics), and the photography industry.
1.2.2. The Internet could also be considered as a media channel
1.3. Media as a Culture of Entertainment
1.3.1. We also considered media as part of the creative industries, especially those that produce media products that becomes society's cultural products.
1.3.2. EXAMPLES: Filipino-dubbed Mexican Telenovelas, Taiwanese Telenovelas, and Korean Telenovelas. K-Pop.
1.4. Kinds of Media
1.4.1. Traditional Media
1.4.1.1. media that were invented prior to the invention of the internet.
1.4.2. New Media
1.4.2.1. Any kind of ICT products was considered as part of new media.
1.4.3. Social Media
1.4.3.1. refers to Internet-maintained computer programs that could be installed in personal computers or portable devices.
1.5. Mobile Communications Technology
1.5.1. Technology is bringing the human race to have new levels and ways of information and communication dissemination.
1.5.1.1. Cellular Phone
1.5.1.2. Tablet
1.5.1.3. Phablet
1.5.1.4. Smart Phone
1.6. Related and Emerging Technologies
1.6.1. The point of these inventions is to let you stay connected to the online world as you navigate your offline life.
1.6.1.1. Game Consoles
1.6.1.2. Mobile Gadgets
1.6.1.3. Google Glass
1.6.1.4. Smart Watch
2. Lesson 2: MEDIA THEN AND NOW
2.1. Brief History of Media
2.1.1. Pre-Industrial Age
2.1.1.1. When human beings learned how to control their body parts to be able to talk, language is one of the first things the brain developed and enhanced.
2.1.2. Industrial Age
2.1.2.1. Evolution of factories, assembly line work flows, and devising mechanisms that would speed up the production of what human beings need.
2.1.3. Electronic Age
2.1.3.1. Characterized by the way humans consumed information in a rapid developing pace, leading us towards what they call the "Information Society".
2.1.4. Digital Age
2.1.4.1. Refers to our current age wherein information is still seen as a commodity yet its mode of recording, storage, delivery and playback relies heavily on digital
3. Lesson 3 UNDERSTANDING MEDIA: AESTHETICS OF THE IMAGE, TEXT AND AUDIO
3.1. Framing and Reading
3.1.1. Framing means to construct, compose or imagine something,meaning to create with a solid plan to follow using a specific structure in mind.
3.1.2. From this point forward, this is where form and content should be taken into consideration-and always together- when we deconstruct and later construct media and media products.
3.2. Newspapers and Journalism
3.2.1. News is defined as "The communication of information on current events print, broadcast, Internet or word of mouth to a third party or mass audience".
3.2.1.1. 5Ws: Who, What, Where,When,Why and How presented in an inverted pyramid style.
3.2.1.2. Newspaper defined as "A regularly scheduled publication containing news, information and advertising, usually printed on relatively inexpensive, low-grade paper such as newsprint".
3.2.1.2.1. Newspapers all have sections inside, mostly covering the general category of headlines (The most important news of the day),opinion (columnists writing essays with specialization),entertainment(pop culture happenings),lifestyle (health, wellness and related topics),technology,business,sports and other special themed sections.
3.2.2. Journalism is defined as "The collecting, writing, editing and presenting of news in newspapers, magazines, radio and television broadcasts, or the Internet".
3.2.2.1. A journalist's main characteristic in creating a news story is objectivity.
3.2.2.2. The facts should be presented without any form of bias or emotion that favors the side over the other.
3.3. Books, Comics, Magazines, and the Publishing Industry
3.3.1. Printed book is still a viable way of getting information and being entertained by information.
3.3.1.1. Literature cover books that usually involve fictional or true-to-life stories of the human condition like novels, novelletes, a collection or anthology of short stories, essays, memoirs etc.
3.3.2. Comics are cheap, accessible, colorful and highly entertaining.
3.3.2.1. Dialogues and descriptions are written on dialogue balloons and panel lines.
3.3.2.2. Some Comics are designed using photographs that depict certain actions.
3.3.3. Magazine is also a format popular among teens and adults alike.
3.3.3.1. The Magazine is a periodical, meaning there is a regular schedule when it comes out.
3.3.3.2. Any kind of content could be included in a Magazine, but titles are often limited by the specialization they carry, sometimes even within a category.
3.3.4. It's obvious that Filipinos still loved to read especially printed books. The National Book Development Board's 2012 Readership Supports this fact.
3.3.4.1. Filipinos aged 18 years old and above, 88% (or around 49.2 million people they surveyed nationwide) of Filipino adults read printed materials.
3.3.4.2. The top favorite is still books while a close second is newspapers. Magazines ranked in third and Comics ranked on the low fourth.
3.4. Photography and Timeless Image Concepts
3.4.1. Photography are originally defined as "the process of recording images through a chemical interaction caused by light rays hitting a sensitized surface" referring to the celluloid film known before as the negative.
3.4.2. Composing a Shot questions
3.4.2.1. Where is the camera located? Is it near or far from the subject?
3.4.2.2. Where is the camera placed? Is it higher or lower than the subject?
3.4.2.3. What is the main focus of the shot? What are the secondary elements of the shot?
3.5. Framing and Listening
3.5.1. There is something about the human voice that evokes certain emotional responses in us, immediately, that we are moved or touched when we hear things that may affect us.
3.6. Radio and Evoking Imagination
3.6.1. For the message senders, it is powerful since the broadcast could reach a wide array of areas, covering many households and reaching many individuals at a given time.
4. Lesson 5: UNDERSTANDING MEDIA: AESTHETICS OF NEW MEDIA
4.1. Deconstructing New Media
4.1.1. The term new media only serves to distinguish the use of technology in relation to imagery and sound from media in their traditional forms.
4.2. New Media Technology: Convergence and Characteristics
4.2.1. New Media Transitions:from Synergy to Transmedia
4.2.1.1. Synergy pertains to maximizing the economic opportunities within its conglomerate.
4.2.1.2. Transmedia storytelling are "stories that unfold across multiple media platforms, with each medium making distinctive contributions to our understanding of the (story) world.
4.2.2. New Media as Multimedia
4.2.2.1. Multimedia originally pertained to the way a single media product could contain several forms of media content,
4.3. Intersecting Traditional Media and New Media
4.3.1. Journalism+Internet=Blogging
4.3.1.1. Blog=a website usually maintained by one person, where he or she posts commentary, descriptions of events, pictures or videos.
4.3.1.2. Since 2006, Microblogging also came into the picture to inform people of immediate information in bite-size details.
4.3.2. Broadcasting+Internet=Podcast
4.3.2.1. Podcast=When you do a broadcast over the internet
4.3.3. Film+Internet=Youtube
4.3.3.1. Viewers could be interactive and rate your shared videos in these platforms.
4.4. Transitioning Media, Transitioning Users
4.4.1. Digital Native
4.4.1.1. Inhabited the terrain of the internet from childhood.
4.4.2. Digital Immigrant
4.4.2.1. Came lately to Net communication, their hard-wiring having taken place in an age dominated by single, one-at-a-time source materials such as books.
5. Lesson 6: UNDERSTANDING MEDIA: AESTHETICS OF SOCIAL NETWORKING
5.1. What is Social Networking?
5.1.1. A supportive system of sharing information and services among individuals and groups having a common interest.
5.1.2. To reach out, connect, share or exchange information and interact with others in a sustained environment.
5.2. Kinds of Social Media and its Varying Uses
5.2.1. Print-based
5.2.1.1. hone in on the power of immediate and often uncensored publication of thoughts in new media platforms.
5.2.1.2. Twitter and other Microblogging sites
5.2.2. Audio-based
5.2.2.1. Spotify
5.2.2.2. TuneIn
5.2.3. Photo-based
5.2.3.1. Instagram
5.2.4. Video-based
5.2.4.1. Youtube
5.2.5. Social Networking Sites
5.2.5.1. Friendster
5.2.5.2. MySpace
5.3. Relevance of Social Media in today's society
5.3.1. Personal Communication
5.3.2. Business and Customer care tools
5.3.3. Social Services and governance
5.3.4. Educational Tools
6. Lesson 4: UNDERSTANDING MEDIA: AESTHETICS OF FILM AND TV
6.1. The Film Form
6.1.1. Short film is a film whose total running time will not exceed one hour.
6.1.2. If it exceeds one hour and lasts up to two or three hours (sometimes even longer), then that is already considered as a full-length film.
6.2. Modes of Film Production
6.2.1. Preproduction
6.2.1.1. All the planning stages of a film are made before actually making the film.
6.2.2. Production Stage
6.2.2.1. This is the actual shooting of the film sometimes called the "principal photography phase" (referring to the origins of the film in photography).
6.2.3. Postproduction Stage
6.2.3.1. Everything will be put together: the images shot will be edited together; the music will be composed, recorded and laid out with the edited images, and the special effects or other graphics requirements will be put in the film.
6.3. Film Formats
6.3.1. Narrative Film
6.3.1.1. Fictional in nature, meaning the characters and situations were made up by the film's scriptwriter.
6.3.1.2. The closer a story's reality is to the viewer's reality, the more universal the film would appear, making it more endearing to film viewers anywhere.
6.3.2. Documentary Film
6.3.2.1. Made to present a specific issue or societal concern to its viewers.
6.3.2.2. Carries some form of advocacy wherein specific problems associated with social justice issues are presented, elaborated or exposed.
6.3.3. Animated Film
6.3.3.1. The moving image shot at a fraction of a second appears as animated when projected in rapid succession.
6.3.3.2. Animation encompasses the frame-by-frame shooting and projection of fictional films using puppets, clay figures, drawings or sketches, shadows, and now computer-generated images.
6.3.4. Experimental Film
6.3.4.1. Tries to play around with the physicality of the film form, the shooting styles, the production process, and the concept.
6.3.4.2. The experimental filmmaker always has a specific philosophy in mind when conceptualizing and executing his or her experimental film.
6.4. Film Image Composition
6.4.1. It is also called "film language" when a film uses audio or visual cues to alert viewers of certain things, especially symbolisms.
6.4.2. Elements of Composition
6.4.2.1. The relationship of objects with people
6.4.2.2. The play of light and dark
6.4.2.3. The colors and their pattern
6.4.2.4. The position of the camera and the angles used to frame the subjects.
6.5. Motion Framing Concepts
6.5.1. The movement could be done by two things: the Camera itself (producing a moving shot) or the character/s in the frame(the subjects moving).
6.5.2. Same Camera movements include:
6.5.2.1. Zoom
6.5.2.2. Dolly
6.5.2.3. Pan
6.5.2.4. Focus
6.5.2.5. Tilt
6.5.2.6. Pedestal
6.5.2.7. Truck
6.6. TV Broadcast
6.6.1. TV production processes also use the same technology, especially in today's digital shooting style.
6.6.2. In the Philippines, there are regular commercial channels like:
6.6.2.1. ABS-CBN2
6.6.2.2. TV5
6.6.2.3. GMA-7
6.6.2.4. RPN 9
6.6.2.5. GMA News
6.6.2.6. TV 11
6.6.2.7. IBC 13
6.6.2.8. PTV-4
6.6.3. Local UHF channels include:
6.6.3.1. Channel 21 (ETC Channel)
6.6.3.2. ABS-CBN Sports+Action 23
6.6.3.3. Net 25
6.6.3.4. Channel 29 (2nd Avenue)
6.6.3.5. Channel 31 (Jack City)
6.6.3.6. Aksyon TV 41
6.7. Kinds of TV Shows
6.7.1. Informative Programming
6.7.1.1. News programs were created to deliver current events relevant to the viewing public.
6.7.1.2. TV documentary show should also present clear facts and nonfictional events in their content.
6.7.2. Entertainment Programming
6.7.2.1. A variety of fictional entertainment option fills our daily TV programming schedule guide.
6.7.2.1.1. Dramatic Series like crime stories,police drama, legal drama, supernatural shows, superhero shows,and other kinds.
6.7.2.1.2. Comedy Shows (Sitcom Series)
6.7.2.2. Non-fictional
6.7.2.2.1. Game Shows
6.7.2.2.2. Reality TV
6.7.2.2.3. Talent Shows
6.7.2.2.4. TV Specials
6.8. TV Show Anatomy and Advertising
6.8.1. TV show is designed centers on the way the show's content could be subdivided into segments.
6.8.2. "Commercial Gap" or "Commercial Breaks" when referring to these portions in a typical TV show broadcast.
6.8.3. The sponsors are usually commercial brands selling products, goods, or services.
6.9. Crafting Media Messages
6.9.1. In order to understand the logic of the audiovisual media, each part should be deconstructed in order to make sense of it.
6.9.1.1. How does each component embed the media message it is telling us?
6.9.1.2. Do the components work together well or are we having a hard time decoding the media messages via the audiovisual medium?
6.10. Creating Meaning in Audio Production
6.10.1. Composed of sounds, music, noise, or dialogue.
6.10.2. Interesting sounds make audiovisual production come to life.
6.10.3. The sounds enhance the reality presented in the story.
6.11. Creating Meaning in Image Production
6.11.1. The color combinations of the scene should be friendly or intriguing enough to capture our interest.
6.11.2. The lighting should also work well with the color scheme of the scene.
6.11.3. The balance of major and minor elements/characters in the scene is also important to see and decipher if they are suggesting some form of symbolism within the scene.
6.11.4. The most intriguing visual hook would be the expressions of the characters we see in the scene.
6.11.5. The framing is also important because this will determine what was included and excluded in a shot.
6.12. Creating Meaning in Audiovisual Production
6.12.1. Both sounds and visuals are crucial and complementary to each other and a pitfall in one element can affect the overall message.