In what ways does your media product use, develop or challenge forms and conventions of real media products? (QUESTION 1)
by molly bamber a2 media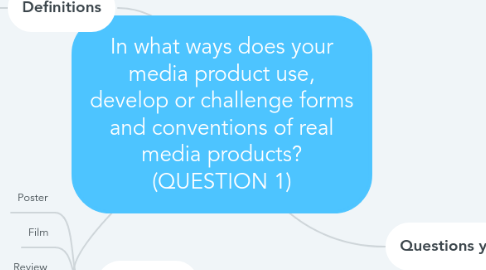 1. To include
1.1. Poster
1.2. Film
1.3. Review
1.4. What are some short film conventions
1.5. Examples (on and off screen)
1.6. Compare films
2. Questions you could answer
2.1. How have I used conventions within my short film.?
2.2. Have I subverted/ challenged these conventions?
2.3. How have I used/ challenged conventions compared with my case study and other short films?
2.4. How have I developed the conventions used?
2.5. Overall how has this affected my creative outcomes?
3. Definitions
3.1. Develop- Cause things to grow
3.2. Challenge- Subvert -
3.3. - Convention- A common association with a object/ thing. Eg, red and love. Or within media- short films are short