Places to See Around the World (7 Continents)
by
Lisa Duignan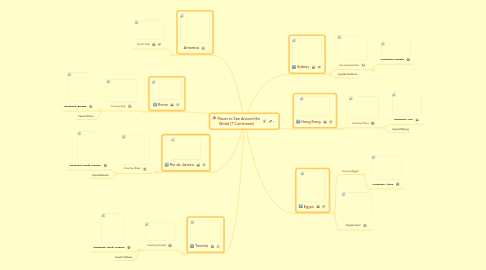 0.0
stars - reviews range from
0
to
5
Here is some information on popular places to see around the world! I have chosen cities from various contries in each of the 7 Continents, although the South Pole is not commonly visited...! I have included their capital cities as well as some basic information about each country.
Sydney
Sydney ( /ˈsɪdni/) is the largest and most populous city in Australia and the state capital of New South Wales. Sydney is located on Australia's south-east coast of the Tasman Sea. Inhabitants of...
Country:Australia
Capital:Canberra
Rome
Rome (English pronunciation: /ˈroʊm/; Italian: Roma pronounced [ˈroːma] ( listen); Latin: Rōma) is the capital of Italy and the country's largest and most populated city and comune, with over 2.7...
Country:Italy
Hong Kong
Hong Kong (Chinese: 香港) is one of two special administrative regions (SARs) of the People's Republic of China (PRC), the other being Macau. A city-state situated on China's south coast and...
Country:China
Egypt
Egypt ( /ˈiːdʒɪpt/; Arabic: مصر, Miṣr, Egyptian Arabic: [mɑsˤɾ] ; Coptic: Ⲭⲏⲙⲓ, Kīmi ; Sahidic Coptic: ⲕⲏⲙⲉ, Kēme), officially the Arab Republic of Egypt, is a country mainly in North Africa, with...
Country:Egypt
Capital:Cairo
Toronto
Toronto ( /tˈrɑnoʊ/ or /-ɒn-/) is the provincial capital of Ontario and the largest city in Canada. It is located in Southern Ontario on the northwestern shore of Lake Ontario. With over 2.5...
Country:Canada
Antartica
South Pole
The South Pole, also known as the Geographic South Pole or Terrestrial South Pole, is one of the two points where the Earth's axis of rotation intersects its surface. It is the southernmost point...
Rio de Janeiro
Rio de Janeiro (English pronunciation: /riːoʊ deɪ ʒəˈnɛəroʊ/ or /ˈriːoʊ deɪ dʒəˈnɛəroʊ/; local Portuguese pronunciation: [ˈʁiu dʒi ʒaˈnɛjɾu], River of January), commonly referred to simply as Rio,...
Country: Brazil