The United Kingdom of Great Britain and Northern Ireland
by Chi Ara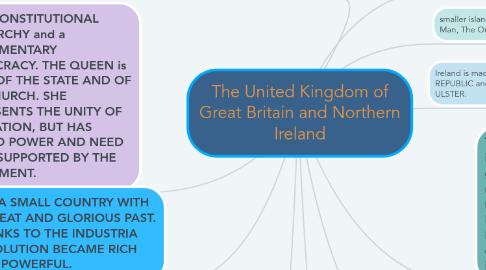 1. Ireland is made up of EIRE-the IRISH REPUBLIC and Northern Ireland OR ULSTER.
2. smaller islands : Channel Islands , The isle of Man, The Orkney and the Hebrides.
3. Great Britain is the largest Isle of the British Isles and consists of England, Scotland and Wales.
4. The British isles is a geographical name used to refer to Great Britain , Ireland and other smaller islands.
5. english is the official language but Welch and Gaelic are still spoken
6. it is a CONSTITUTIONAL MONARCHY and a PARLIAMENTARY DEMOCRACY. THE QUEEN is HEAD OF THE STATE AND OF THE CHURCH. SHE REPRESENTS THE UNITY OF THE NATION, BUT HAS LIMITED POWER AND NEED TO BE SUPPORTED BY THE PARLIAMENT.
6.1. The PARLIAMENT consists of two chambers: the house of commons and the house of lords. THE PRIME MINISTER is the Head of the Government .
7. IT IS A SMALL COUNTRY WITH A GREAT AND GLORIOUS PAST. THANKS TO THE INDUSTRIA REVOLUTION BECAME RICH AND POWERFUL.
8. PEOPLE FROM ALL THE WORLD HAVE ALWAYS BEEN ATTRACTED BY THIS ISLAND AND IMMIGRANTS HAVE BEEN ARRIVING SINCE THE BEGINNING OF THE 20TH CENTURY.
8.1. RUSSIANS, JEWS, CARIBBEAN , AFRICA, INDIA , PAKISTAN , USA, EUROPE AND CANADA
9. BRITAIN IS COMMONLY USED TO MEAN THE UNITED KINGDOM
10. IT IS A MULTICULTURAL SOCIETY AND LONDON IS A COSMOPOLITAN CITY INHABITED BY VARIOUS ETHNIC GROUPS