Helen Keller
by
Audrey McHale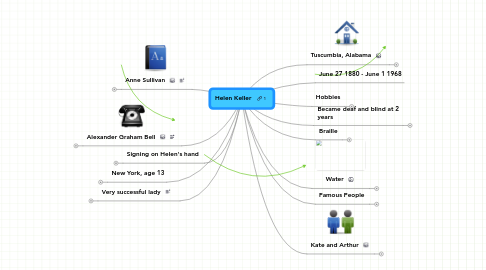 0.0
stars - reviews range from
0
to
5
Tuscumbia, Alabama
Ivy Green
Anne Sullivan
Stayed with Helen for the rest of her life. Became her friend aswell as her teacher
Helen's new teacher
Kate and Arthur
Parents
June 27 1880 - June 1 1968
Became deaf and blind at 2 years
as a result of fever
Alexander Graham Bell
Also the inventor of the Telephone
1868, on advice from Alexander, Helen parents wrote to special school for the blind.
Signing on Helen's hand
Anne's new way of helping Helen to learn.
Water
The first word Helen understand -Anne signed the word on Helen's hand and then ran the water pump.
Braille
how Helen learnt to write.
New York, age 13
Helen moved with Anne. First student in the school that was both deaf and blind.
Hobbies
Horse Riding, Chess, Languages - French, German, Latin
Famous People
Helen met many Presidents of America - JFK in 1961 .
Very successful lady
Helen wrote many books and was invited to talk at many important events
First deaf -blind person to receive college degree.