SHERLOCK HOLMES
by
Francisca Cabanillas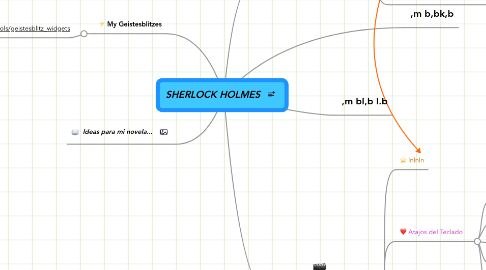 0.0
stars -
0
reviews range from
0
to
5
SHERLOCK HOLMES
This is just a demo map that you can delete right away, if you feel like it...
Ideas para mi novela...
¡Que se divierta con MindMeister...
.n.nlñ.knñlnñl.
...y que tenga muchas buenas ideas!
lnlnln
Atajos del Teclado
INS paralnklnlnlnl insertar (Windows), ,m b,bk,b
TAB para insertar (Mac OS)
ENTER to add siblings, Nuevo nodo
DEL para borrar
Todos los atajos
Puede hacer doble clic o arrastrar y soltar el lienzo
¿Tiene dudas?
Ayuda en Linea
Uso de plantillas y casos, Lista de Pendientes Personales, Planeación de Vacaciones, Minutas de Reunion, Plan de Proyectos, Más...
Herramientas y Gadgets, Modo Offline, Herramientas Geistesblitz, Email y SMS, Compare las Ediciones
My Geistesblitzes
Visitar: http://www.mindmeister.com/services/tools/geistesblitz_widgets
,m bl,b l.b
,m b,bk,b