e-skills
by
cristobal cobo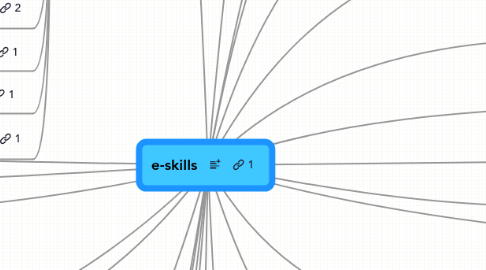 4.5
stars -
12
reviews range from
0
to
5
SOURCE: Strategies to promote the development of e-competences How to reduce the gap between the e-skilled and the non e-skilled?   Centre on Skills, Knowledge and Organisational Performance (SKOPE) at the Department of Education, Oxford University. PROGRAMS FELLOWSHIPS SSRC GLOBAL PUBLICATIONS SSRC    ESRC/SSRC Collaborative Visiting Fellowships Author: Cristobal Cobo More http://www.e-competencies.org
National Educational Technology Standards (NETS•S) and Performance Indicators for Students.   2008, ISTE (International Society for Technology in Education). To see the students standars, follow this URL: http://www.iste.org/Content/NavigationMenu/NETS/ForStudents/2007Standards/NETS_for_Students_2007_Standards.pdf To see the teacher standars, follow this URL: http://www.iste.org/Content/NavigationMenu/NETS/ForTeachers/2008Standards/NETS_T_Standards_Final.pdf    
Creativity and Innovation. Students demonstrate creative thinking, construct knowledge, and develop innovative products and processes using technology.
Communication and Collaboration. Students use digital media and environments to communicate and work collaboratively.
Research and Information Fluency. Students apply digital tools to gather, evaluate, and use information.
Critical Thinking, Problem Solving, and Decision Making: Students use critical thinking skills to plan and conduct research, manage projects, solve problems, and make informed decisions using appropriate digital tools and resources.
Digital Citizenship. Students understand human, cultural, and societal issues related to technology and practice legal and ethical behavior.
  Working Party on the Information Economy. New perspectives on ICT skills and employment. Organisation for Economic Co-operation and Development (22-Apr-2005). DSTI/ICCP/IE(2004)10/FINAL. Unclassified. http://masetto.sourceoecd.org/vl=10003263/cl=28/nw=1/rpsv/cgi-bin/wppdf?file=5lgsjhvj7m9q.pdf    
1) basic skills (using generic tools like word processors, internet browsers and email clients). competent users of generic tools (e.g. Word, Excel, Outlook, PowerPoint) needed for the information society, e-government and working life. Here too, ICTs are a tool, not the main job.
2) advanced skills (using advanced and often sector-specific tools for the administration and manipulation of data and digital media) competent users of advanced, and often sector-specific, software tools. ICTs are not the main job but a tool.
3) specialist skills (developing, maintaining and operating ICT systems) who have the ability to develop, operate and maintain ICT systems. ICTs constitute the main part of their job – they develop and put in place the ICT tools for others.
THE SUPPLY AND DEMAND OF E-SKILLS IN EUROPE. September 2005. http://ec.europa.eu/enterprise/ict/policy/doc/eskills-2005-10-11.rand.pdf RESEARCH TEAM: ERIK FRINKING, ANDREAS LIGTVOET, PERNILLA LUNDIN, WIJA OORTWIJN. Prepared for the European Commission and the European e-Skills Forum.
ICT practitioner skills: the capabilities required for researching, developing and designing, managing, the producing, consulting, marketing and selling, the integrating, installing and administrating, the maintaining, supporting and service of ICT systems.
e-Business skills: the capabilities needed to exploit opportunities provided by ICT, notably the Internet, to ensure more efficient and effective performance of different types of organisations, to explore possibilities for new ways of conducting business and organisational processes, and to establish new businesses.
ICT user skills: the capabilities required for effective application of ICT systems and devices by the individual. ICT users apply systems as tools in support of their own work, which is, in most cases, not ICT. User skills cover the utilisation of common generic software tools and the use of specialised tools supporting business functions within industries other than the ICT industry;
ICT-Skills Certification in Europe. Authors on behalf of CEPIS: Peter Weiß, Dudley Dolan, Wolffried Stucky, Peter Bumann   This study on "ICT-skills certification in Europe" was launched by Cedefop in early 2004 with the intention to help animating and promoting European level discussions and exchanges: (1) Within the eSkills Forum set up by the Commission in spring 2003 created to support cooperation between stakeholders and experts on ICT- and E-Business skills; (2) With the European and International Training industry and social partners engaged in ICT certification issues; (3) To prepare a next phase of the CEN/ISSS (European Committee of Normalization/Information Society Standardization System) ICT-Skills workshop in order to elaborate a European meta-ICT skills or qualifications framework. This issue has to be seen also in relation to current discussions on European level initiatives on Transparency (Europass), Credit Transfer and overarching European skills and qualification frameworks in view of realising wider policies linked to the Lisbon goals and agreed education and training objectives.
"e-Skills": encompasses a wide range of capabilities (knowledge, skills and competences) and issues with an eskills dimension span over a number of economic and social dimensions". Stucky et al. developed an IT Competence Maturity Model and categorised eskills according to five degrees: (1) IT awareness (basic knowledge), (2) IT literacy (knowledge to operate a PC), (3) expert user (special knowledge/expertise with application software, helping other users), (4) professional entry level (professional knowledge) and (5) professional level IT skills (advanced professional knowledge). While the categorisation is satisfactory for the model, it does not provide the required granularity of classification for this study task. Thus, the classification is advanced by distinguishing three main categories as proposed by Stucky et al., European e-Skills Forum.
Key skills are the skills that you need in order to operate confidently and successfully in school, college, university, work, training, and life in general. There are six key skills: Communication Application of Number Information and Communication Technology. Working with Others Improving own Learning and Performance Problem Solving. They are all available as qualifications at levels 1 to 4 of the National Qualifications Framework. That means that Level 1 is roughly the same level as GCSE grade D to G or NVQ Level 1, Level 2 is about the level of GCSE A* to C or NVQ Level 2 and Level 3 is about the same level as AS, A level or NVQ Level 3. The first three key skills are assessed through a portfolio of your work (which is assessed internally by your school, college or training provider) and by an external test (which is marked by an awarding body). The wider key skills are also assessed through an internally assessed portfolio, sometimes supported by questioning by an assessor. There is no test. The key skills and the assessment system are the same whether you are at school, college, in employment (perhaps doing an apprenticeship) or studying independently. Related source: http://www.qca.org.uk/libraryAssets/media/4953_key_skills_q_a.pdf
Key skills are the skills that are commonly needed for success in a range of activities in education and training, work and life in general. The key skills are a range of essential generic skills that underpin success in education, employment, lifelong learning and personal development. They are practical, applied skills relevant both to young people and to adult learners. There are currently six key skills qualifications, each available at Levels 1 to 4 of the National Qualifications Framework (NQF).
skills
A multilingual glossary for an enlarged Europe: Terminology of vocational training policy. Cedefop, European Centre for the Development of Vocational Training. http://europass.cedefop.europa.eu/img/dynamic/c313/cv-1_en_US_glossary_4030_6k.pdf
Prosperity for all in the global economy - world class skills. December 2006. Final Report.
ICTs and employment in Europe: Outlooks to 2010. Ken DUCATEL Jean-Claude BURGELMAN (*) IPTS-JRC, European Commission, Seville This article presents some clues to the future evolution of Information and Communication Technologies (ICT) and their implications for employment. It draws on results of several finished and two ongoing projects within IPTS (DUCATEL, BURGELMAN, HOWELLS, BOHLIN & OTTISCH and DUCATEL & BURGELMAN). The article first looks at some key ICT trends identified by the ICT and IS Panel of the Futures Project. These are then discussed in relation to recent debates on skill shortages for ICT professionals and their implications for future employment patterns. Second, we provide a short analysis of trends in the new media content sector and their implications for employment. These two steps provide a basis for raising some research issues on employment and ICTs, which we do in the third section.
The shift to learning outcomes Policies and practices in Europe. The European Centre for the Development of Vocational Training (Cedefop) is the European Union's reference centre for vocational education and training. Aviana Bulgarelli, Director Christian Lettmayr, Deputy Director Juan Menéndez-Valdés, Chair of the Governing Board
Taxonomy of Educational Objectives, Handbook I: The Cognitive Domain. New York: David McKay Co Inc. Bloom B. S. (1956).    
European Qualifications Framework (EQF). Grid of statements defining levels in the European Qualifications Framework, 130606   See also: http://ec.europa.eu/education/policies/educ/eqf/eqf08_en.pdf
Proposal for a recommendation of the European Parliament and of the Council on key competences for lifelong learning. European Commission. Brussels: European Commission, 2005. (COM(2005) 548 final). Available from Internet: http://eur-lex.europa.eu/LexUriServ/site/en/com/2005/com2005_0548en01.pdf  
e-Assessment Glossary (Extended) The term Basic Skills or, latterly, Skills for Life, is subsumed with Key Skills in Functional Skills.
User guidelines for the application of the European e-Competence Framework
L 394/10 "Official Journal of the European Union" 30.12.2006 Recommendation of the European Parliament and of the Council of 18 December 2006 on key competences for lifelong learning (2006/962/EC) Brussels, 18 December 2006
"Combination of knowledge, skills and attitudes appropriate to the context. Key competences are those which all individuals need for personal fulfilment and development, active citizenship, social inclusion and employment".
21st Century Skills Map. This 21st Century Skills Map is the result of hundreds of hours of research, development and feedback from educators and business leaders across the nation. In collaboration with several content area organizations, the Partnership for 21st Century Skills developed a series of ICT Literacy Maps illustrating the intersection between Information and Communication Technology (ICT) Literacy and core academic subjects including English, mathematics, science and social studies (civics/government, geography, economics, history). The maps enable educators to gain concrete examples of how ICT Literacy can be integrated into core subjects, while making the teaching and learning of core subjects more relevant to the demands of the 21st century. Partnership for 21st Century Skills
Creativity and innovation.
Critical thinking and problem solving.
Communication.
Collaboration.
Information literacy.
Media literacy.
Information and Communication Technologies literacy (ICT literacy).
Flexibility and adaptability.
Initiative and self direction.
Social and cross-cultural skills.
Productivity and accountability.
Leadership and responsibility.
Future Learning Spaces: new ways of learning and new digital skills to learn. Institute for Prospective Technological Studies (IPTS) Yves Punie & Kirsti Ala-Mutka. (4-2007. vol. 2, side 210–225)   http://is.jrc.ec.europa.eu/pages/EAP/documents/2007Learning_SpacesDigitalLiteracy_000.pdf   ::::::::::::::   Digital Competence for Lifelong Learning (Policy Brief) Authors: Kirsti Ala-Mutka, Yves Punieand Christine Redecker http://ftp.jrc.es/EURdoc/JRC48708.TN.pdf  
Digital competence: Play a key role in a knowledge-based society.
Strategy framework for promoting ICT literacy in the Asia-Pacific region This paper targets individuals and organizations engaged in providing ICT literacy education. It offers an analysis of ICT usage in Asia-Pacific countries and defines measures for promoting ICT literacy development in the region. Author(s) Pernia, Elena E. Publication year 2008 ISBN 978-92-9223-188-0 Publisher UNESCO Bangkok Publication Location Bangkok http://www2.unescobkk.org/elib/publications/188/promotingICT_literacy.pdf
(ETS, 2001)
Digital Transformation: A Framework for ICT Literacy, "ICT Literacy is using digital technology, communications tools and/or networks to access, manage, integrate, evaluate, and create information in order to function in a knowledge society". http://www.naruc.org/Resolutions/Digital%20Literacy.pdf ""ICT literacy cannot be defined primarily as the mastery of technical skills… (it) should be broadened to include both critical cognitive skills as well as the application of technical skills and knowledge… as (it is) a continuum of skills and abilities… rang(ing) from simple uses of technology in everyday life to uses in performing complex tasks."" Educational Testing Service (ETS) is a private, non-profit organization devoted to educational measurement and research,primarily through testing. It develops and administers millions of achievement and admissions tests each year in the U.S. and 180 other countries. Source: http://www.ets.org/portal/site/ets/
(EU DEC)
The European Union (EU) Directorate-General for Education and Culture (EU DEC). According to the EU Directorate-General for Education and Culture, "Key competences represent a transferable, multifunctional package of knowledge, skills and attitudes that all individuals need for personal fulfillment and development, social inclusion and employment. These should have been developed by the end of compulsory schooling or training, and should act as a foundation for further learning as part of lifelong learning." Source: EU Directorate-General for Education and Culture (November 2004), Implementation of 'Education and Training 2010' Work Programme: Working Group B "Key Competencies," p.7.
Ministerial e-Inclusion Conference (Vienna, 2008)   Ministers and senior officials from more than 30 European countries met during the conference to recognise the progress and successes already achieved in the field of e-Inclusion in Europe and to consider the challenges that still remain. The Presidency of the Council of the European Union concluded that, in these difficult economic times, it is more necessary than ever to support vulnerable people in our society. ICTs constitute an essential tool to achieve this objective. Joint action in the area of e-inclusion can at the same time contribute to creating new jobs and to improving their quality, for example in the sector of care for elderly and depending persons, including putting in place activities for unemployed people. Better digital inclusion will contribute to strengthening the main asset of Europe: its human capital. Document: http://ec.europa.eu/information_society/eeurope/i2010/docs/digital_literacy/digital_literacy_review.pdf Web site: http://ec.europa.eu/information_society/events/e-inclusion/2008/index_en.htm
Digital literacy is the skills required to achieve digital competence, the confident and critical use of ICT for work, leisure, learning and communication. Digital Competence was included as one of the eight essential skills, in the Recommendation on Key Competences for Lifelong learning.
Recommendation of the European Parliament and of the Council, of 18 December 2006, on key competences for lifelong learning [Official Journal L 394 of 30.12.2006]. Key competences for lifelong learning Key competences for lifelong learning are a combination of knowledge, skills and attitudes appropriate to the context. They are particularly necessary for personal fulfilment and development, social inclusion, active citizenship and employment. Key competences are essential in a knowledge society and guarantee more flexibility in the labour force, allowing it to adapt more quickly to constant changes in an increasingly interconnected world. They are also a major factor in innovation, productivity and competitiveness, and they contribute to the motivation and satisfaction of workers and the quality of work. Key competences should be acquired by: young people at the end of their compulsory education and training equipping them for adult life, particularly for working life, whilst forming a basis for further learning; adults throughout their lives through a process of developing and updating skills. Source: http://europa.eu/scadplus/leg/en/cha/c11090.htm  
Communication in the mother tongue: which is the ability to express and interpret concepts, thoughts, feelings, facts and opinions in both oral and written form (listening, speaking, reading and writing), and to interact linguistically in an appropriate and creative way in a full range of societal and cultural contexts;
Communication in foreign languages: which involves, in addition to the main skill dimensions of communication in the mother tongue, mediation and intercultural understanding. The level of proficiency depends on several factors and the capacity for listening, speaking, reading and writing;
Mathematical competence and basic competences in science and technology: the ability to develop and apply mathematical thinking in order to solve a range of problems in everyday situations, with the emphasis being placed on process, activity and knowledge.
Digital competence: The confident and critical use of information society technology (IST) and thus basic skills in information and communication technology (ICT);
Learning to learn: related to learning, the ability to pursue and organise one's own learning, either individually or in groups, in accordance with one's own needs, and awareness of methods and opportunities;
Social and civic competences: Refers to personal, interpersonal and intercultural competence and all forms of behaviour that equip individuals to participate in an effective and constructive way in social and working life. Competence and particularly knowledge of social and political concepts and structures (democracy, justice, equality, citizenship and civil rights) equips individuals to engage in active and democratic participation;
Sense of initiative and entrepreneurship: the ability to turn ideas into action. It involves creativity, innovation and risk-taking, as well as the ability to plan and manage projects in order to achieve objectives. The individual is aware of the context of their work and is able to seize opportunities which arise.
Cultural awareness and expression: which involves appreciation of the importance of the creative expression of ideas, experiences and emotions in a range of media (music, performing arts, literature, and the visual arts).
The Commission communication of 22 February 2007 entitled "a coherent framework of indicators and benchmarks for monitoring progress towards the Lisbon objectives in education and training", which proposes 20 core indicators that the Commission considers coherent with the policy objectives under the 'Education and Training 2010' work programme   Council conclusions of 25 May 2007 on a coherent framework of indicators and benchmarks for monitoring progress towards the Lisbon objectives in education and training(2007/C 1083/07), http://register.consilium.europa.eu/pdf/en/07/st10/st10083.en07.pdf http://eur-lex.europa.eu/LexUriServ/site/en/oj/2006/l_394/l_39420061230en00100018.pdf UPDATED References http://ec.europa.eu/education/policies/2010/objectives_en.html#basic http://ec.europa.eu/dgs/education_culture/publ/pdf/ll-learning/keycomp_en.pdf
Participation in pre-school education
Special needs education
Early school leavers
Literacy in reading, mathematics and science
ICT skills
Civic skills
Learning to learn skills
Upper secondary completion rates of young people
Professional development of teachers and trainers
Higher education graduates
Cross-national mobility of students in higher education
Participation of adults in lifelong learning
Adult skills
Educational attainment of the population
Investment in education and training
Digital Literacy. Paul Gilster. John Wiley & Sons, Inc. 1997.   Second source: http://www.namodemello.com.br/pdf/tendencias/tecnolnocurric.pdf  
Digital literacy is the ability to understand and use information in multiple formats from a wide range of sources when it is presented via computers. The concepts of digital literacy goes beyond simply being able to read; it has always ment the ability yo read with meaning, and to understand. It is fundamental and act of cognition. Is the cognition of what you see on the computer screen when you use the networked medium...This skills of digitally literate are becoming as necessary as driver´s license....Acquiring digital literacy for Internet use involves mastering a set of core competencies. The most essential of theses is the ability to make informed judgement about what you find online, unlike conventional media, much of the Net is unfiltered by editors and open to the contributions for all.
Digital literacy is the ability to understand information and —more important —to evaluate and integrate information in multiple formats that the computer can deliver. Being able to evaluate and interpret information is critical. When I talk to teachers and librarians, I emphasize that you can't understand information you find on the Internet without evaluating its sources and placing it in context.
LIKA is a six year project financed by the Swedish Knowledge Foundation, and will in the end engage approx. 600 teachers and 8 000 teacher students at four institutes, and more than 20 000 teachers in primary and secondary schools. LIKA stands for the processes of Learning, Information, Communication and Administration.
- Technical competence: Digital technology competence means that the teacher can decide which digital tools are suitable for use in an educational context. The teacher has the technical competence to ensure continuous updating of these tools. - Didactic competence: Digital didactic competence is to be able to determine when, why and how ICT is used as educational and methodical support of learning. The teacher should be able to choose work and digital tools that fit the content and examination best. Here, the educational relevance of various digital tools to be added. - Theoretical competence: Digital theoretical competence means that the teacher has knowledge of ICT educational theories and methods of learning, and can apply them in practice in the teaching professional activities. The teacher should also be aware of current research in the field of ICT. - Competence: Dynamic combination of knowledge, understanding, abilities, skills, assessment and approach. This combination is shaped in learning activities, which can be divided into topic-specific and generic skills. - Digital competence: It needs to be developed based on both the substantive educational perspective and a more general perspective.
Assessment schemes for teachers' ICT competence- a policy analysis (Results from PIC/P2P Survey) Contact: Anja Balanskat [anja.balanskat@eun.org] May 2005
The terms "ICT competence" or "Digital competence" were taken as reference terms for different types of knowledge, skills and competencies that are needed for teachers to work with ICT in educational settings. These can be the competencies that are sought to be developed by teachers by the use of ICT in education (administration, preparation and to reach pedagogical purpose), the mastering of ICT tools and knowledge about ICT and its wider societal impact. Within each of these sections a variety of knowledge, skills and attitudes are covered such as "to use", "to understand", "to manage ", "to evaluate", which points to different competency levels and stages of effective and qualitative integration of ICT in the learning process. The application of ICT to fulfil wider goals or aspirations is seen as being "ICT literate" or "competent". A set of various skills (e.g. technical to higher order thinking skills) are necessary to become "ICT literate" or "ICT competent".
Allan Martin (2008) Digital Literacy for the Third Age: Sustaining Identity in an Uncertain World   eLearning Papers • www.elearningpapers.eu • 15 Nº 12 • February 2009 • ISSN 1887-1542 Martin, A. (2006). Literacies for the Digital Age. In Martin, A. & Madigan, D. (Eds.) Digital Literacies for Learning, London: Facet, 3-25
Digital Literacy is the awareness, attitude and ability of individuals to appropriately use digital tools and facilities to identify, access, manage, integrate, evaluate, analyse and synthesize digital resources, construct new knowledge, create media expressions, and communicate with others, in the context of specific life situations, in order to enable constructive social action; and to reflect upon this process.
Digital literacy (or digital literacies), e-skills, e-competences, skills for the Information Society, etc. There is plenty of literature about digital literacy in a broad sense. And there are even as many names as works to describe concepts, similar one to each other, but with shades and subtleties that make them have yet different meanings. In my opinion, two problems are both the cause and the consequence of this lack of understanding, closely bound one to the other one. The first one is that, most usually, digital skills are looked at at a very micro level. For instance, the most instrumental digital literacy (i.e. technological literacy) can be described without taking into account informational literacy, personal knowledge management, the sociocultural framework and so. the first one is that, almost always, digital skills are not taken dynamically, but as a pretty static, closed black box. Take media literacy as an example, where a (for me) necessary corollary to the acquisition and mastering of instrumental multimedia skills should be followed by reflections on the change of the Fourth Estate, the rise of the Fifth Estate and so. Actually, it is especially this last part, the dynamics of digital literacy and its actual application to everyday life — education, work, leisure, politics, social engagement — the most interesting to me and, to my knowledge, the most unattended one.
Technological Literacy: the skills to interact with hardware and software
Informational Literacy: the competences to deal with information, normally by means of ICTs (applying Technological Literacy). We could draw here two stages: a more instrumental one, related on how to get (relevant) information, and a more strategic one related to how to manage that information (or knowledge, if we speak of personal knowledge management)
Media Literacy: skills and competences to deal with several media, make them interact and integrate them in a single output. I believe we could also draw a lower level, multimedia, where interaction would be more mechanical, and a higher one, crossmedia, where interaction and integration respond not to technical possibilities but to a strategical design, building an ecosystem of different media (and not a simple multimedia output)
Digital Presence: Is centered in the person. These are the digital skills to monitor and establish a digital identity, and the skills to actively define it and use it for networking or interacting with other people digitally
e-Awareness: the most strategical (even philosophical) stage is the one related with being aware on how the world and our position — as a person, group, firm, institution — varies because of digital technologies
E-BUSINESS AND ICT SKILLS IN EUROPE Benchmarking Member States Policy Initiatives   Putting Europe at the forefront of international competitiveness is one of the greatest and most urgent challenges for the European Union. To reach this goal, information and communication technologies and their productive usage will have to play an important role, as an enabler of innovation and to streamline business processes. This calls for well-trained people. IT literacy needs to be strengthened across all sectors and professional qualifications in order to use information and communication technologies effectively to enhance productivity and thus stimulating growth and employment. The political challenge of an "Information Society for ALL" can not be tackled in isolation. There is not only competition for talented people between different business sectors but also between different regions and countries. Europe must be as a whole an attractive place to work and to live, in order to attract people who can drive also our economies.
Digital literacy relates to the ability to grasp and use information as presented on a computer installation (audio, video, text, etc.). Being digitally literate implies being able to search and retrieve information, to navigate and communicate on-line, to participate in digital, and virtual communities. It is perceived as a key element in the battle to overcome social exclusion and divisions in European society.
Ontario Assocciation for Media Literacy (1989)
Definition of media literacy created by the Ontario Association for Media Literacy in 1989 (As quoted by Duncan, 2005, online source/no page numbers).
Media literacy is concerned with developing an informed and critical understanding of the nature of the mass media, the techniques used by them, and the impact of those techniques. It is education that aims to increase students' understanding and enjoyment of how the media work, how they produce meaning, how they are organized, and how they construct reality. Media literacy also aims to provide students with the ability to create media products.
Ofcom 2005, Adult Media Literacy: A Review of the Research Literature. www.ofcom.org. uk/advice/media_literacy/medlitpub/medlitpubrss/aml.pdf
"The ability to access, understand and create communications in a variety of contexts"
Information for Educators. Whether you are teaching your students how to deploy and manage Microsoft operating systems, how to develop applications by using Microsoft developer tools, or how to design and build dynamic Web sites, Microsoft Learning delivers an outstanding selection of programs and resources for classroom use.
"Basic computer concepts and skills so that individuals can use computer technology in everyday life to develop new social and economic opportunities for themselves, their families, and their communities".
(American Library Association, 1989)
American Library Association Presidential Committee on Information Literacy (January 10, 1989, Washington, D.C.)
"Ultimately, information literate people are those who have learned how to learn. They know how to learn because they know how knowledge is organized, how to find information, and how to use information in such a way that others can learn from them. They are people prepared for lifelong learning, because they can always find the information needed for any task or decision at hand."
Brussels, 20.12.2007 COM(2007) 833 final COMMUNICATION FROM THE COMMISSION TO THE EUROPEAN PARLIAMENT, THE COUNCIL, THE EUROPEAN ECONOMIC AND SOCIAL COMMITTEE AND THE COMMITTEE OF THE REGIONS A European approach to media literacy in the digital environment
Media literacy is generally defined as the ability to access the media, to understand and to critically evaluate different aspects of the media and media contents and to create communications in a variety of contexts.
DigEuLit: Concepts and Tools for Digital Literacy Development Allan Martin, University of Glasgow, Scotland Jan Grudziecki, Technical University of Lodz, Poland The DigEuLit project, funded by the EC eLearning Initiative, has a task of defining digital literacy and developing a framework and tools for digital literacy development in European educational settings. We have observed converging literacies which have gained new relevance in digital environments, and proposed a definition of digital literacy which focuses on the processes of using digital tools to support the achievement of goals in the individual's life-situation.
statement
identification
accession
evaluation
interpretation
organisation
integration
analysis
synthesis
creation
communication
dissemination
reflection