Module 4: Assessment Development
by
Barbara Vinal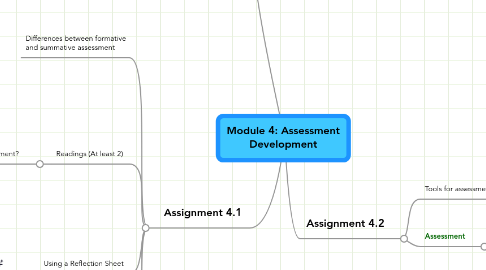 0.0
stars - reviews range from
0
to
5
Module 4: Assessment Development
Participants will increase their knowledge of assessment through reading, posting and responding to others.
Participants will understand the difference between formative and summative assessment.
Participants will evaluate multiple assessment tools.
Assignment 4.2
Tools for assessment
Lesson plan block grading
Electronic gradebooks, EGP
Recording devices
Web 2.0 tools, Survey Monkey, Zoomerang, Free resources and tools for authentic assessment
Cameras and video
Personal Response Systems (clickers), eInstruction, Mimio, Study of Student Response systems (pdf), Turning Technologies, Smartphones as PRS
Readings, "Teaching with Classroom Response Systems"
Wiki post, Choose one assessment tool to review, Completed by end of Module 4
Wiki post rubric - 4.2
Differences between formative and summative assessment
Readings (At least 2)
What is "valid" assessment?, "The Challenge of Authentic Assessment", "Ten Takeaway Tips for Using Authentic Assessment in Your School", "What is Authentic Assessment", "Integrating Assessment and Instruction in Ways that Support Learning", "Beyond Testing and Grading: Using Assessment to Improve Student Learning"
Using a Reflection Sheet
Instructor generated Reflection Sheet
Compiling your data
Discussion board post, Post at least one thing you learned about assessment and one thing you already knew about assessment., Completed by Day 3, Post feedback to at least one other person, Completed by Day 5
Posting rubric - 4.1