Unit 3 AOS2
by Isabelle Perazzola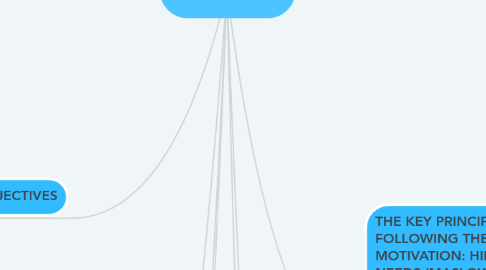 1. HUMAN RESOURCE MANAGEMENT
1.1. ➔ Definition:​ ​The​ ​effective​ ​management​ ​of​ ​the​ ​formal​ ​relationship​ ​between​ ​employees and​ ​employers
1.2. ➔ As​ ​business'​ ​grow​ ​more​ ​formal​ ​human​ ​resource​ ​management​ ​(HRM)​ ​policies​ ​and practices​ ​need​ ​to​ ​be​ ​established
1.3. ➔ In​ ​a​ ​small​ ​business​ ​this​ ​is​ ​usually​ ​the​ ​owner
1.4. ➔ They​ ​are​ ​also​ ​responsible​ ​for​ ​making​ ​sure​ ​the​ ​business​ ​gets​ ​the​ ​best​ ​out​ ​of​ ​its employees​ ​and​ ​employees​ ​have​ ​the​ ​right​ ​skills​ ​to​ ​carry​ ​out​ ​their​ ​roles
1.5. ➔ It​ ​is​ ​the​ ​person/people​ ​that​ ​are​ ​responsible​ ​for​ ​maintaining​ ​the​ ​relationship​ ​between employees​ ​and​ ​employers
1.6. WHAT A HRM CANT DO
1.6.1. ➔ They​ ​can't​ ​tell​ ​other​ ​departments​ ​about​ ​what​ ​work​ ​needs​ ​to​ ​be​ ​done
1.6.2. *Employees​ ​are​ ​the​ ​biggest​ ​expense​ ​to​ ​the​ ​business​ ​as​ ​well​ ​as​ ​being​ ​the​ ​most​ ​valuable asset*
1.6.3. ➔ HRM​ ​is​ ​a​ ​part​ ​of​ ​a​ ​divisional​ ​structure
1.6.4. ➔ HRM​ ​is​ ​a​ ​functional​ ​area​ ​of​ ​the​ ​business​ ​and​ ​needs​ ​to​ ​consider​ ​external​ ​and​ ​internal influences​ ​this​ ​will​ ​help​ ​impact​ ​the​ ​business​ ​strategy​ ​that​ ​is​ ​implemented​ ​in​ ​the business
1.6.5. ➔ They​ ​have​ ​the​ ​authority​ ​to​ ​advise​ ​not​ ​to​ ​direct​ ​other​ ​line​ ​managers
2. MANAGEMENT BY OBJECTIVES
2.1. ➔ The​ ​process​ ​of​ ​setting​ ​goals​ ​using​ ​SMART​ ​principles​ ​which​ ​relate​ ​to​ ​the​ ​employees key​ ​areas​ ​of​ ​responsibility
2.2. ➔ MBO​ ​was​ ​established​ ​by​ ​Peter​ ​Drucker​ ​in​ ​1954​ ​and​ ​it​ ​fits​ ​in​ ​with​ ​the​ ​goal​ ​setting motivation​ ​theory​ ​and​ ​can​ ​be​ ​used​ ​as​ ​a​ ​way​ ​to​ ​conduct​ ​performance​ ​appraisals
2.3. ➔ Management​ ​by​ ​objectives​ ​creates​ ​a​ ​sense​ ​of​ ​direction​ ​and​ ​provides​ ​a​ ​measure​ ​to assess​ ​an​ ​employee's​ ​work​ ​performance
2.4. ➔ This​ ​is​ ​because​ ​the​ ​individual​ ​employee​ ​objectives​ ​should​ ​link​ ​to​ ​the​ ​team department​ ​or​ ​business​ ​as​ ​a​ ​whole
2.5. ADOPTING THE MBO THEORY
2.5.1. : ➔ Requires​ ​managers​ ​and​ ​staff​ ​at​ ​all​ ​levels​ ​to​ ​set​ ​objectives​ ​relevant​ ​to​ ​their​ ​area​ ​of responsibility​ ​and​ ​have​ ​their​ ​performance​ ​(outcomes)​ ​measure​ ​to​ ​these
2.5.2. ➔ It​ ​can​ ​also​ ​help​ ​with​ ​improved​ ​workers​ ​attendance​ ​as​ ​they​ ​enjoy​ ​theory​ ​job
2.5.3. ➔ It​ ​can​ ​help​ ​improve​ ​productivity
2.5.4. ➔ It​ ​should​ ​make​ ​employees​ ​more​ ​engaged​ ​with​ ​their​ ​work​ ​and​ ​ownership​ ​as​ ​they​ ​can directly​ ​impact​ ​the​ ​businesses​ ​success
2.5.5. ➔ It​ ​helps​ ​all​ ​members​ ​of​ ​the​ ​organization​ ​achieve​ ​personal​ ​objectives​ ​and​ ​business objectives
3. WHAT IS MOTIVATION?
3.1. ➔ It's​ ​what​ ​drives​ ​a​ ​person​ ​to​ ​do​ ​things​ ​a​ ​certain​ ​way​ ​or​ ​to​ ​achieve​ ​a​ ​certain​ ​goal
3.2. ➔ The​ ​individual​ ​internal​ ​process​ ​that​ ​directs,​ ​energises​ ​and​ ​sustains​ ​a​ ​person's behaviour
4. MOTIVATION STRATEGIES: INCLUDING PERFORMANCE RELATED PAY, CAREER ADVANCEMENT, INVESTMENT IN TRAINING AND SUPPORT AND SANCTION
4.1. PAY INCREASES
4.1.1. ➔ When​ ​an​ ​employee​ ​starts​ ​at​ ​a​ ​job​ ​their​ ​rate​ ​of​ ​pay​ ​is​ ​either​ ​negotiated​ ​in​ ​an employment​ ​contract​ ​or​ ​set​ ​by​ ​an​ ​award
4.1.2. ➔ After​ ​a​ ​period​ ​of​ ​time​ ​an​ ​employer​ ​may​ ​offer​ ​pay​ ​rises​ ​to​ ​people​ ​who​ ​work​ ​hard​ ​and add​ ​value​ ​to​ ​the​ ​business 12
4.2. BONUSES
4.2.1. ➔ One​ ​off​ ​payment​ ​to​ ​an​ ​employee​ ​or​ ​group​ ​of​ ​employees​ ​for​ ​achieving​ ​a​ ​particular target​ ​or​ ​special​ ​effort,​ ​it's​ ​a​ ​one​ ​off
4.3. COMMISIONS
4.3.1. ➔ Is​ ​an​ ​amount​ ​paid​ ​for​ ​accomplishing​ ​its​ ​sale,​ ​it's​ ​generally​ ​a​ ​fixed​ ​%​ ​of​ ​the​ ​price *Reward:​ ​An​ ​award​ ​is​ ​legally​ ​binding​ ​agreement​ ​that​ ​sets​ ​out​ ​minimum​ ​wages​ ​and conditions​ ​for​ ​a​ ​group​ ​of​ ​employees​ ​in​ ​a​ ​given​ ​industry*
4.4. SHAREPLANS
4.4.1. ➔ A​ ​registered​ ​company​ ​both​ ​public​ ​and​ ​private​ ​can​ ​offer​ ​shares​ ​of​ ​its​ ​business​ ​to​ ​its staff
4.4.2. ➔ If​ ​the​ ​business​ ​is​ ​successful​ ​profits​ ​is​ ​paid​ ​as​ ​a​ ​dividend​ ​to​ ​its​ ​shareholders​ ​so employees​ ​will​ ​gain​ ​more​ ​income​ ​from​ ​profits
4.5. PROFIT SHARING
4.5.1. ➔ Instead​ ​of​ ​giving​ ​employees​ ​shares,​ ​a​ ​company​ ​can​ ​offer​ ​a​ ​%​ ​of​ ​profits​ ​to​ ​its employees​ ​with​ ​the​ ​overall​ ​goal​ ​or​ ​increasing​ ​profit​ ​so​ ​everyone​ ​can​ ​share​ ​in​ ​it
4.6. GAINS SHARING
4.6.1. ➔ Is​ ​the​ ​method​ ​of​ ​rewarding​ ​employees​ ​for​ ​making​ ​suggestions​ ​that​ ​improve productivity​ ​in​ ​the​ ​business.​ ​The​ ​savings​ ​that​ ​are​ ​achieved​ ​are​ ​given​ ​back​ ​to​ ​the employees
4.7. CAREER ADVANCEMENT
4.7.1. ➔ Promoting​ ​people​ ​to​ ​more​ ​senior​ ​positions​ ​that​ ​give​ ​them​ ​more motivation/responsibility​ ​and​ ​authority-​ ​this​ ​level​ ​of​ ​promotion​ ​can​ ​motivate​ ​some employees
4.8. SUPPORT AND SANCTION
4.8.1. ➔ People​ ​do​ ​the​ ​work​ ​because​ ​they​ ​fear​ ​for​ ​the​ ​results​ ​if​ ​you​ ​don't
4.9. INVESTMENT IN TRAINING
4.9.1. ➔ Employees​ ​gain​ ​skills​ ​and​ ​knowledge​ ​via​ ​training
5. TRAINING OPTIONS INCLUDING ON AND OFF THE JOB TRAINING + THE ADVANTAGES AND DISADVANTAGES OF BOTH
6. THE RELATIONSHIP BETWEEN MANAGING EMPLOYEES AND ACHIEVING BUSINESS OBJECTIVES
6.1. ➔ The​ ​states,​ ​measurable​ ​targets​ ​of​ ​what​ ​a​ ​business​ ​wants​ ​to​ ​achieve
6.2. ➔ All​ ​business​ ​objectives​ ​must​ ​consider​ ​stakeholders​ ​in​ ​the​ ​business​ ​and​ ​how​ ​the objective​ ​will​ ​affect/influence​ ​them
7. THE IMPORTANCE OF EMPLOYEES
7.1. ➔ Employees​ ​are​ ​a​ ​key​ ​stakeholder​ ​in​ ​achieving​ ​business​ ​objectives
7.2. ➔ They​ ​play​ ​a​ ​key​ ​role​ ​in​ ​success
7.3. ➔ The​ ​are​ ​essentially​ ​required​ ​in​ ​the​ ​production​ ​process,​ ​manufacturing​ ​a​ ​product​ ​or providing​ ​a​ ​service
8. THE KEY PRINCIPLES OF THE FOLLOWING THEORIES OF MOTIVATION: HIERARCHY OF NEEDS (MASLOW), GOAL SETTING THEORY (LOCKE AND LATHAM), AND THE 4 DRIVE THEORY (LAWRENCE AND NOHRIA)
8.1. HIERARCHY OF NEEDS ( MASLOW)
8.1.1. Abraham​ ​Maslow​ ​believed​ ​that​ ​all​ ​people​ ​had​ ​a​ ​need to​ ​be​ ​satisfied​ ​and​ ​they​ ​will​ ​work​ ​towards​ ​satisfying​ ​that​ ​need.​ ​He​ ​developed maslow's​ ​hierarchy​ ​of​ ​needs,​ ​arranging​ ​in​ ​order​ ​of​ ​importance,​ ​this​ ​hierarchy​ ​of needs​ ​is​ ​a​ ​sequence​ ​of​ ​human​ ​needs​ ​in​ ​order​ ​of​ ​importance​ ​and​ ​that​ ​you​ ​can't​ ​move up​ ​between​ ​needs​ ​unless​ ​the​ ​basic​ ​need​ ​has​ ​been​ ​satisfied 10 ➔ His​ ​theory​ ​is​ ​important​ ​because​ ​it​ ​suggests​ ​businesses​ ​have​ ​to​ ​create​ ​workplaces that​ ​attempt​ ​to​ ​satisfy​ ​all​ ​the​ ​needs​ ​of​ ​the​ ​employee​ ​if​ ​they​ ​don't​ ​employees​ ​will become​ ​disillusioned​ ​and​ ​choose​ ​to​ ​leave​ ​or​ ​demotivated
8.1.2. STEPS
8.1.2.1. Self​ ​actualisation-​​ ​Achieving​ ​one's​ ​full​ ​potential, including​ ​creative​ ​activities
8.1.2.2. Esteem​ ​needs-​ ​​Prestige​ ​and​ ​feeling​ ​of accomplishment Belongness​ ​and​ ​love​ ​needs-​ ​​Intimate​ ​relationships and​ ​friends
8.1.2.3. Safety​ ​needs-​​ ​Security​ ​and​ ​safety
8.1.2.4. Physiological​ ​needs-​​ ​Food,​ ​water,​ ​warmth​ ​and​ ​rest
8.2. ROLES OF A HUMAN RESOURCE MANAGER
8.2.1. ➔ Recruitment​ ​and​ ​selection​ ​process
8.2.2. ➔ Human​ ​resource​ ​manager​ ​can​ ​also​ ​be​ ​known​ ​as​ ​staff​ ​managers-​ ​as​ ​they​ ​can​ ​offer advice​ ​about​ ​policies​ ​and​ ​practices​ ​and​ ​procedures,​ ​they​ ​can​ ​also​ ​assists employees,​ ​other​ ​managers​ ​(functional​ ​managers)​ ​and​ ​the​ ​business​ ​as​ ​a​ ​whole
8.2.3. ➔ Evaluation​ ​policies
8.2.4. ➔ Performance​ ​management
8.2.5. ➔ OH&S​ ​guidelines
8.3. GOAL SETTING THEORY (LOCKE AND LATHAM)
8.3.1. ➔ Based​ ​on​ ​the​ ​notion​ ​that​ ​employees​ ​are​ ​more​ ​likely​ ​to​ ​be​ ​motivated​ ​if​ ​they​ ​are​ ​able to​ ​​ ​strive​ ​for​ ​specific​ ​goals​ ​and​ ​can​ ​be​ ​rewarded​ ​for​ ​achieving​ ​those​ ​goals
8.3.2. ➔ The​ ​employees​ ​must​ ​be​ ​committed​ ​to​ ​meet​ ​the​ ​challenge​ ​and​ ​that​ ​if​ ​helps​ ​if​ ​the employee's​ ​gets​ ​constant​ ​feedback​ ​so​ ​that​ ​if​ ​required​ ​clarification​ ​and​ ​adjustment​ ​of the​ ​goals​ ​can​ ​take​ ​place​ ​so​ ​the​ ​employee​ ​does​ ​not​ ​lose​ ​motivation
8.3.3. ➔ In​ ​order​ ​to​ ​motivate​ ​the​ ​goal​ ​must​ ​be​ ​specific,​ ​clear​ ​and​ ​provide​ ​a​ ​challenge​ ​to​ ​the employees
8.3.4. PRINCIPALS
8.3.4.1. Feedback:​​ ​many​ ​goals​ ​will​ ​take​ ​a​ ​long​ ​time​ ​to​ ​achieve​ ​so​ ​ongoing​ ​feedback​ ​can​ ​help​ ​keep the​ ​employee​ ​working​ ​towards​ ​the​ ​goal Task​ ​complexity:​​ ​if​ ​tasks​ ​lack​ ​complexity​ ​and​ ​the​ ​employee​ ​sees​ ​it​ ​as​ ​easy​ ​there​ ​is​ ​unlikely to​ ​be​ ​a​ ​high​ ​level​ ​of​ ​motivation
8.3.4.2. Commitment:​​ ​an​ ​employee​ ​that​ ​is​ ​committed​ ​to​ ​the​ ​achievement​ ​of​ ​the​ ​goal​ ​will​ ​be motivated​ ​to​ ​work​ ​towards​ ​it.​ ​This​ ​can​ ​be​ ​achieved​ ​by​ ​allowing​ ​the​ ​employees​ ​to​ ​be​ ​involved in​ ​the​ ​setting​ ​of​ ​goals
8.3.4.3. Challenge:​​ ​Locke​ ​and​ ​Latham​ ​found​ ​a​ ​direct​ ​relationship​ ​between​ ​how​ ​challenging​ ​a​ ​goal​ ​is and​ ​how​ ​motivated​ ​the​ ​employee​ ​is.​ ​The​ ​more​ ​challenging​ ​the​ ​goal​ ​the​ ​more​ ​motivation​ ​is created
8.3.4.4. Clarity:​​ ​goals​ ​needed​ ​to​ ​be​ ​clear​ ​and​ ​specific​ ​so​ ​the​ ​employee​ ​knows​ ​exactly​ ​what​ ​they need​ ​to​ ​achieve.​ ​This​ ​allows​ ​them​ ​to​ ​focus​ ​on​ ​achieving​ ​a​ ​specific​ ​goal
8.3.5. BENEFITS
8.3.5.1. ➔ Improvement​ ​in​ ​team​ ​cohesion​ ​and​ ​collaboration
8.3.5.2. ➔ Employees​ ​become​ ​energized​ ​and​ ​empowered
8.3.5.3. ➔ Companies​ ​ensure​ ​that​ ​all​ ​employees​ ​have​ ​closely​ ​aligned​ ​goals,​ ​have​ ​a​ ​high​ ​level of​ ​financial​ ​success
8.4. The​ ​drive​ ​to​ ​bond:​ ​​We​ ​all​ ​need​ ​to​ ​find,​ ​connect​ ​and​ ​seek​ ​others​ ​whether​ ​it​ ​is​ ​family,​ ​peer groups​ ​or​ ​being​ ​part​ ​of​ ​a​ ​business,​ ​association​ ​and​ ​our​ ​nation.​ ​Motivation​ ​receives​ ​an enormous​ ​boost​ ​when​ ​employees​ ​feel​ ​proud​ ​to​ ​belong​ ​to​ ​a​ ​business,​ ​but​ ​this​ ​plummets​ ​if the​ ​business​ ​does​ ​something​ ​to​ ​betray​ ​this​ ​feeling​ ​of​ ​pride
8.4.1. The​ ​drive​ ​to​ ​defend:​ ​​This​ ​stems​ ​from​ ​our​ ​natural​ ​instinct​ ​to​ ​defend​ ​ourselves,​ ​family​ ​and friends,​ ​property​ ​and​ ​our​ ​accomplishment,​ ​beliefs​ ​and​ ​ideas​ ​against​ ​external​ ​threats (flight-fight​ ​response).​ ​This​ ​drive​ ​directly​ ​links​ ​to​ ​people's​ ​fear​ ​and​ ​resistance​ ​to​ ​change
8.5. FOUR​ ​DRIVE​ ​THEORY​ ​(LAWRENCE​ ​AND​ ​NOHRIA) ➔ Basic​ ​motivation​ ​needs
8.5.1. The​ ​drive​ ​to​ ​acquire:​ ​​This​ ​can​ ​be​ ​regarded​ ​as​ ​both​ ​a​ ​basic​ ​and​ ​complex​ ​need.​ ​For instance​ ​basic​ ​as​ ​it​ ​relates​ ​to​ ​an​ ​individual​ ​gathering​ ​the​ ​necessities​ ​for​ ​survival​ ​(clothing, housing​ ​and​ ​money).​ ​Complex​ ​when​ ​it​ ​relates​ ​to​ ​the​ ​acquiring​ ​of​ ​status,​ ​accomplishment and​ ​power​ ​(private​ ​office,​ ​power)
8.5.2. The​ ​drive​ ​to​ ​comprehend:​ ​​People​ ​need​ ​to​ ​make​ ​sense​ ​of​ ​the​ ​world​ ​around​ ​them​ ​and contribute​ ​to​ ​it.​ ​This​ ​directly​ ​links​ ​to​ ​why​ ​learning​ ​and​ ​work​ ​both​ ​engage​ ​and​ ​energise employees
9. ADVANTAGES AND DISADVANTAGES OF MOTIVATION STRATEGIES AND THERE AFFECT ON SHORT TERM AND LONG TERM EMPLOYEE MOTIVATION
10. PERFORMANCE MANAGEMENT STRATEGIES TO ACHIEVE BOT BUSINESS AND EMPLOYEE OBJECTIVES, INCLUDING MANAGEMENT BY OBJECTIVES, APPRAISALS, SELF EVALUATION AND EMPLOYEE OBSERVATION
10.1. EMPLOYEE OBSERVATION
10.1.1. ➔ The​ ​aim​ ​is​ ​to​ ​get​ ​feedback​ ​from​ ​a​ ​variety​ ​of​ ​different​ ​parties​ ​to​ ​arrive​ ​at​ ​a​ ​picture​ ​of​ ​a past​ ​and​ ​current​ ​performance
10.1.2. ➔ Helps​ ​to​ ​evaluate​ ​leadership​ ​teamwork​ ​and​ ​interpersonal​ ​skills
10.1.3. ➔ Focus​ ​on​ ​how​ ​the​ ​employee​ ​works​ ​as​ ​a​ ​part​ ​of​ ​the​ ​team
10.1.4. ➔ Helps​ ​identify​ ​strength​ ​and​ ​weaknesses​ ​and​ ​gives​ ​a​ ​broad​ ​overview​ ​of​ ​the employee's​ ​performance
10.1.5. ➔ About​ ​8-12​ ​employees​ ​complete​ ​confidential​ ​evaluation​ ​forms​ ​and​ ​the​ ​employee under​ ​review​ ​also​ ​completes​ ​self​ ​evaluation
10.1.6. ➔ This​ ​is​ ​often​ ​used​ ​to​ ​evaluate​ ​the​ ​performance​ ​of​ ​managers​ ​and​ ​supervisors​ ​by getting​ ​input​ ​from​ ​their​ ​subordinates​ ​fellow​ ​supervisors​ ​and​ ​superiors
10.1.7. ➔ 360​ ​degree​ ​feedback
10.2. SELF EVALUATION
10.2.1. ➔ This​ ​involved​ ​employees​ ​carrying​ ​out​ ​a​ ​process​ ​of​ ​self​ ​assessment​ ​based​ ​on​ ​an agreed​ ​set​ ​criteria
10.2.2. ➔ What​ ​initiatives​ ​can​ ​i​ ​undertake​ ​to​ ​be​ ​a​ ​better​ ​employee​ ​in​ ​the​ ​future
10.2.3. ➔ What​ ​could​ ​i​ ​have​ ​done​ ​better?
10.2.4. ➔ What​ ​are​ ​my​ ​weaknesses?​ ​How​ ​do​ ​i​ ​overcome​ ​them?
10.2.5. ➔ What​ ​are​ ​my​ ​strengths?
10.3. MANAGEMENT BY OBJECTIVES
10.3.1. ➔ Process​ ​where​ ​management​ ​and​ ​employees​ ​agree​ ​on​ ​a​ ​set​ ​of​ ​goals​ ​for​ ​each employee​ ​when​ ​the​ ​individual​ ​goals​ ​contribute​ ​to​ ​the​ ​goals​ ​of​ ​the​ ​business​ ​as​ ​a whole
10.3.2. ➔ Managers​ ​use​ ​SMART​ ​goals​ ​to​ ​achieve​ ​these​ ​objectives
10.3.3. ➔ Performance​ ​appraisals​ ​once​ ​the​ ​goals​ ​have​ ​been​ ​achieved
10.3.4. ➔ Measuring​ ​progress​ ​to​ ​achieve​ ​goals
10.4. APPRAISALS
10.4.1. ➔ Measure​ ​how​ ​well​ ​an​ ​employee​ ​has​ ​performed​ ​with​ ​their​ ​jobs,​ ​provides​ ​feedback​ ​to employees​ ​and​ ​establishes​ ​plans​ ​to​ ​improve​ ​performance
10.4.2. ➔ Definition:​ ​a​ ​performance​ ​appraisal​ ​is​ ​the​ ​formal​ ​assessment​ ​of​ ​how​ ​efficient​ ​and effective​ ​an​ ​employee​ ​is​ ​performing​ ​in​ ​their​ ​role​ ​in​ ​the​ ​business
10.4.3. ➔ It​ ​reflects​ ​on​ ​past​ ​performance​ ​on​ ​the​ ​business​ ​and​ ​the​ ​employees​ ​performance