Back to Public Maps
Laura's Map: Stearns Center Website Redesign
Laura's Map: Stearns Center Website Redesign
by Katrina Joseph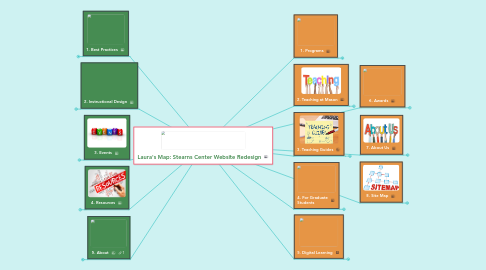 1. 5. About
1.1. 5a. About ODL
1.2. 5b. Our Team
1.3. 5c. Recognition
1.3.1. 5c1. Online Teaching Excellence Award
1.3.2. 5c2. Digital Learning Award
1.3.3. 5c3. Previous Winners
1.4. 5d. Course Inventory
1.4.1. 5d1. File (PDF): Course Inventory
1.5. 5e. Feature Stories
1.6. 5f. Contact Us
1.6.1. 5f1. Form: Contact Us
2. 3. Events
2.1. 3a. Faculty Conversations
2.1.1. 3a1. Previous Events
2.2. 3b. Lunch and Learn Series
2.2.1. 3b1. Recordings and Presentation Slides
2.3. 3c. Conferences
2.3.1. 3c1. Online Learning Consortium (OLC) Accelerate
2.4. 3d. Webinars
2.4.1. 3d1. Webinar Recording
2.4.2. 3d2. Webinar Presentation Slides
2.4.3. 3d3. Additional Resources Handout
2.5. 3e. Workshops
2.5.1. 3e1. OLC Workshops
2.5.1.1. 3e1a. External Link: OLC Workshops
2.5.2. 3e2. IT Training Workshops
2.5.2.1. 3e2a. External Link: Workshops Web Page
2.5.2.2. 3e2b. External Link: Lynda Website
3. 2. Instructional Design
3.1. 2a. Online Course Readiness Lab
3.2. 2b. Online Course Development Institute (OCDI)
3.2.1. 2b1. Form: Register
4. 1. Programs
4.1. 1a. Programs
4.1.1. 1a1. Link: Calendar of Events Web Page
4.1.2. 1a2. Link: Course Redesign Academy Web Page
4.1.3. 1a3. External Link: New Faculty Orientation
4.1.4. 1a4. External Link: New Adjunct Faculty Orientation
4.1.5. 1a5. Link: Innovations in Teaching and Learning (ITL)
4.1.6. 1a6. Link: Faculty Writing Retreat
4.1.7. 1a7. External Link: Faculty Write-ins
4.1.8. 1a8. Link: Faculty Conversations
4.1.9. 1a9. Link: Reading Groups
4.2. 1b. Services
4.2.1. 1b1. Link: Individual Consultations
4.2.2. 1b2. Link: Departmental or Team Consultations & Workshops
4.2.3. 1b3. Link: Small Group Instructional Diagnosis (SGID)
4.2.4. 1b4. Link: Digital Learning Consultations
4.2.5. 1b5. Link: Digital Learning Lab Hours
4.2.6. 1b6. Link: Stearns Center Teaching Library
4.2.7. 1b7. Form: for Lego (TM) Kit Checkout
4.3. 1c. Other Support at Mason
4.3.1. 1c1. External Link: Digital Learning (online teaching)
4.3.2. 1c2. External Links: Mason Workshop Web Page
4.3.3. 1c3. External Links: Library Workshop Web Page
4.3.4. 1c4. External Links: OSCAR Website
4.3.5. 1c5. External Links: Leadership Legacy Website
4.3.6. 1c6. External Links: Grants Management Training Web Page
4.3.7. 1c7. External Links: Grant Proposal Writing Web Page
4.3.8. 1c8. External Links: Lynda Training Website
4.3.9. 1c9. External Links: HR Profession Career Development Web Page
4.3.10. 1c10. External Links: Workplace Coaching & Coaching Tips for Supervisors Web Page
4.3.11. 1c11. External Links: SIMPLE (STEM Faculty Learning Community Website
5. 2. Teaching at Mason
5.1. 2a. General Resources
5.1.1. 2a1. Link: For New Faculty (Resources for New Faculty)
5.1.2. 2a2. External Link: For Department Chairs Website
5.1.3. 2a3. External Link: Learning Environments at Mason Website
5.1.4. 2a4. External Link: Viewing Your Classroom Web Page
5.1.5. 2a5. External Link: NEW for 2017: Technology Upgraded Classrooms Web Page
5.1.6. 2a6. External Link: Mason Bookstore Website
5.1.7. 2a7. Quick Guides
5.1.7.1. 2a7a. Link: Teaching Guides
5.1.7.2. 2a7b. Link: Documenting Your Teaching
5.1.7.3. 2a7c. Link: Mentoring Graduate Students
5.1.7.4. 2a7d. External Link: Research Development Website
5.1.7.5. 2a7e. Link: Scholarship of Teaching & Learning (SoTL)
5.1.7.6. 2a7f. Link: Higher Education Organizations
5.1.8. 2a8. University Community Resources
5.1.8.1. 2a8a. Link: Mason Diversity Statement
5.1.8.2. 2a8b. External Link: University Life Resources for Faculty Web Page
5.1.8.3. 2a8c. External Link: Compliance, Diversity, and Ethics Website
5.1.8.4. 2a8d. External Link: LGBT Faculty/Staff Alliance
5.1.8.5. 2a8e. External Link: Mason Speakers Website
5.2. 2b. Teaching Policies at Mason
5.2.1. 2b1. Link: Resources for New Faculty
5.2.2. 2b2. External Link: Calendar of Religious Holidays Web Page
5.2.3. 2b3. External Link: University Catalog and Academic Policies Website
5.2.4. 2b4. External Link: Office of the University Registrar
5.2.5. 2b5. External Link: Mason Core: General Education
5.2.6. 2b6. External Link: FERPA Web Page
5.2.7. 2b7. Student Conduct Web Page
5.2.8. 2b8. Academic Integrity Website
5.2.9. 2b9. About Copyright Website
5.2.10. 2b10. Office of Institutional Research and Assessment Website
5.2.11. 2b11. Mason Ready: Guide for Campus Emergencies Web Page
5.3. 2c. Supporting Students
5.3.1. 2c1. Link: Student Support Resources on Campus
5.3.2. 2c2. External Link: Open and Affordable Texts for your Students Web Page
5.3.3. 2c3. External Link: Disability Services Website
5.3.3.1. 2c3a. External Link/File (PDF): Faculty Guide on Teaching Students with Disabilities
5.3.4. 2c4. External Link: Assistive Technology Initiative Website
5.3.4.1. 2c4a. External Link: How to Request Accessible Media Web Page
5.3.4.2. 2c4b. External Link: Making Your Online Course Accessible Web Page
5.3.5. 2c5. External Link: The Writing Center (For Faculty) Web Page
5.3.6. 2c6. External Link: Office of Military Services Website
5.3.7. 2c7. External Link: Center for Academic Advising, Retention, and Transitions Website
5.3.8. 2c8. Link: Working with Student Athletes
6. 3. Teaching Guides
6.1. 3a. Course & Curriculum (Re)Design
6.1.1. 3a1. Course (Re)Design
6.1.1.1. 3a1a. Link: Course (Re)Design Academy
6.1.1.2. 3a1b. Link: Backward Design
6.1.1.3. 3a1c. Link: Course Mapping
6.1.1.4. 3a1d. Link: Design Your Syllabus
6.1.1.5. 3a1e. Link: Student Learning Outcomes
6.1.1.6. 3a1f. Link: blooms Taxonomy
6.1.1.7. 3a1g. Link: Developing Critical Thinkers
6.1.1.8. 3a1h. Link: Assignment Design
6.1.1.9. 3a1i. Link: Exam Design
6.1.1.10. 3a1j. Link: Digital Learning Resources
6.1.1.11. 3a1k. Link: Grading
6.1.1.12. 3a1l. Link: Evaluating Your Course Success
6.1.1.13. 3a1m. External Link: Classroom Research Policy Web Page
6.1.1.14. 3a1n. Link: Making You Next Semester Easier
6.1.1.15. 3a1o: Link: Teaching in the Disciplines
6.1.2. 3a2. Curriculum (Re)Design
6.1.2.1. 3a2a. Link: Curriculum Mapping
6.1.2.2. 3a2b. Link: Developing Critical Thinkers
6.1.2.3. 3a2c. Link: Scholarship of Teaching & Learning (SoTL)
6.1.2.4. 3a2d. Link: Students as Scholars
6.1.2.5. 3a2e. Link: Teaching in the Disciplines
6.2. 3b. Student Engagement & Classroom Management
6.2.1. 3b1. Link: Active Learning
6.2.2. 3b2. Link: Collaborative Learning
6.2.3. 3b3. Link: Classroom Assessment Techniques (CATs)
6.2.4. 3b4: Link: Creating Inclusive Classrooms
6.2.5. 3b5: Link: Dealing with Difficult Sitations
6.2.6. 3b6. Link: Engaging Students in Discussion
6.2.7. 3b7: Link: Experiential Learning
6.2.8. 3b8: LinkTeaching Large Classes
6.2.9. 3b9: Link: Writing and Research
6.2.10. 3b10: Looking for More Ideas?
6.2.10.1. 3b10a. External Link: Innovations in Teaching & Learning Conference Proceedings Archives
6.3. 3c. Working with Students
6.3.1. 3c1. Link: Knowing Mason Students
6.3.2. 3c2. Link: Student Privacy
6.3.3. 3c3. Link: Teaching Facts
6.3.4. 3c4. Link: Student Support Resources on Campus.
6.3.5. 3c5: External Link: Strategies for Teachings Goal Statement Community
6.3.6. 3c6. External Link: Multigual Learners
7. 4. For Graduate Students
7.1. 4a. Opportunities
7.1.1. 4a1. Link: PROV 601: Thriving in Graduate School Program & Workshop Series
7.1.2. 4a2. Link: PROV 701: Preparing for Careers in the Academy Program & Workshop Series
7.1.3. 4a3. External Link: Other Graduate Student Workshops Web Page
7.1.4. 4a4. External Link: Weekly Graduate Student Write-Ins at the Writing Center Web Page
7.1.5. 4a5. External Link: Semesterly Graduate Life Student Write-ins
7.1.6. 4a6. External Link: Meet one-on-one with your Subject Librarian Web Page
7.1.7. 4a7. External Link: Research Skill/Tools Workshops Web Portrait
7.1.8. 4a8. External Link: Get Your Research Conduct Certification Web Page
7.1.9. 4a9. External Link: Publish in Journal of Mason Graduate Research Web Page
7.1.10. 4a10: External Link: Apply for Graduate Fellowships Website
7.2. 4b. Looking for Advice?
7.2.1. 4b1. Link: Succeeding in Graduate School
7.2.2. 4b2. Link: Teaching Resources
7.2.3. 4b3. Link: Research, Writing, & Publishing
7.2.4. 4b4: External Link: Networking & Professional Relationships Web Page
7.2.5. 4b5. External Link/File (PDF): Preparing for Academic Careers Web Career
7.2.5.1. 4b5a. Link: Developing Your CV
7.2.5.2. 4b5b. Link: Crafting Cover Letters
7.2.5.3. 4b5c. Link: Writing a Teaching Philosophy
7.2.5.4. 4b5d. Link: Writing Research Statements
7.2.5.5. 4b5e. Link: The Art of the Academic Interview
7.2.5.6. 4b5f. Link: Postdoctoral Fellowships
7.2.6. 4b6. Link: Alternative to Tenure-Track Faculty Careers Web Career. (Alt-Ac Track)
7.2.7. 467a. Link: Apply for Non-Acdemic Careers Web Page
7.3. 4c. Looking for Community?
7.3.1. 4c1. External Link: Attend Gradstravaganza (every September) Web Page
7.3.2. 4c2. External Link: Add Graduate Student Life Events Web Page
7.3.3. 4c3. External Link: Request Reservable Graduate Writing Space Web Page
7.3.4. 4c4. External Link: Sign up for The Writing Center's Weekly Graduate Write-ins Web Page
7.3.5. 4c5. Link: Join the PROV 601: Triving in Graduate School cohort Web Page (spring semesters).
7.3.6. 4c6. Link: Join the PROV 701: Preparing for Careers in the Academy Web Page (year-long).
7.3.7. 4c7. Link: Attend the annual Innovations in Teaching & Learning Conference Web Page
8. 1. Best Practices
8.1. 1a. Online Teaching
8.1.1. 1a1. Before Class Begins
8.1.2. 1a2. During Class
8.1.3. 1a3. After Class Ends
8.2. 1b. Online Course Design
8.2.1. 1b1. The Importance of Course Design
8.2.2. 1b2. Recommended Timeline for Course Dev
8.3. 1c. Syllabus Checklist
8.3.1. 1c1. Why the syllabus is so Important
8.3.2. 1c2. File (PDF): Syllabus Checklist
8.4. 1d. Effective Teaching Strategies
8.4.1. 1d1. Video: Student Engagement
8.4.2. 1d2. Video: Low-Stakes Activities and Feedback
8.4.3. 1d3. Video: Interaction, Instructor Presence, and Organization
8.5. 1e. Instructional Continuity
8.5.1. 1e1. External Link: Emergency Proof Your Course (ITS)
9. 4. Resources
9.1. 4a. Accessibility
9.1.1. 4a1. Assistive Technology (ATI)
9.1.1.1. 4a1a. Accessible Media Resources
9.1.1.2. 4a1b. Accessible Text Resources
9.1.1.3. 4a1c. Guide to Creating Accessible Electronic Materials
9.1.1.4. 4a1d. External Link: ATI Website
9.1.2. 4a2. Disability Services (DS)
9.1.2.1. 4a2a. External Link: DS Website
9.2. 4b. Library Services
9.2.1. 4b1. Online Learning Coordinator
9.2.1.1. 4b1a. Subject or Liaison Librarians
9.2.1.2. 4b1b. External Link: Library's Mason Online Web Page
9.2.2. 4b2. Scholarly Communication and Copyright Office
9.2.2.1. 4b2a. External Links: Copyright Fundamentals
9.2.2.2. 4b2b. External Links: Creative Commons Licences
9.2.2.3. 4b2c. External Link: Public Domain and Open Educational Resources
9.2.2.4. 4b2d. External Link: Scholarly Communication and Copyright Website
9.3. 4c. Teaching Resources
9.3.1. 4c1. Office of Digital Learning (ODL)
9.3.1.1. 4c1a. Link: Best Practices
9.3.1.2. 4c1b. Link: Events
9.3.1.3. 4c1c. Link: Homepage
9.3.2. 4c2. Center for Teaching and Faculty Excellence (CTFE)
9.3.2.1. 4c2a. Link: Teaching Resources
9.3.2.2. 4c2b. Link: CTFE Website
9.4. 4d. Technology Support
9.4.1. 4d1. ITS Support Center
9.4.1.1. 4d1a. External Link: ITS Website
9.4.2. 4d2. Blackboard Course Support
9.4.2.1. 4d2a. File (PDF): Blackboard Faculty Quick Start Guide
9.4.2.2. 4d2b. File (PDF): Blackboard Getting Started Guide
9.4.2.3. 4d2c. External Link: Course Tools
9.4.2.4. 4d2d. External Link: Just-in-time Videos
9.4.2.5. 4d2e. External Link: Courses Support Website
9.4.3. 4d3. LATIST
9.4.3.1. 4d3a. External Link: LATIST Website
9.5. 4e. Testing Services
9.5.1. 4e1. Remote Proctoring Tools
9.5.1.1. 4e1a. External Link: Respondus Quick Start Guides
9.5.1.2. 4e1b. File (PDF): Distance Education Test Proctoring Guidelines
9.5.2. 4e2. Resources for Faculty and Staff
9.5.2.1. 4e2a. External Link: Respondus Quick Start Guides
9.5.2.2. 4e2b. External Link: Best Practices for Test Options
9.5.2.3. 4e2c. External Link: Respondus Lockdown Browser
9.5.2.4. 4e2d. External Link: Requiring Respondus Monitor for Tests
9.5.2.5. 4e2e. File (PDF): Distance Education Test Proctoring Guidelines
9.5.3. 4e3. Resources for Students
9.5.3.1. 4e3a. External Link: Respondus Lockdown Browser
9.5.3.2. 4e3b. External Link: Respondus Monitor and Lockdown Browser
9.5.3.3. 4e3c. External Link: Respondus Monitor Troubleshooting
9.5.3.4. 4e3d. External Link: Taking and Test Online
9.5.4. 4e4. University Policy
9.5.4.1. 4e4a. External Link: University Policy Number 3004
9.6. 4f. Video Support
9.6.1. 4f1. Collaborative Learning Hub (CLUB)
9.6.1.1. 4f1a. External Link: CLUB Website
9.6.2. 4f2. GMU-TV
9.6.2.1. 4f2a. External Link: GMU-TV Website
9.6.3. 4f3. Kaltura CaptureSpace
9.6.3.1. 4f3a. External Link: Kaltura CaptureSpace Web Page
9.6.4. 4f4. One Button Studio
9.6.4.1. 4f4a. External Link: Gateway Library Web Page
9.6.4.2. 4f4b. External Link: One Button Studio Web Page
9.7. 4g. Writing Center
9.7.1. 4g1. External Link: Online Tutoring Web Page
9.7.2. 4g2. External Link: Video Tutoring Web Page
9.7.3. 4g3. External Link: About Our Tutoring Web Page
10. 5. Digital Learning
10.1. 5a. Link: Digital Learning
11. 6. Awards
11.1. 6a. Form: Teaching Excellence Award
11.2. 6b. Form: Thank-a-Teacher Program
11.3. 6c. Stearns Center-Adminstrated Awards
11.4. 6d. Other State and University Awards
11.5. 6e. Link: Documenting Your Teaching Web Also
12. 7. About Us
12.1. 7a. Displays contact infomation
12.2. 7b. Mission, Coure Values, Who We Are, Faculty Fellows, Coordinating Circle, Campus Partners
13. 8. Site Map
13.1. 8a. Displays All Internal Links
Recommended Maps